You are here
'It' smashes records with massive $123.4 million opening
By Reuters - Sep 12,2017 - Last updated at Sep 12,2017
Bill Skarsgård in 'It' (Photo courtesy of imdb.com)
LOS ANGELES — "It" came; "It" saw; "It" conquered.
The New Line and Warner Bros. adaptation of Stephen King's novel is officially shattering box office records during its opening weekend. The R-rated horror film made a whopping $123.4 million from 4,103 locations, far surpassing earlier expectations. That would give "It" the third largest opening weekend of 2017, higher than "Spider-Man: Homecoming", which made $117 million. Only "Beauty and the Beast" and "Guardians of the Galaxy Vol. 2" earned more this year. $7.2 million of "It's" domestic grosses are coming from 377 Imax screens.
"There's something really special about the story itself, the way the movie was made, and the marketing," said Jeff Goldstein, distribution chief at Warner Bros. "The stars aligned on this, and we still have some room to grow for the weekend."
"It" earned a fresh rating on Rotten Tomatoes of 87 per cent and a B+ CinemaScore. Its gender breakdown is reportedly 51 per cent female and 49 per cent male. About two thirds of the audience has been over 25 years old.
"It's" opening is mostly unprecedented, crushing the record for largest September opening set by "Hotel Transylvania 2" in 2015 with $48.5 million, and the biggest opening weekend banked by a horror or supernatural film — "Paranormal Activity 3" earned $52.6 million in 2011. When it comes to R-rated movie openings, "It" falls only to "Deadpool", which changed the game in 2016 with a massive $132.4 million opening. This, during a weekend when Hurricane Irma threatens huge portions of Florida and Georgia, which could dent attendance by as much as 5 per cent.
In addition to its domestic grosses, the horror hit is expected to pull in $62 million from 46 markets overseas, giving "It" a $179 million global debut. That is a huge win for a movie with an estimated $35 million production budget.
Horror films often have lower budgets than other more CGI-dense blockbusters, so the return on investment has potential to be massive. Goldstein said the genre is one that New Line particularly excels in, and there is potential to see more horror in the future if the right story comes along. "If we were able to find more films in this genre, we'd be thrilled to make them," he said.
The movie comes courtesy of Argentine director Andy Muschietti, who is known for the 2013 horror film "Mama". Bill Skarsgard stars as Pennywise the Clown, which terrorises young children in Derry, Maine. The rest of the cast includes youngsters Jeremy Ray Taylor, Sophia Lillis, Finn Wolfhard, Wyatt Oleff, Chosen Jacobs, Jack Dylan Grazer, Nicholas Hamilton, and Jackson Robert Scott in supporting roles.
That leaves Open Road's "Home Again" trailing far behind. The Reese Witherspoon-led romantic comedy earned $8.6 million this weekend from 2,940 locations. The $15 million project was directed by Hallie Meyer-Shyer, the daughter of Nancy Meyers, who also worked on the film as a producer. The story centres on Witherspoon's character — a mother of two who unexpectedly has three young men come to live with her following a recent separation from her husband.
Lionsgate's "Hitman's Bodyguard" is landing in third with $4.8 million from 3,322 locations after winning the domestic box office for the past three weekends. "Annabelle: Creation" from Warner Bros. is next with $4 million from 3,003 spots. And "Wind River" caps the top five with an anticipated $3.1 million from 2,890 theatres.
For the movie business, "It" could not have come at a better time. Following a dismal summer box office that plunged 14.6 per cent from last summer to $3.8 billion, "It" serves in part as the pick-me-up the industry was desperately craving. After this weekend, the year to date box office will improve from 6.5 per cent behind 2016 to 5.5 per cent, according to data provided by ComScore.
Paul Dergarabedian, senior media analyst at ComScore attributed the film's success to the "universality of the fear of clowns", which created an "event for fans who came out to be scared en masse in the communal environment of the movie theatre".
He added, "The marketing campaign brilliantly evoked a sense of teenage wonderment, fear, and ultimately bravery in the face of the true evil as perfectly embodied by Bill Skarsgard as Pennywise. That, along with the great ensemble cast of young actors and a movie that delivered on the promise of that marketing, made the film an astonishing over-performer."
A sequel is already in the works at New Line with Gary Dauberman attached to write the script, and Muschietti expected to return to the director's chair.
Regarding plans for the next movie, Goldstein said, "It puts more pressure on us to come up with the best version of the story so we bring fans what they want to see. We've had a lot of history with franchises. Some are great, and some we wish we had a little bit more story. Fortunately, there's a lot here in this story."
Related Articles
Sep 26,2017
LOS ANGELES — "Kingsman: The Golden Circle" is the new ruler of the box office. The sequel from Fox is expected to earn $39 million thi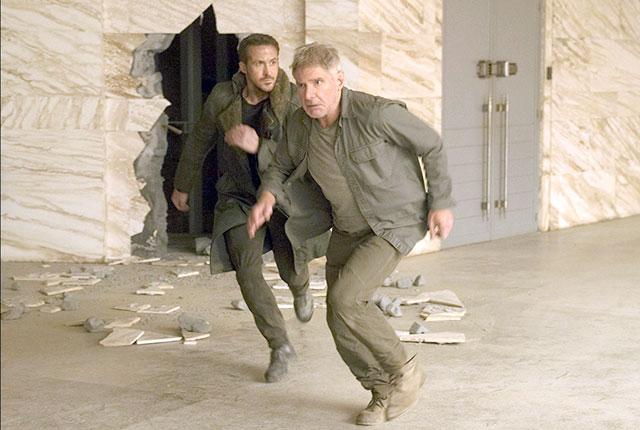 Oct 10,2017
LOS ANGELES — "Blade Runner 2049" is heading for a downbeat $32.8 million opening weekend at 4,058 sites in North America.Monday's final res
Nov 21,2017
LOS ANGELES — Warner Bros.-DC's costly "Justice League" has dominated the North American box office, but fallen well short of expectations w
Newsletter
Get top stories and blog posts emailed to you each day.