You are here
'I'm not normal' — the quirky genius that is Alton Brown
By AP - Nov 19,2016 - Last updated at Nov 19,2016
In this October 26 photo, Alton Brown poses for a portrait in New York to promote his cookbook, 'EveryDayCook: This Time It's Personal', and a live Broadway variety show with a mix of unusual food demonstrations, puppets and songs (AP photo by Victoria Will)
NEW YORK — Alton Brown thinks about food differently than you do. You do not get obsessive with hummus. He does. You do not research the long, weird history of nutmeg or put sumac in everything. He does.
You never considered having spaghetti in the morning. He did — and made it delicious. "Why are not we having pasta for breakfast? I don't understand why we don't do this?" the TV chef and writer asked recently.
You can find Brown at the intersection of food, science, history and theatre. It's a weird place, as even he admits: "I don't fit in anywhere." He has a restless, inquisitive mind and a chemist's rigor. He blends his own red pepper flakes and yet knows how strange that is. "I'm a freak," he confesses.
Brown returns this fall with two typically idiosyncratic offerings: A cookbook of the unexpected stuff he eats at home and a live variety show that hits Broadway with a mix of unusual food demonstrations, puppets and songs.
"EveryDayCook: This Time It's Personal", his eighth book and first in five years, has 100 quirky recipes, from mussels in miso to kimchi crabcakes. The recipes were adapted from memory; some were scribbled on Cabinet doors.
"Ostensibly, it's a self-portrait in food," he says. "That is what I eat and cook. If you were to come over to my house, it would be something out of that book. I think I was at a point in life where it was time to do a self-portrait."
How Brown came up with one dish — his breakfast carbonara — is instructive: It was an accident. He had been intending to make biscuits and gravy with sausage but burned the biscuits. So he threw some leftover pasta into the gravy.
"I started thinking, 'Wait a second, this isn't that far away from carbonara'," he recalled, and stated adding more ingredients. "All of a sudden, I had a different dish. That was born of a complete goof on my part."
It was only after he saw the book's photos — all taken by his assistant using an iPhone — of the way he likes to serve his food that Brown, as he politely notes, "was made mindful that I'm not normal".
"Not everyone plates their chips and salsa in a 1974 Mercury hubcap. Not everybody plates crackers in a Kodak slide carousel. I had not really reckoned with how odd I am," he says. "If you don't like this book, odds are you don't like me. Because that's pretty much me."
There will be more of Brown on view on Broadway when his touring show "Eat Your Science" lands at the Barrymore Theatre. A former actor with a theatre degree who did summer stock, Brown models his shows on "The Sonny & Cher Comedy Hour" and describes it as "culinary vaudeville".
"I can finally say to my mom, 'Yes, my theatre degree did matter'," he jokes.
Lee D. Marshall, a producer at MagicSpace Entertainment, says Brown's stage shows are funny and informative, drawing on his background as a writer, producer, cinematographer and comedian.
"Most folks that are television chefs, they cook. He explains how things work," Marshall says. "He can make making scrambled eggs the most interesting topic on the planet."
Brown says he does not get caught up in food trends and often does not trust them. He avoided jumping on the molecular gastronomy bandwagon a few years back because he really did not care.
"Nobody wakes up in the middle of the night craving soy sauce spheres. We wake up craving pizza. I'm far more interested in helping people get to the dishes they kind of already want," he says.
Brown made his name with the quirky "Good Eats" on Food Network from 1999-2011. In each episode, Brown examined a new recipe or ingredient, the science behind it, the proper tools to use and its history. He plans on reviving the show as an online-only series.
But though he's a star, Brown is leery of the Kitchen-Industrial Complex, telling fans they do not need to buy titanium corkscrews or an $8,000 pizza oven. On "Good Eats", he insisted that every gadget do multiple tasks.
"I have no endorsement deals and I don't have multiple homes," says Brown. "At some point along the line, I decided authenticity above everything else." He adds: "I like empowering people."
His own tastes are, as you might expect, all over the map. He puts harissa and mayonnaise in his scrambled eggs, and adds curry to watermelon, suspecting that since India and the American South both have fearsome heat, they might have complementary flavours.
"I'm pedantic, I guess, when it comes to my tastes," he says. "I'm fascinated by Japanese food and, at the same time, I'd rather have a well-made Cuban [sandwich] than almost anything on Earth. And I'm pretty sure French fries are the best food on earth."
Related Articles
May 16,2018
Unlike the African continent — where I live right now — being vegetarian in my home country, India, is no big deal.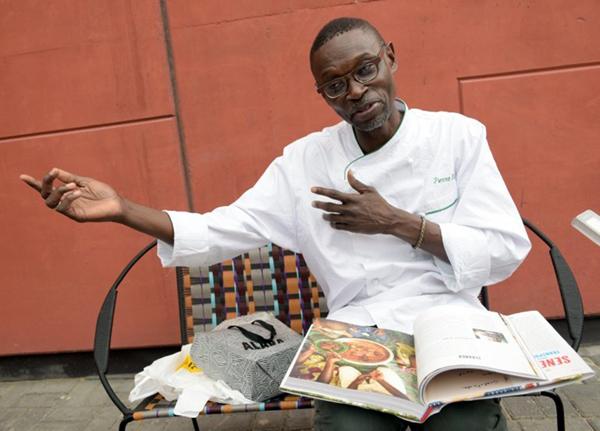 Mar 05,2016
LAGOS — An ambitious restaurant in Lagos is setting out to elevate Nigerian street food staples to fine dining, tapping into a growing hunge
Mar 31,2015
The buffet meal scene may resemble the siege of the Bastille. Somehow, ordinarily sensible people fear that the food will be taken away before they get some, or that others will take all of the choice items, leaving them to munch on radishes.
Newsletter
Get top stories and blog posts emailed to you each day.