You are here
Foton Tunland S 4x4: Everyday off-roader
By Ghaith Madadha - May 13,2019 - Last updated at May 13,2019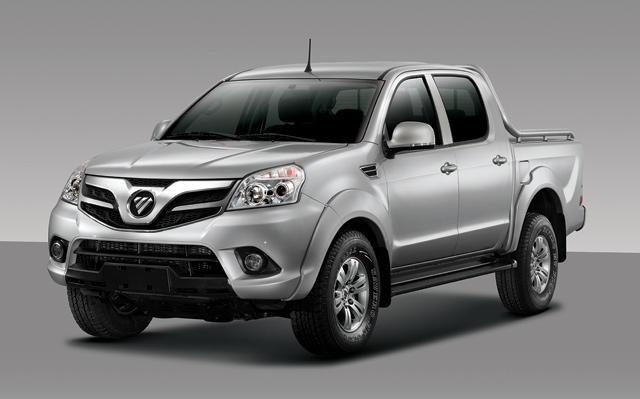 Photo courtesy of Foton Motor
While complicated, sensitive hybrids and range-limited electric vehicles with long charge times have been gaining considerable traction in Jordan in recent years, there is, however, a cogent case to be made for the mid-size double cabin four-wheel-drive turbo-diesel pick-up truck being particularly well-suited for local conditions.
A dual use personal and work form of transport trading on rugged durability and ability, generous space, useful mod-cons and equipment, reasonable comfort, fuel efficiency and off-road prowess, the mid-size pick-up's convenience and value make it a compelling daily drive family vehicle proposition.
Assertive yet understated
Somewhat of a newcomer to the global mid-size pick-up market and even more recently to Jordan, the Foton Tunland first launched in 2011 and is well-positioned and expected to be competitively priced to make inroads into a segment traditionally dominated by Japanese manufacturers. Driven over 700km in Tunland S 4x4 double cabin guise on Jordanian roads and trails including some gruelling weather, surface and elevation conditions, the Chinese manufacturer's pick-up proved itself to be much on par with mostly Japanese rivals in terms of driving dynamic, practicality, equipment comfort and efficiency.
Aesthetically assertive yet understated, with diamond-like headlights and big but unexaggerated chrome grille and foglamp housings, the Tunland 4x4's equal width to height ratio, chunky tyres and subtle wheelarch blisters provide a grounded road presence and sportier profile that reduces height between the wheelarch top and bonnet line. A sloped bonnet and fascia, and pyramid-like rear lights also accentuate its confident stance, while concave cargo bed surfacing keep its flanks visually interesting. Compared with competitors with recently adopted higher and chunkier bonnets, the Tunland's bonnet angle and moderate A-pillar thickness provide terrific in-segment front and side visibility.
Low-rev response
Established in 1996 and based in Beijing, Foton's line of commercial vehicles and SUVs benefit from cooperation with several global manufacturers including Cummins engine manufacturer and Daimler AG, not to mention research and development centres in Japan and Germany. In this vein, the Tunland is offered with a choice of 2.5- and 2.8-litre Isuzu-sourced turbo-diesel four-cylinder engines, a more powerful Cummins-sourced engine, and German Getrag 5-speed manual gearbox. Fitted with the more 2.8-litre Isuzu engine, the driven Tunland S 4x4 produces 114BHP at 3,600rpm and 206lb/ft at 2,300rpm, and is capable of a 150km/h maximum.
Low-revving like most turbo-diesels, the Tunland does its best work between its peak torque and power point and redlines at 4,000rpm, but there is little point in revving beyond 3,600rpm.
However, its small turbocharger spools up quickly to make its comparatively responsive at low rpm and with much less low-end turbo lag than expected. Capable of carrying its 1,930kg mass to a 150km/h maximum, the Tunland is, however, at its best between 60-120km/h when it is relaxed and riding a generous mid-range sweet spot, while highway on the move acceleration is adequately confident and versatile.
Confident off-roader
Expected to complete the 0-100km/h benchmark time in around 12-seconds, the Tunland is also capable of confidently climbing 30 per cent slopes, but it can feel slightly stressed but willing on especially steep and slow hot weather hill climbs. That said, working the Tunland's accurate and slickly mechanical feeling gear lever and intuitively user-friendly clutch pedal is a joy when driving through inclines, along winding routes or in traffic. Driving the rear wheels in normal circumstances, the Tunland's four-wheel-drive is engaged quickly and smoothly at standstill through push-button controls for off-road driving.
Easily dispatching most trails and moderate off-road situations in rear-drive and with four-wheel-drive for more difficult and particularly loose surfaces, the Tunland's low ratio four-wheel-drive only really needs to be engaged for the most extreme conditions where sustained low speed at high power is required. A confident and adept off-road machine, the Tunland 4x4 features generous 200mm ground clearance and 26 degree approach and 20 degree departure angle to clear deep ruts and crests. Meanwhile, its good visibility and accurate steering allow one to easily place it through narrow off-road trails, roads and parking garages alike.
Rugged and balanced
Using tough body-on-chassis construction with rugged leaf spring and live axle rear suspension to deal with its huge 2,730kg gross weigh capacity, the Tunland meanwhile easily dispatches rough and uneven trails, let alone being able to dispatch Amman's numerous potholes and bumps in its stride, and with no fear of damage. Its 245/70R16 tyres are meanwhile a very good compromise for off-road driving, grip, impact absorption and steering feel. The Tunland's independent double wishbone coil spring front, however, provides good wheel travel and angles for off-road and smooth, reassuring on-road driving.
Combined with accurate rack and pinion with intuitive feel, the Tunland turns into corners with reassuring grip, stability and agility as it copes with road elevations and textures. Balanced throughout with decent body lean control for its segment, the rear suspension is, however, slightly bouncy at the rear over rough roads as are all pick-ups in this segment. Willing to be hustled along at a fairly brisk pace through winding switchbacks, the Tunland's steering requires more turning lock input than many cars, but is well-weighted and nuanced, and in tight confines provides a tight and very usefully manoeuvrable turning circle.
Space and efficiency
Stable and reassuring on highway, the Tunland is a confident and comfortable long distance cruiser, with ride quality smoothening at speed. With a commanding view inside, its driving position is particularly good, and is alert, spacious, ergonomic, comfortable, and with easy reach of controls, even without steering reach adjustability or adjustable lumbar support. Spacious front and rear, the Tunland's rear seat access, knee room and head room especially impressed and is favourable to many mid-size SUVs and saloons. Meanwhile rear-parking sensors proved useful given how tricky it is judging rear distances in pick-ups.
As refined as most pick-ups the Tunland well damps vibrations, while some diesel clatter noise is not especially intrusive or unexpected in this segment. Well laid out inside, it features plenty of hard tough surfaces, but which are nicely finished. Equipment includes two rear head rests, dual airbags, air conditioning, electric windows, remote central locking and
USB/CD player. The Tunland's 8l/100km combined fuel efficiency and long driving range — anecdotally estimated at 800-900km — very much impressed, even through demanding test drive conditions. Meanwhile, a more powerful, capable and highly equipped Cummins diesel engine-powered version is expected in Amman soon.
TECHNICAL SPECIFICATIONS
Engine: 2.8-litre turbo-diesel, in-line 4-cylinders
Bore x stroke: 93 x 102mm
Compression ratio: 17.4:1
Gearbox: 5-speed manual, four-wheel-drive, low gear transfer
Power, BHP (PS) [kW]: 114 (115.5) [85] @3,600rpm
Specific power: 41BHP/litre
Power-to-weight: 59BHP/tonne
Torque, lb/ft (Nm): 206.5 (280) @2,300rpm
Specific torque: 101Nm/litre
Torque-to-weight: 145Nm/tonne
Top speed: 150km/h
Fuel consumption, combined: 8-litres/100km
Fuel capacity: 76-litres
Length: 5,310mm
Width: 1,860mm
Height: 1,860mm
Wheelbase: 3,150mm
Tread, F/R: 1,600/1,580mm
Overhang, F/R: 925/1,280mm
Minimum ground clearance: 200mm
Approach angle: 26 degrees
Departure angle: 20 degrees
Gradeability: 30 degrees
Kerb weight: 1,930kg
Gross weight: 2,730kg
Suspension, F/R: Double wishbones, coilovers/leaf springs, live axle
Steering: Power-assisted rack & pinion
Brakes, F/R: Ventilated discs/drums
Tyres: 245/70R16
Newsletter
Get top stories and blog posts emailed to you each day.