You are here
Ford F150 3.5 Ecoboost King Ranch FX4: Blue sky trucking
By Ghaith Madadha - Dec 19,2016 - Last updated at Dec 19,2016
Purveyor of America's consistently best-selling model line, Ford took somewhat of a calculated — and ultimately successful — gamble with the introduction of the lighter aluminium bodied F150 pickup, using more sophisticated but down-sized engines. Deeply traditional, heavyweight and highly profitable, the full-size pick-up truck segment is one where actual and perceived ruggedness, ability, high displacement and brute power counts for much, and is not one where rationalisation was not historically deemed a priority in the industry.
However, soon after the 2008 financial crisis, Ford took the first step towards modernising the full-size pick-up segment with the introduction of its thoroughly contemporary 3.5-litre twin-turbocharged direct injection V6 EcoBoost engine in the previous generation F150 in 2011. Proving the market appetite for a rationalised and more sophisticated truck in a segment where such vehicles are popularly used for work and private use, the latest F150 was a veritable revolution when it arrived in 2015 with lightweight body and even smaller engine options.
Tough and sophisticated
Utilising rugged military-grade aluminium in body construction and consequently weighing in at 317kg less than its predecessor — depending on model — the 13th F150 iteration is most advanced in its class. Benefits from its lighter weight, it is quicker, brakes better, more agile, comfortable fuel efficient and capable as a workhorse. Offered in configurations, the driven Super Crew double cab version with regular cargo bed and luxurious second-to-top King Ranch spec is ideally suited for work, play and daily use.
Utilising more high strength steel in frame construction for improved safety and durability, the new F150 is as rugged as its jutting Tonka-truck looks would suggest. Potent in aesthetic with upright chrome grille, semi-split LED headlights, and huge 275/55R20 tyres, its subtle details, however, including low waistline for improved visibility and reduced distance between wheel-arch apex and bonnet for better aesthetic flow. Evolutionary in appearance and functional in implementation, the F150 features improved aerodynamics airflow and reduced turbulence.
Downsized but abundant
Powered by a more garden-variety version of the same basic but sophisticated and gutsy engine powering Ford's just-launched GT supercar, the F150's 3.5-litre twin-turbo V6 EcoBoost engine is more fuel efficient and cleaner. However, driven over rugged but quick dirt road and desert conditions, the EcoBoost felt even more potent and muscular than the ostensible and more traditional range-topping 5-litre naturally aspirated Coyote V8 engine, and especially in mid-range, where it delivers an indefatigably gushing and hugely responsive wave of torque.
Quick-spooling and responsive off the line like very few other turbocharged engines, the F150's EcoBoost displays almost no perceptible turbo-lag. And with a generous and abundant mid-range sweet spot ideal for a heavy 2.2-tonne truck, it unleashes 90 per cent torque throughout a 1700-5000rpm band for effortlessly brisk flexibility, on-the-move acceleration, off-roading, steep inclines, towing and cargo carrying. Billed by Ford as more powerful in GCC specification for Middle East markets, the driven 2016 F150 3.5 EcoBoost develops 385BHP at 5,250rpm and 464lb/ft at 2,750rpm, allowing for a 0-100km/h time estimated at around 6 seconds.
Rugged and refined
Driven in semi-desert off-road conditions in Jordan, the F150 3.5 EcoBoost charged through the rough, choppy and low-traction terrain unimpeded, accumulating highway speeds with disdainful easy while remaining as settled and stable as can be as it soaked up the lumpy ground beneath. Easily capable of pushing up to an estimate 170km/h governed speed limit, it is quickest and most efficient in rear-drive mode but develops most traction and grip for off road and towing with four-wheel drive engaged. Auto mode, however, sends power frontwards only when necessary.
Lighter and more refined, agile and composed than the large pick-up competition, the F150 feels slightly smaller and more manoeuvrable. Riding on double wishbone front and heavy duty live axle and leaf spring rear suspension, but with lighter V6 engine in front, the F150 turns into corners tidily for its class and feels balanced throughout. Wetter steering feel, much reduced axle hop, brake dive and acceleration squat also make, the F150 truly standout for daily use refinement and dynamic ability, while much better vertical control keeps the F150 settled on rebound and over bumps.
Generous space and equipment
Forgiving over rough surfaces despite 20-inch alloy wheels, the F150 is built heavy duty work. Driven with FX4 off-road package, it features high and low gear permanent four-wheel drive modes, can carry 934kg in its 1,495-litre volume cargo bed and tow up to 5,307kg, depending on axle ratio options. For off-road driving it has 238mm ground clearance, 25.5° approach, 21° break-over and 26° departure angles. Driven through a smooth 6-speed automatic gearbox, 2017 models will, however, have more advanced 10-speed transmission.
Enormously spacious in every direction inside and with wide swing angle doors and optional automatic running boards for easy access, the Super Crew configuration, as driven, features a highly adjustable and commanding driving position, but side bolstering could be firmer. Cabin design, layout and quality is much improved over its predecessor with plenty of soft textures and padded surfaces to be found, while controls are chunky and user-friendly and include multi-function steering wheel.
Ergonomic, comfortable and thoroughly well-appointed, the F150 is available with intuitive Sync infotainment system with Bluetooth streaming and voice command, while its instrument panel even features steering angle, gradient, side slope and active four-wheel drive power distribution information display. Standard and optional safety features are extensive and include 360° around view monitor, three inflatable 3-point rear seatbelts, childseat latches, adaptive cruise control and blindspot, lane-keeping, rear cross-path and towing driver-assistance systems.
TECHNICAL SPECIFICATIONS
Engine: 3.5-litre, all-aluminium, twin-turbo, in-line
V6 cylinders
Bore x stroke: 92.5 x 86.7mm
Compression ratio: 10:1
Valve-train: 24-valve, DOHC, variable valve timing
Gearbox: 6-speed automatic, four-wheel drive, low ratio transfer case
Gear ratios: 1st 4.17:1; 2nd 2.34:1; 3rd 1.52:1; 4th 1.14:1; 5th 0.86:1; 6th 0.69:1; R 3.4:1
Axle ratio options: 3.15:1, 3.31:1, 3.55:1, 3.73:1
Power, BHP (PS) [kW]: 385 (390) [287] @ 5,250rpm
Specific power: 110.1BHP/litre
Power-to-weight: 173.5BHP/tonne
Torque, lb/ft (Nm): 464 (629) @ 2,750rpm
Specific torque: 179.9Nm/litre
Torque-to-weight: 283.5Nm/tonne
0-100km/h: approximately 6 seconds (estimate)
Top speed: 170km/h (electronically governed, est.)
Minimum fuel requirement: 91RON
Length: 5,890mm
Width: 2,029mm
Height: 1,960mm
Wheelbase: 3,683mm
Track: 1,717mm
Overhang, F/R; 959/1,247mm
Ground clearance: 238mm
Approach/break-over/departure angles: 25.5°/21°/26°
Seating: 5
Headroom, F/R: 1,036/1,026mm
Legroom, F/R: 1,115/1,107mm
Shoulder room, F/R: 1,694/1,673mm
Cargo bed height, length, width: 543, 1,705, 1,285-1,656mm
Load floor height: 907mm
Cargo volume: 1495 litres
Fuel capacity: 87 litres
Kerb weight: 2218kg
Payload: 934kg (as tested)
Gross Vehicle Weight Rating: 3175kg (as tested)
Towing maximum: 4,808-5,307kg (4x4, depending on axle ratio)
Steering: Electric-assisted rack & pinion
Turning circle: 15.57 metres
Suspension, F/R: Double wishbones, coil springs/live axle, leaf springs
Brakes, F/R: Disc, 34 x 350mm/drum, 22 x 335mm
Brake callipers, F/R: Twin/single
Tyres: 275/55R20
up
6 users have voted, including you.
Related Articles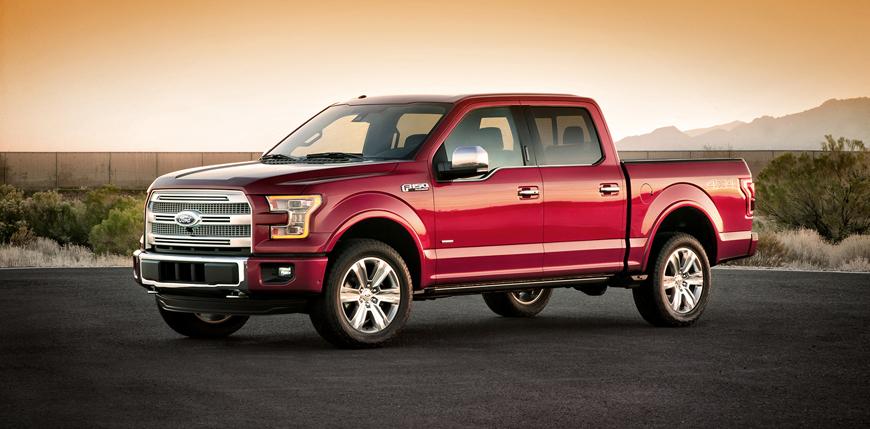 Feb 08,2016
Much awaited and launched last, the 13th generation of America's most iconic and best-selling pickup truck is the most advanced in its segme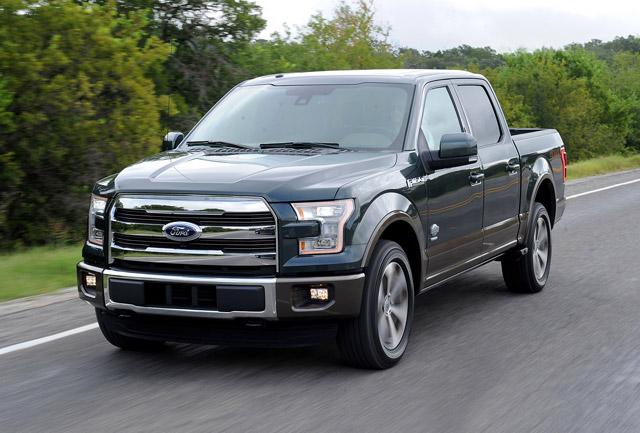 Jul 24,2017
A rugged, well equipped, workhorse and spacious daily driver, the large American pick-up truck segment and its most popular Ford F150 model
Jun 03,2014
Depending on one's location, persuasion and occupation, the large American pickup truck is loved and loathed in equal measure. 
Newsletter
Get top stories and blog posts emailed to you each day.