You are here
Changing landscapes of the city and the mind
By Sally Bland - Mar 06,2016 - Last updated at Mar 06,2016
A Strangeness in My Mind
Orhan Pamuk
Translated by Ekin Oklap
New York/Toronto: Alfred A. Knopf, 2015
Pp. 599
Orhan Pamuk's newest novel charts Istanbul's transition into modernity as experienced by Mevlut, a street vendor. The interpersonal dynamics in Mevlut's extended family — great loves, disappointments, betrayals, grudges and intrigues — are sufficient to create a compelling plot, but the author's passion for his native city, plus his psychological and philosophical curiosity, produce a far broader tapestry of life.
With his usual attention to detail, Pamuk chronicles the changes wrought by urban expansion, capitalist growth, globalisation and gentrification over half a century. Just as intimate as his portrait of the city's changing landscapes are his forays into his characters' minds.
Much of the story is told in third-person narrative, but characters' own voices interject from time to time, a device employed by Pamuk in "My Name is Red", to remind that there is more than one side to every story. Also like that earlier novel, a mystery courses through the plot, but this time it's about love, not murder.
Other of Pamuk's novels are like walking tours of Istanbul, but "A Strangeness in My Mind" wanders different streets and enters homes other than the middle- and upper-class ones of "The Black Book" or "The Museum of Innocence". Instead of stately yalis on the Bosporus, or book-filled apartments in the old quarters, there is a jumble of slum dwellings hastily erected on empty hills at the city's edge. In essence, this is the story of how the village came to the city, and changed its face forever.
Mevlut arrives in Istanbul from his village in 1969, at the age of twelve, to finish school and help his father selling yoghurt and boza, a malt drink. At first, his father works in partnership with his brother, but soon they have a falling-out, as do Mevlut and his father later on. Though he sees his aunt, uncle and cousins on occasion, Mevlut is often alone, but by then he has become part of the city. "He loved it as a place where all manner of wonderful things seemed to be going on at the same time, no matter where he looked." (p. 135)
It even has a special advantage for someone like him who feels set apart, for "in fact what makes a city a city is that it lets you hide the strangeness in your mind inside its teeming multitudes". (p. 107)
At first, Mevlut's strangeness of mind seems like normal childhood fears or adolescent guilt, but the circumstances of his marriage magnify it.
On one of Mevlut's seldom returns to his home village, he attends the marriage of his cousin to the oldest of three sisters from a neighbouring village and is captivated by the eyes of the bride's youngest sister. During his years of military service, he writes impassioned letters to Rayiha, as he is told her name is. When he finishes, another cousin convinces him to elope with her to avoid her father's anticipated refusal.
Only upon arriving in Istanbul is Rayiha's veil brushed to the side and Mevlut sees that she is the plain, middle sister, not the beautiful one who is named Samiha. Although Mevlut's marriage to the resourceful and loveable Rayiha turns out to be remarkably happy, he is plagued by questions of how this happened to him and how his life could have taken a whole different course. Would he have been happier with Samiha? Which sister does he truly love? The answers remain ambiguous to the very end.
Some of the migrants from the villages make money by hook or crook, but Mevlut suffers from the new economy where yoghurt is increasingly marketed by companies, and some areas are "cleansed" of street vendors by the military junta. But he continues selling boza in the evening all his life. Known from Ottoman times, by the 50s, it is sold by vendors "who walked the poor and neglected cobblestone streets on winter evenings crying 'Bozaa,' reminding us of centuries past, and the good old days that have come and gone". (p. 18)
While boza symbolises Mevlut's moorings in tradition, it also indicates the people of Istanbul striking a balance between the religious and the secular, for though mildly alcoholic, it is consumed by many who avoid alcohol due to their faith. (Or is Pamuk chuckling at this example of hypocrisy?)
The novel is rambling but one enjoys every minute because it gives one the feeling of participating in real life. For a long time, much remains ambiguous, especially Mevlut's self-understanding. The whole gamut of emotions run wild in his "strange" mind, but he remains outwardly placid, trying to stay out of family squabbles and the leftist vs rightist street battles, when his ultranationalist cousins battle Kurds and Alevis.
Though serious about his faith, he also tries to steer clear of the simmering tension between Ataturk's secular legacy and the Islamic revival. Pamuk's rendition of political events points to divergent social visions and dreams of greatness, suggesting that Turkish identity is a conflicted, unresolved notion. In the very end, however, Mevlut knows himself and whom he loves, suggesting that human values can prevail even in shifting times.
"A Strangeness in My Mind" is available at [email protected]
Related Articles
Feb 04,2018
The Red-Haired WomanOrhan PamukTranslated by Ekin OklapNew York: Alfred A. Knopf, 2017Pp.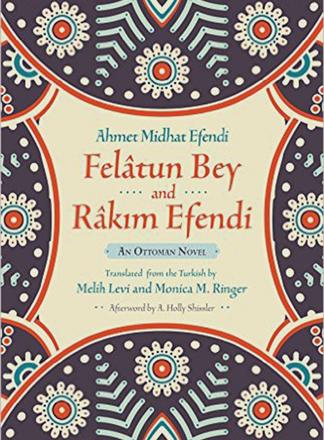 Apr 03,2016
Felatun Bey and Rakim EfendiAhmet Midhat EfendiTranslated by Melih Levi and Monica M. RingerNew York: Syracuse University Press, 2016Pp.
Sep 11,2016
Major Pettigrew's Last StandHelen SimonsonNew York: Random House, 2011Pp.
Newsletter
Get top stories and blog posts emailed to you each day.