You are here
Cash or kind
By Nickunj Malik - Dec 07,2016 - Last updated at Dec 07,2016
I saw no problem in being an NRI (Non-Resident Indian) for the last 25 years or so that I have lived outside my home country. I retained my passport all along and made frequent trips to the homeland, as and when I missed it. The only setback was that I could not vote during the elections because our politicians could not figure out how to utilise the electoral process for those of us who resided outside India. The result was that I did not have an active participation in electing our previous three prime ministers, whose terms lasted for five years each. One of them served for two durations in succession.
When our current PM Narendra Modi came into power, there was both jubilation and scepticism that followed. The former because he was supposed to be the most uncorrupted and hardworking person to be chosen for this high office, and the latter, because he had no experience in running a country as large and diverse as India. Born in Vadnagar, Gujarat, Modi helped his father sell tea as a child, and later ran his own stall.
He was sworn in as chief minister of Gujarat in the year 2001 but was accused of improper handling of the communal unrest in Godhra in 2002. This matter was taken up in the judicial courts but he soon won the state assembly elections for the third time in 2007. Despite a lot of opposition and controversy, the supreme court acquitted him over the riots and he went on to win a record fourth term as chief minister.
He was subsequently nominated as his party's prime ministerial candidate for the 2014 lower house elections where he led the Bharatiya Janata Party to a historic landslide victory. This journey from humble beginnings to becoming the most powerful individual in the country made him somewhat invincible and prone to making rash decisions: demonetisation being one of them.
What is demonetisation? Three weeks ago, on the evening of November 8, Prime Minister Modi declared that Rs500 and Rs1000 notes, India's two biggest currency denominations that accounted for 86 per cent of the money in circulation by value, would be invalid from midnight onwards. This was done to stop counterfeiting of the current banknotes allegedly used for funding terrorism as well as a crack down on black money in the country. The move was described as an effort to reduce corruption, and counter the use of drugs and smuggling.
Millions were left stunned; there was a clamour to put money in bank accounts, exchange old notes for new ones, and to withdraw scarce cash from ATMs. In the days that followed, banks across the country faced severe currency shortage. Nearly 70 people, including overworked bank officials, reportedly died due to causes directly or indirectly related to demonetisation.
I read all this on the airplane as I made my way to Delhi last week. Some leftover old cash was lying with me that I had to deposit into my account before it became completely worthless. The year-end deadline was looming over my head.
The long serpentine queues outside the financial institutions became visible the moment I stepped out of the airport.
"Cash or kind?" asked the cabbie.
"You mean cash or credit," I corrected.
"Same thing," he smiled.
"You have a credit card machine?" I queried.
"No! But you can borrow from the doorman," he continued.
"Will he lend it?" I persisted.
"Request kindly and see," he suggested.
Related Articles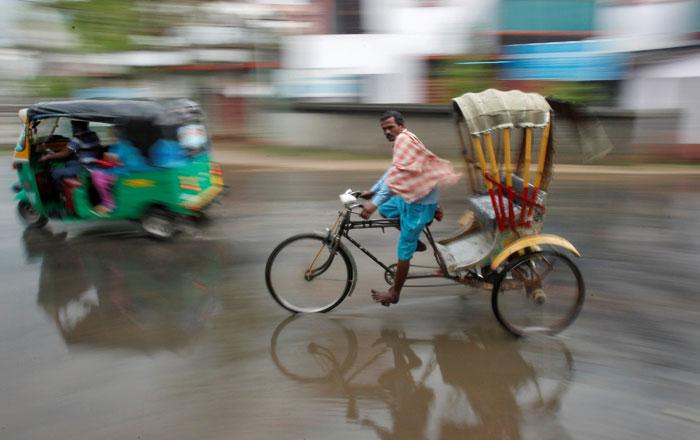 Mar 19,2017
NEW DELHI — Mansions owned by maids, gardeners and drivers until now have aroused little suspicion in India, where the wealthy have long hid
May 27,2014
Indian Prime Minister Narendra Modi delivered a blunt warning to old adversary Pakistan on his first day in the job on Tuesday, telling his counterpart in a rare meeting that Islamabad must prevent militants on its territory from attacking India.
May 26,2014
Narendra Modi was sworn in as India's prime minister in an elaborate ceremony at New Delhi's resplendent presidential palace on Monday, after a sweeping election victory that ended two terms of rule by the Nehru-Gandhi dynasty.
Newsletter
Get top stories and blog posts emailed to you each day.