You are here
Can living near gym make you slimmer?
By Reuters - Jan 06,2018 - Last updated at Jan 06,2018
Photo courtesy of freepik.com
People who live close to gyms, pools and playing fields weigh less and have smaller waistlines than their counterparts residing farther away from exercise facilities, a UK study suggests.
Living far away from fast food outlets also appeared to help people maintain a lower weight and trimmer waist, although this connection was not as strong as the proximity of gyms, researchers report in the Lancet Public Health.
"It is likely that communities without the neighbourhood resources needed to encourage a healthy lifestyle put their residents at a higher risk of obesity," said senior study author Steven Cummins of the London School of Hygiene and Tropical Medicine.
"This could be improved by restricting the number of new fast food outlets in a neighbourhood and how close they can be to people's homes, incentivising operators of physical activity facilities to open in residential areas with few facilities, or funding local authorities to provide such facilities," Cummins said by e-mail.
Globally, more than 1.9 billion adults are overweight or obese, according to the World Health Organisation. The condition contributes to a variety of common medical problems including heart disease, diabetes and certain cancers.
For the study, researchers examined data on weight, waist measurements and body fat for more than 400,000 men and women ranging in age from 40 to 70.
The study used data collected between 2006 and 2010 that included demographic characteristics like household income, as well as what types of eating and exercising options were available near people's home addresses.
To determine exercise opportunities, researchers looked for indoor and outdoor facilities for sports and leisure activities such as gyms, swimming pools and playing fields. They did not consider public parks or cycling and walking paths.
On average, people had just one exercise facility within 1 kilometre of home. And almost one-third of participants had no options this close to where they lived, the study found.
People typically had to travel just 1.1 kilometres to reach a fast food outlet. Nearly one in five people had a fast food restaurant within a half-kilometre of home.
Better access to exercise options translated into a healthier weight.
Compared to people who had no facilities near home, people who had at least six places to work out weighed less, had a 1.22 centimetre slimmer waistline, and had a body fat percentage that was 0.81 per cent lower on average.
At the same time, people who lived at least 2 kilometres from a fast food outlet had a waistline 0.26 centimetres smaller than individuals who lived less than a half-kilometre away, the study also found.
One limitation of the study is that not all fast food restaurants may have been included in the database, the authors note. The study also did not account for the proximity of healthy dining establishments near home, or the type of food and workout options close to where people worked.
The study was not a controlled experiment designed to prove whether or how neighbourhood characteristics like the availability of gyms or greasy spoons might impact obesity rates.
It is hard to rule out the possibility that healthier people may choose to live near the amenities they need to stay healthy, said Pablo Monsivais, author of an accompanying editorial and a nutrition and exercise researcher at Washington State University in Spokane.
But the study still suggests that where we live matters, Monsivais said by e-mail.
"Individually, each of us makes choices that affect whether we maintain a healthy weight or put on pounds, but these choices are shaped by the environments we inhabit," Monsivais added. "This study looked at just a few features of the environment, but research shows that things like green space, walkability, noise, air quality and the availability of healthy food choices all seem to matter for our health and body weight."
Related Articles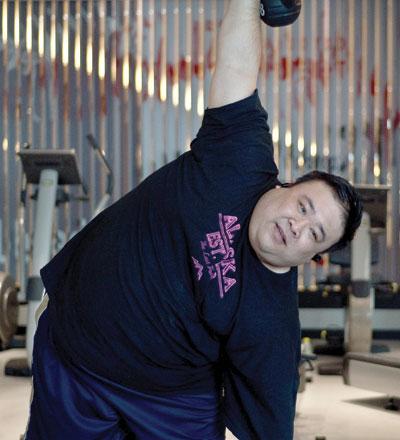 Nov 27,2014
Malaysians have a passionate love affair with their lip-smacking cuisine — rich curries, succulent fried chicken, buttery breads and creamy drinks — but it is increasingly an unhealthy relationship.
May 26,2014
Travellers who want to skip the hotel fitness centre in favour of local gyms that may offer better equipment, classes and amenities can turn to new apps on their smartphones to buy a day pass to a nearby gym.
Mar 10,2018
Older adults with heart disease who regularly exercise, even a little bit, may live longer than they would without any physical activity, a
Newsletter
Get top stories and blog posts emailed to you each day.