You are here
Audi A8 L 55 TFSI: High tech luxury
By Ghaith Madadha - Mar 12,2018 - Last updated at Mar 12,2018
Launched late last year, the latest iteration of Audi's luxury flagship A8 model promises cutting edge technology, comfort and safety. Initially offered with a single 3-litre engine and available in two lengths, the statuesque new A8's design cues and technology has already begun filtering down to other models. Offering the world's first level 3 autonomous driving system in a production car, the full extent of A8's artificial intelligence and automated features are, however, being rolled out as and when legislation in various markets catches up.
Detailed design
Built on a light yet stiff platform incorporating aluminium, steel, carbon-fibre and magnesium content the new A8's rigidity in enhanced by 24 per cent for improved safety, comfort and handling. Yet given the high levels of luxury and equipment, it nevertheless weighs in at a substantial 1945kg, unladen, for the more accommodating long wheelbase A8 L 55 TFSI version. Proportionally, the new A8 is longer and taller, yet is narrower and with a more rakishly coupe-like roofline that doesn't sacrifice rear headroom. The L version offers particularly generous rear legroom.
Statuesque and imposing, the new A8's design focus is its vast new haexagoal single-frame grille design, which is flanked by slim and browed headlights with bisected LED elements. Seemingly dwarfing its predecessor's, the new A8's grille lends a meaner and more dramatic look, but would have looked even better from some angles were the wheelarches wider or more prominent. Its body features extra attention to detailed surfacing and includes sharper ridges and creases, full-length rear lights add to its perception of width, but make it slightly colour sensitive from the rear.
Efficient ability
Available with a single petrol engine option presently — with V8 and W12 engines available soon — the driven A8 L 55 TFSI's turbocharged direct injection 3-litre V6 engine. Producing 335BHP at 5000-6400 and 368lb/ft throughout a wide 1370-4500rpm mid-range plateau, the 55 TFSI may be the entry-level model but is nevertheless quick and confident, with 0-100km/h acceleration delivered in 5.7-seconds for the long wheelbase model and a 250km/h top speed. Quick spooling, the 55 TFSI's turbo proves responsive at launch and with versatile mid-range and seamlessly willing to redline.
Refined and efficient, all A8s drive through a slick and smooth shifting 8-speed automatic gearbox with a broad spread of ratios for performance, consistency, flexibility and efficiency. Incorporating a mild hybrid system across the range, the A8 features a 48V battery and electric system, charging via regenerative braking. Separate from driveline components, it powers ancillary systems and switches the engine off for brief coasting at 55-160km/h.
It also allows traffic stop/start system operation from 22km/h, and contributes to a 0.7l/100km fuel consumption reduction, and restrained 7.8l/100km combined consumption.
Smooth and stable
Also powered by the A8's 48V system is optional electromechanical suspension, with electric motors controlling each wheel's travel independently in response to road texture changes, and when the system is fully deployed to production models, it will also predict textures and pre-empt them.
Driven in reactive and predictive guises on pre-production models, the A8's electromechanical suspension goes a long way towards making it feel and handle like a smaller, sportier car, without sacrificing comfort, and also serves as a safety system that raises the car in anticipation of a collision.
However, as driven in A8 L 55 TFSI form without optional electromechanical suspension, the A8 still handles well and rides with terrific comfort owing to its standard adaptive five-link air suspension.
An improvement of its predecessor model's air suspension, the new A8 has a more supple ride and seems to more subtly and fluently adapt to road imperfections, while remaining resolutely stable and settled at speed, and buttoned down on vertical rebound. Becoming tauter through corners to well contain body roll, the long wheelbase model drives well and with precision.
Reassuring and refined
If not as sharp, precise and crisp and agile on turn-in as A8 models fitted with electromechanical suspension, or standard wheelbase variants through narrow and winding mountain routes, it is nevertheless tidy, controlled and nimble for a full-size long wheelbase luxury car.
With standard Quattro four-wheel-drive for reassuring all-weather road-holding, the A8 can distribute power front and rear as necessary for added agility. Available with a host of safety and driver assistance systems, these, along with optional Audi AI self-driving functions, are operating through is "zFas" computer brain and numerous sensors, cameras and radars.
Activated via the Traffic Jam Pilot system, the A8's self-driving functionality will be rolled out as and when legislation allows in different markets, and differs from other systems in that it doesn't require constant monitoring and can stop, start, steer and brake to 60km/h under the right conditions.
Luxuriously appointed with fine materials, the A8's tasteful, spacious and refined cabin features a horizontal design emphasis.
Uncluttered and clean, it also features a configurable digital instrument panel and haptic feedback touch buttons and surfaces, while a long list of options will also include self-parking capability.
TECHNICAL SPECIFICATIONS
Engine: 3-litre, turbocharged, in-line V6-cylinders
Bore x stroke: 84.5 x 89mm
Compression ratio: 11.2:1
Valve-train: 32-valve, DOHC, direct injection
Gearbox: 8-speed automatic, four-wheel-drive
Ratios: 1st 4.714; 2nd 3.143; 3rd 2.106; 4th 1.667; 5th 1285; 6th 1.0; 7th 0.839; 8th 0.667
Reverse/final drive: 3.317/3.076
Drive-line: self-locking centre differential, optional limited-slip rear-differential
Power distribution, F/R: 40 per cent/60 per cent
Power, BHP (PS) [kW]: 335 (340) [250] @5000-6400rpm
Specific power: 111.8BHP/litre
Power-to-weight: 172.2BHP/tone (unladen)
Torque, lb/ft (Nm): 368.8 (500) @1370-4500rpm
Specific torque: 166.9Nm/litre
Torque-to-weight: 257Nm/tone (unladen)
0-100km/h: 5.7-seconds
Top speed: 250km/h (electronically governed)
Fuel consumption, urban/extra-urban/combined: 10.3-/6.4-/7.8-litres/100km
CO2 emissions, combined: 178g/km
Fuel capacity: 72-litres
Length: 5302mm
Width: 1945mm
Height: 1488mm
Wheelbase: 3128mm
Track, F/R: 1644/1633mm
Approach/departure angles: 14°/13.7°
Aerodynamic drag co-efficient: 0.27
Luggage volume: 505-litres
Unladen/kerb weight: 1945/2020kg
Steering: Electric-assisted rack & pinion
Turning Circle: 12.9-metres
Suspension: Five-link, adaptive air dampers
Brakes: Ventilated & perforated discs
Tyres: 265/40R20
Related Articles
Oct 23,2017
Launched globally last week and brimming with cutting edge technology, the latest Audi A8 throws down the gauntlet to its almost exclusively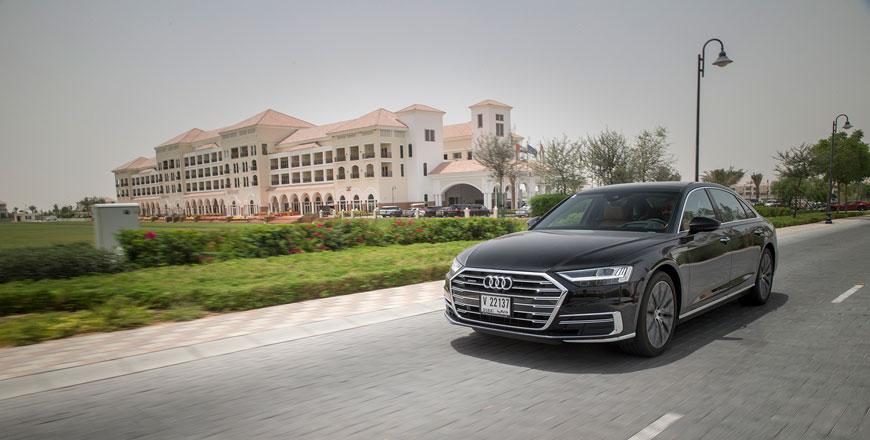 May 28,2018
Arriving to Middle East markets earlier this month and launched internationally late last year as a 2018 model, the fourth and latest genera
Dec 05,2017
Set to join the already available entry-level V6-powered version of Audi's all-new and high tech fourth generation flagship the A8 L 60 TFSI
Newsletter
Get top stories and blog posts emailed to you each day.