You are here
Audi A7 55 TFSI Quattro: low-slung style and five-door practicality
By Ghaith Madadha - Feb 11,2019 - Last updated at Feb 11,2019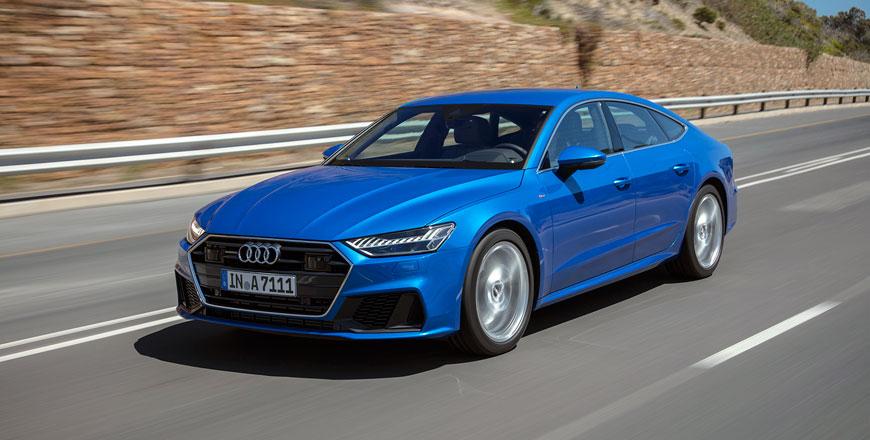 Positioned between the A6 executive and A8 luxury saloons in Audi's model hierarchy, the A7 is, however, a more leftfield design-focused four-door car with a sleek and low coupe-like roofline.
Launched for 2018, the second generation A7 is a more accomplished compromise between traditional saloon and sporty grand tourer with a more cohesive design than its predecessor.
Packed with much high tech infotainment, driver assistance and mechanical systems debuting with the A8 in 2017, the new A7 is also sportier and better handling car, and more comfortably forgiving than before.
Sharks and yachts
Sacrificing some of its saloon sister models' rear headroom and cabin accessibility for taller drivers, the A7 is perceived by some as the Ingolstadt manufacturer jumping on the Mercedes CLS-Class' so-called four-door-coupe bandwagon. In fact, the Audi A7's roots go further back than Mercedes' low slung saloon.
With a more practical rear hatch and fastback style design, the A7 is instead more of a modern take on its 5-door 1977 Audi 100 Avant predecessor, and offers better boot space and access than similarly sized coupe-saloon hybrids like the CLS-Class and BMW 6-Series Gran Coupe.
Long, wide and low slung, the A7's elegantly sporty grand tourer design lines and rakish, tapered and yacht-like rear hatch, however, owe more to the classic 1970 Audi 100 Coupe.
Similarly shark-like and predatory in posture, the new A7 trades its distant predecessor's deep set quad lights for slim, heavily browed and moody headlights.
Meanwhile, its new signature single frame grille design is bolder and more charismatic than its immediate predecessor and wider and lower set than its A8 sister. Featuring sharper and more ridged side character lines, the A7 also adopts new full width rear lights.
Swift and efficient
Positioned longitudinally just ahead of the front wheels for excellent traction and driving all four wheels to counter its somewhat nose-heavy layout, the driven Audi A7 55 TFSI Quattro is powered by a turbocharged direct injection 3-litre V6 engine.
Producing 335BHP at 5,000-6,400rpm and 368lb/ft torque throughout a broad 1,370-4,500rpm band, it is smooth, with good low-end response, flexible and accessible mid-range-grunt and willing high-end delivery. Combining four-wheel-drive traction and lighter construction with more aluminium content, the A7 can sprint through 0-100km/h in just 5.3-seconds and on to an electronically-governed 250km/h top speed.
Calm, capable and effortlessly smooth in delivery in town and on the highway, the A7 also features mild hybrid electric technology in the form of a 48v battery system that recuperates kinetic braking energy and powers ancillary systems to reduce fuel consumption. Allowing the A7 to coast briefly at speeds between 55-160km/h and to switch off the engine from 22km/h when coming to a stop, the A7's 48v system reduces fuel consumption by 0.7/l/100km to 7.1l/100km on the combined cycle, which is rather frugal for a luxurious, quick and highly equipped car weighing in at 1,815kg.
Stable and manoeuvrable
Driving all wheels for all-weather confidence and varying power front-to-rear through corners for road-holding, the A7's renowned Quattro four-wheel-drive now features 'ultra' technology. This effectively means that in normal conditions only the front wheels are driven to reduce friction and save fuel. With the rear wheels only becoming active when necessary, the change is so quick and smooth that it is all but imperceptible in most driving conditions. Additionally, the A7 can be optioned with a sport rear differential to distribute power along the rear axle to prevent wheelspin and ensure traction and cornering agility.
A more agile car than expected given its front weight bias, the A7 benefits from Audi's new all-round five-link suspension design, and as driven, features all-wheel-steering, which goes a long way to making its more nimble, responsive and stable. Turning in the opposite direction to the front wheels at under 60km/h to making it more manoeuvrable through corners and when parking, the A7's wheelbase is effectively reduced with four-wheel-steering, while turning circle becomes 1.1-metres shorter. At over 60km/h, the A7's rear wheels turn in the same direction as the front for enhanced stability at speed.
Smooth and supple
Reassuringly stable yet responsive through fast sweeping corners and in changing direction at speed thanks to its four-wheel-steering, the A7 is meanwhile quiet and refined owing to low 0.27 aerodynamic drag co-efficiency.
Offered with four suspension options and driven with the top specification adaptive air suspension the A7 rides with a lofty and supple smoothness that belies its aggressive design and its firm low profile 255/40R20 tyres on all but the most jagged bumps.
Smooth and comfortable over road imperfections, the A7's suspension offers good lateral control, with little body lean through corners.
A larger and more spacious car than the one it replaces, the A7's practical rear hatch and boot accommodate a generous 535-litre of cargo, which expands to 1,390-litre.
Supportive and comfortable, the A7's driving position is complemented by user-friendly controls and layouts, including a configurable cockpit-like instrument cluster and twin infotainment screens with haptic feedback.
Its design has a classy and contemporary minimalist appeal despite a huge array of standard and optional infotainment, convenience, safety and high tech driver assistance and artificial intelligence systems. Materials are meanwhile of good quality and feature plenty of soft touch textures.
TECHNICAL SPECIFICATIONS
Engine: 3-litre, turbocharged, in-line V6-cylinders
Bore x stroke: 84.5 x 89mm
Compression ratio: 11.2:1
Valve-train: 32-valve, DOHC, direct injection
Gearbox: 7-speed dual clutch automated, four-wheel-drive
Ratios: 1st 3.188; 2nd 2.19; 3rd 1.517; 4th 1.057; 5th 0.738; 6th 0.508; 7th 0.386
Reverse/final drive (1st & 2nd): 2.75/4.41
Power, BHP (PS) [kW]: 335 (340) [250] @5,000-6,400rpm
Specific power: 111.8BHP/litre
Power-to-weight: 184.5BHP/tonne (unladen)
Torque, lb/ft (Nm): 368.8 (500) @1,370-4,500rpm
Specific torque: 166.9Nm/litre
Torque-to-weight: 275.5Nm/tonne (unladen)
0-100km/h: 5.3-seconds
Top speed: 250km/h (electronically governed)
Fuel consumption, urban/extra-urban/combined: 9.3-/
5.8-/7.1-litres/100km CO2 emissions, combined: 161g/km
Fuel capacity: 63-litres
Length: 4,969mm
Width: 1,908mm
Height: 1,422mm
Wheelbase: 2,926mm
Track, F/R: 1,651/1,637mm
Loading height: 669mm
Aerodynamic drag co-efficient: 0.27
Luggage volume, min/max: 535-/1,390-litres
Unladen/kerb weight: 1,815/1,890kg
Steering: Electric-assisted rack & pinion, four-wheel-steering
Turning circle: 12.2-metres
Suspension: Five-link, adaptive air dampers
Brakes: Ventilated discs
Tyres: 255/40R20 /
Newsletter
Get top stories and blog posts emailed to you each day.