You are here
Airplane cabins are crawling with germs
By Los Angeles Times (TNS) - Feb 04,2018 - Last updated at Feb 04,2018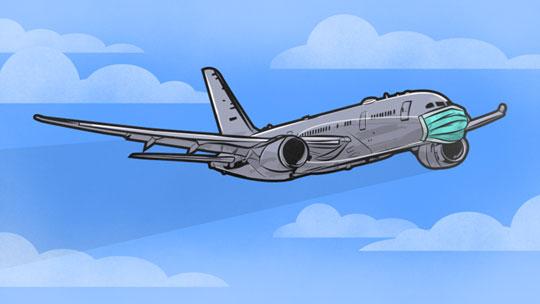 Photo courtesy of lifehacker.com
You do not have to be mysophobic to want to slip on rubber gloves when you enter an airplane cabin.
A new study confirmed that various surfaces in the cabin of a commercial plane have many times the amount of bacteria as an average kitchen counter. But the latest study found that surfaces in airport terminals can have even higher germ counts than those in the planes.
The highest number of colony-forming units of bacteria per square centimetre were found on increasingly popular self-serve ticketing kiosks.
The website InsuranceQuotes conducted swab tests on the surfaces of three major airports and three airlines and calculated the bacteria or fungal cell counts for several surfaces. InsuranceQuotes would not say what airports and airlines were tested.
The highest germ counts in the planes were on the flush button on the toilets — 95,145 colony-forming units (CFUs), followed by 11,595 CFUs on the tray tables and 1,116 CFUs on the seat buckles, the study said. The typical kitchen counter measures 361 CFU, according to the National Science Foundation.
The highest germ counts in the terminals were found on the screens of airport kiosks, 253,857 CFUs, followed by 21,630 CFUs on bench armrests and 19,181 on drinking-fountain buttons, the study said.
Nearly three years ago, a similar study said the buttons on the drinking fountains in airport terminals had the highest germ count. Since then, airlines including American, Southwest and United have added hundreds of new self-serve kiosks to speed check-ins.
Related Articles
Mar 20,2018
If you are the type of traveller who worries about catching the flu or another dreaded disease from a fellow airline passenger, a new study
Apr 30,2014
Qatar's much-delayed new international airport, built at a cost of $15.5 billion, welcomed its first commercial flight on Wednesday.
Feb 09,2016
NAIROBI — A suspected suicide bomber who blew a hole in the fuselage of a Daallo Airlines plane last week and forced it to make an emergency
Newsletter
Get top stories and blog posts emailed to you each day.