You are here
Yemen government announces budget after three-year hiatus
By AFP - Jan 21,2018 - Last updated at Jan 21,2018
People are seen at a restaurant in Sanaa, Yemen, on Friday (Anadolu Agency photo)
ADEN — Yemen's cash-strapped government on Sunday released its first official budget since the Houthi rebels overran the capital Sanaa in 2014 and following a bailout from ally Saudi Arabia.
Prime Minister Ahmed Bin Dagher said spending in the 2018 budget is projected at 1.5 trillion Yemeni riyals ($3.9 billion), with revenues estimated at 978 billion riyals ($2.6 billion).
The Aden-based government projected a deficit of $1.3 billion, based on the official exchange rate of 380 riyals to the dollar — higher than the market rate of about 450 riyals to the dollar.
In a post on Facebook, the prime minister painted a devastating picture of the country's economy, saying that oil and gas production — the main source of revenue before the war — had ground to a halt and that $5 billion in foreign reserves and stocks of the local currency had been "looted" by rebels who maintain a separate central bank in Sanaa.
Bin Dagher did not offer details on revenue sources for the budget but it comes on the heels of a bailout by Saudi Arabia, the main backer of the internationally recognised government. The prime minister vowed "optimal use" of Saudi Arabia's $2 billion deposit to the central bank, which has buoyed the local currency in recent days, and said the new "austerity budget" would nonetheless guarantee wages for civil servants and the military.
Saudi Arabia leads a military coalition that intervened in Yemen in March 2015 with the stated aim of rolling back Houthi rebel gains and restoring the country's "legitimate" government to power.
More than one million civil servants lost their jobs in 2016, when President Abed Rabbo Mansour Hadi moved the central bank from rebel-held Sanaa to Aden.
For more than a year, the government has been unable to pay salaries and the riyal dropped sharply against the dollar, leaving Yemenis unable to afford food staples and bottled water.
The Yemen conflict has left more than three-quarters of the population in need of humanitarian aid and 8.4 million at risk of famine, according to the United Nations.
Related Articles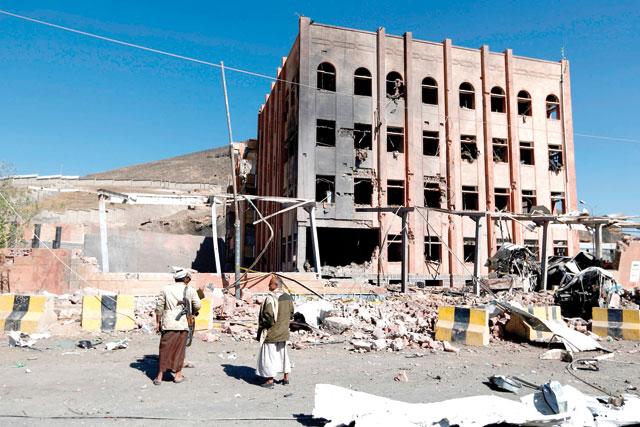 Feb 07,2018
ADEN — Yemen's prime minister appealed on Wednesday for reconciliation with southern separatists after deadly clashes last month in which th
Sep 23,2016
ADEN — Yemen's premier-in-exile returned home on Thursday along with seven ministers to the southern city of Aden, the temporary capital as
May 18,2016
RIYADH — Yemen's Prime Minister Ahmed Bin Dagher on Wednesday rejected a unity government proposed by Iran-backed rebels whom he accused of
Newsletter
Get top stories and blog posts emailed to you each day.