You are here
Workers suffer in Saudi Arabia as once-mighty Hariri firm falters
By AFP - Mar 27,2016 - Last updated at Mar 27,2016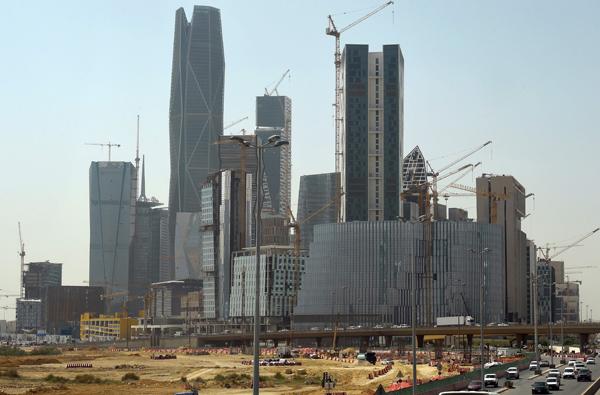 A picture taken on March 9, 2016, shows towers under construction at the King Abdullah Financial District in the Saudi capital Riyadh. Towers in the complex are being built by the Saudi Oger Company and other constructors (AFP photo)
RIYADH — He's had no salary for six months, he cannot pay his children's school fees and his permit to reside in Saudi Arabia has expired.
But Robert still holds out hope that things might improve for him and thousands of other workers at Saudi Oger Ltd., the once-mighty construction giant led by Lebanon's billionaire former prime minister Saad Hariri.
Delayed receipts from a Saudi government whose oil revenues collapsed over the past two years have left employees of the company struggling to survive while they wait to be paid, Robert and other sources say.
Other contractors are also affected, but sources say problems at the 38-year-old Saudi Oger go deeper than the kingdom's current economic strains.
"Already when I worked at Saudi Oger there were delays in salary payments to local employees," a former staffer indicated. "It seems the situation got worse."
Saudi Oger employs around 50,000 people of various nationalities, from managers to labourers, and Robert noted that the salaries of nearly all have been delayed.
But at six months without a pay cheque, he is among the longest suffering.
"I don't have money," he said. "It's hard."
The veteran employee of Saudi Oger says he has "no choice" but to stay with the firm because he cannot find another job.
Robert, whose name has been changed because he asked for anonymity, said the company promised in a letter that salaries will flow at the end of March.
Poor management blamed
"It's a desperate situation," a well-informed source said, describing expatriate families facing a similar plight to Robert's.
"They can't pay for the tickets" to even fly home, the source indicated, adding that many senior officers of Saudi Oger support families in Lebanon, meaning remittances to that country will be affected.
He also noted the impact on Saudi Oger's lower-income workers.
The informed source said poor management "is one of the main problems" at Saudi Oger, but this has been compounded by the economic challenges of a kingdom confronting a projected budget deficit of $87 billion this year.
France's embassy, concerned for the many French employees at the company, sent two letters to the firm, which responded with its promise to start paying the salaries.
"The thing is, do they have the funds to keep their promises?" the informed source asked.
"The group's treasury has for a long time been badly run," said a Lebanese businessman who works in the kingdom.
Political tensions
He added that the plight of the Hariri family company raises two questions: "Will Saudi local banks continue to finance Saudi Oger, and secondly, will the Hariri clan manage to enlist an investor willing to provide new investment?"
The Hariris have been a political and economic force in Lebanon for decades.
Saad Hariri, whose political bloc is close to Saudi Arabia and the West, was catapulted into Lebanese politics 11 years ago after the assassination of his father Rafiq.
Long-standing problems at Saudi Oger peaked as tensions escalated this year between Saudi Arabia and Iran, which back opposing sides in wars in Syria and Yemen.
Tehran also supports Hizbollah, the Shiite militant group leading a powerful Lebanese political bloc in opposition to Hariri's faction.
Riyadh has accused Hizbollah of exerting a "stranglehold" on the Lebanese state.
"If Hariri can prove he is still useful, the Saudis may help him," a Lebanese banker said. "But if not, they won't."
Attempts to reach a Saudi Oger spokesman were unsuccessful.
The company built some of the most grandiose complexes in Riyadh, including the palatial Ritz-Carlton Hotel.
Among its ongoing projects, Saudi Oger's website lists a five-star hotel and office tower along with a monorail in the King Abdullah Financial District.
Cranes perch, unmoving, atop more than two-dozen towers that were nearing completion at the northern Riyadh project.
Robert confirms the financial district is among the stalled Saudi Oger projects but he adds that none have been cancelled.
Most towers in the complex are being built by local construction giant Saudi Binladin Group, which is "also having problems", according to a veteran contractor.
King Salman suspended the Binladin Group from new public contracts after one of its cranes working on a major expansion of the Grand Mosque in Mecca, Islam's holiest site, toppled in September killing at least 109 people.
In a business which is ultimately all tied to the government, construction projects have been "slowed down" and cash "is not coming in on time", the contractor said.
As he waits for his money to arrive, Robert does not have the air of a man who is beaten.
He remains "somewhat positive" the company can take a "new direction", and recalled with pride Saudi Oger's projects like the Ritz-Carlton.
"It was one of the best companies," he said.