You are here
Syrian pound up 10 per cent
By AFP - Apr 05,2018 - Last updated at Apr 05,2018
Syrian currency notes are seen on display at the central bank in Damascus, July 27, 2010 (Reuters file photo)
DAMASCUS — The Syrian pound has appreciated around 10 per cent against the US dollar in recent days, as rebel fighters quit their final stronghold of Eastern Ghouta on the edges of the capital.
The unofficial exchange rate in the capital was at 430 Syrian pounds per dollar on Wednesday, compared with 460 pounds the previous week.
When Syria's conflict first erupted in 2011, the currency was valued at 48 Syrian pounds per dollar but it has depreciated dramatically since then.
The pound hit its highest value in years on Monday morning, according to the Al Watan Syrian daily, reaching 405 pounds per dollar just as a new deal for Eastern Ghouta began to be implemented.
The official exchange rate is still at 436 pounds per dollar.
On Monday, rebels and civilians began evacuating the town of Douma, the final opposition-held pocket of the Ghouta enclave.
Rebel fighters had held Ghouta since 2012, and recapturing it will be seen as a victory for Syrian President Bashar Al Assad.
"The psychological factor has no doubt tipped the balance, especially in light of the most recent deal reached in Ghouta," Syrian economic analyst Firas Haddad told AFP.
The pull-outs came under a deal announced on Friday between regime backer Russia and rebel group Jaish Al Islam, which controls Douma.
The first evacuations saw 1,100 people leave Douma for the opposition-held town of Jarabulus in northern Syria, and another 1,200 were bussed out the following day.
Related Articles
Apr 02,2018
DOUMA, Syria — A final deal has been reached for fighters and civilians to leave the last opposition-held pocket of Eastern Ghouta, a monito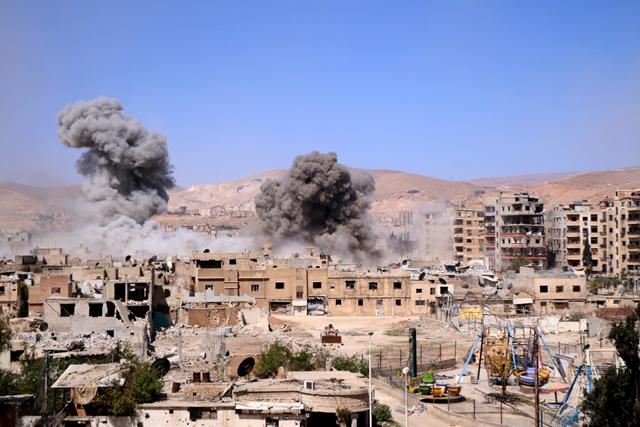 Apr 07,2018
BEIRUT — Deadly bombardments pounded the last opposition holdout in Syria's Eastern Ghouta on Saturday, after regime troops resumed a m
Apr 02,2018
DAMASCUS, Syria — Syria's regime drew closer to taking full control of Eastern Ghouta on Monday as state media reported that fighters began
Newsletter
Get top stories and blog posts emailed to you each day.