You are here
RJ achieves positive operational results in first four months
By JT - May 31,2017 - Last updated at May 31,2017
AMMAN — Royal Jordanian (RJ) said it achieved positive operational results during the January-April period of 2017 compared to the same period last year, according to an RJ press statement released on Wednesday.
The airlines reported a growth in the number of passengers, the seat factor and load factor of uplifted cargo.
Royal Jordanian President/CEO Captain Suleiman Obeidat said RJ transported almost 45,000 more passengers in the first four months of 2017 compared to the number of passengers recorded in last
year's first four months; registering a 5 per cent increase.
RJ aircraft carried 1.13 million passengers on scheduled and non-scheduled flights in the first four months of this year, according to the statement.
Due to the increase in passenger numbers, the seat factor also went up. Moreover, the load factor of the uplifted cargo increased by 11 per cent on its freighters and passenger aircraft.
Obeidat attributed the growth in passenger numbers to the efforts exerted by RJ employees to offer top ground and air services on all RJ routes, serviced by a fleet of 25 modern aircraft, seven of which are recently introduced Boeing 787s, dedicated to serve the long- and medium-range destinations.
Between January and April this year, the on-time performance went up to 81.4 per cent from 77 per cent last year.
Since the end of last year, the commercial sector has run several marketing campaigns and promotions that greatly influenced the public all over the world. The promotional initiatives were run in parallel with the airline's efforts to improve the RJ service and product, which the company offers for reasonable prices. A large number of RJ passengers are tourists visiting Jordan, the statement indicated.
Expressing gratitude to all RJ employees for the positive turnaround in the operational results, Obeidat pointed out that the upcoming summer season, along with the pilgrimage flights to Mecca (Hajj and Umra) are sure to maintain busy traffic on all RJ's sectors.
Related Articles
Feb 09,2014
Top Asian airlines' profit margins are being eroded by a struggling air cargo business, even as they capitalise on increasing passenger demand, industry executives said Sunday.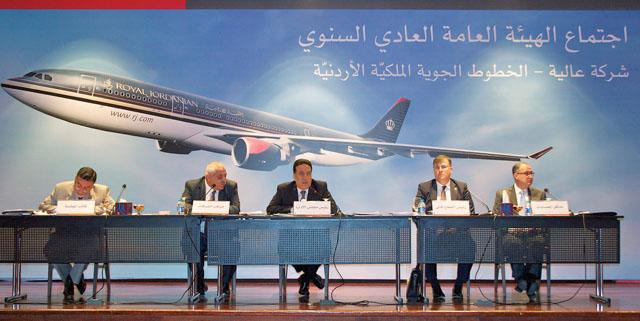 Sep 21,2014
The government and Royal Jordanian (RJ) board members are studying a number of options to help the company return to profitability, and secure a bright future, an RJ press statement sent to The Jordan Times quoted RJ Chairman Nasser Lozi as telling shareholders on Sunday.
Dec 10,2015
Geneva — The International Air Transport Association's (IATA) outlook of the airline industry for 2016 sees an average net profit margin of
Newsletter
Get top stories and blog posts emailed to you each day.