You are here
Qatar says Gulf crisis puts $2 billion in contracts at risk
By AFP - Jun 20,2017 - Last updated at Jun 20,2017
People walk past the Qatar Airways branch in the Saudi capital Riyadh, after it had suspended all flights to Saudi Arabia following a severing of relations between major Gulf states and gas-rich Qatar on June 6 (AFP photo)
DOHA — The political crisis in the Gulf is putting at risk business deals worth $2 billion in Arab countries that have cut ties with Qatar, an economic official in the emirate said on Monday.
Yousuf Mohamed Al Jaida, chief executive of the Qatar Financial Centre, said the majority of the contracts at risk — some $1.5 billion (1.3 billion euros) — were in the area of construction.
The level of exposure for businesses from Saudi Arabia, the United Arab Emirates and Bahrain has been negatively impacted alongside that of Qatari businesses in the current crisis.
"We sincerely believe that the impact is regional, not only local," Jaida told reporters at a briefing in Doha.
"Qatar's exposure to the blockade countries — the UAE, Saudi Arabia and Bahrain — is limited. This is a fact," he said in English.
There are very few Qatari companies doing business in Saudi Arabia, UAE, and Bahrain, he said.
"There is on the other hand a couple of billion dollars of contracts of these blockade countries impacted in Qatar due to restrictions in their own countries," he added.
Some $18-billion in short-term deposits held by Saudi, UAE and Bahraini banks would mature in the next two months, but if the funds were withdrawn they could be "easily" covered by the Qatari government, said Jaida.
The economist said Qatar's sovereign wealth fund, worth some $335 billion, was largely unaffected as it was mostly invested outside the Gulf.
Saudi Arabia, the United Arab Emirates, Bahrain are among a string of countries which this month cut ties with Qatar over accusations the emirate supports extremism.
Doha denies the accusations.
Gas-rich Qatar is currently in the middle of a massive $200-plus billion infrastructure programme to help the country prepare for the 2022 Football World Cup.
Imports from Saudi Arabia, the UAE and Bahrain, including construction materials and food, represent about 14 per cent of Qatar's total imports, said Jaida.
The crisis has forced Qatar to turn elsewhere for long-term trade partners, especially those in Asia.
"We will continue to expand our global outreach, especially with Asia, which happens to be our largest export market," said Jaida.
Imports from Asia account for 32 per cent of Qatar's total imports.
Qatar has also shipped in food from Turkey and Iran since Saudi Arabia and its allies on June 5 suspended ties with the emirate.
Related Articles
Jun 05,2017
DUBAI — Qatar's stock market plunged on Monday after Saudi Arabia, Egypt, the United Arab Emirates and Bahrain severed ties with Doha, accus
Jun 19,2017
DOHA — Bahrain has ordered Qatari troops serving with a coalition fighting the Daesh terror group to leave its territory, a source with know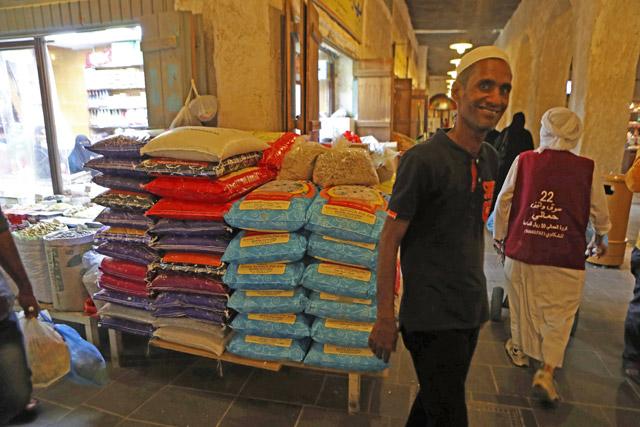 Jun 08,2017
DOHA — When 31-year-old Ali Al Mohanadi heard Saudi Arabia, the United Arab Emirates and other nations were cutting ties and severing all tr
Newsletter
Get top stories and blog posts emailed to you each day.