You are here
OPEC to debate oil output cut next week but Iraq, Iran hesitate
OPEC experts make recommendation but full deal still elusive
By Reuters - Nov 22,2016 - Last updated at Nov 22,2016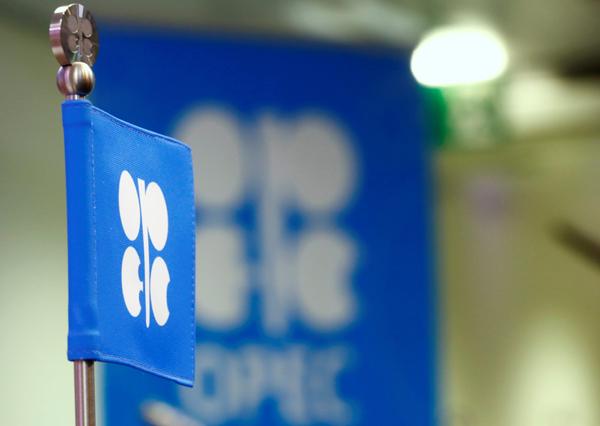 The OPEC flag and the OPEC logo are seen before a news conference in Vienna, Austria, October 24 (Reuters photo)
VIENNA/DUBAI — OPEC will debate an oil output cut of 4-4.5 per cent for all of its members except Libya and Nigeria next week but the deal's success hinges on an agreement from Iraq and Iran, which are far from certain to give full backing.
Three OPEC sources told Reuters a gathering of experts from the oil producer group in Vienna had decided on Tuesday to recommend that a ministerial meeting on November 30 debate a proposal from member Algeria to reduce output by that amount.
Such a cut would bring OPEC's current output down by more than 1.2 million barrels per day (bpd), according to Reuters calculations based on the group's October production, and is towards the upper end of market expectations.
But sources also said the representatives of Iran, Iraq and Indonesia had expressed reservations about their level of participation in what would be the group's first supply-limiting deal since 2008.
Brent oil futures were trading flat at around $49 per barrel, paring earlier gains of around $1 a barrel. As of (16:00 GMT), the meeting had yet to end.
In September, OPEC agreed to reduce production to between 32.5 million and 33.0 million bpd — an effort to prop up prices — from OPEC's own latest production estimates of 33.64 million bpd.
OPEC's deal faces potential setbacks from Iraq's call for it to be exempt and from Iran, which wants to increase supply as its output has been hit by sanctions.
Iraq's foreign minister said on Tuesday in Budapest that OPEC should allow Iraq to continue raising output with no restrictions.
Big bargain
Iran and Iraq raised certain conditions for participating in the deal, according to sources, who were not allowed to speak on the record because the experts were meeting behind closed doors.
Sources said Saudi Arabia and its Gulf allies have signalled they were prepared to cut as much as 1 million bpd of their output.
The Algerian proposal would see all member countries, except Nigeria and Libya, cutting 4-4.5 per cent from OPEC's estimates of their October production with the aim of reaching a total output target of 32.5 million bpd, OPEC sources have said.
That would mean Saudi Arabia alone could cut up to 500,000 bpd, they said.
OPEC's own estimates, based on so-called "secondary sources", are usually lower than countries' direct submissions to the organisation.
Under the Algerian proposal, Iran was asked to cut 4.5 per cent from almost 4 million bpd, according to sources. But Tehran is signalling it wants to cut from higher levels of 4.1-4.2 million bpd, one of the sources said.
Iraq was asked to cut about 200,000 bpd. Baghdad is also still debating whether it should cut from the levels of OPEC's estimates or its own, higher, production figures.
"Eighty-five per cent of proposed OPEC cuts are from Gulf countries but Iran is still not in favour," one source said.
Non-OPEC producer Russia was also still not agreeing to cut production but favouring a freeze, a senior OPEC delegate said.
"This will make it difficult for OPEC alone to rebalance the market and bring prices up," the source said.
up
6 users have voted, including you.
Related Articles
Jun 01,2016
VIENNA – Gulf OPEC members including Saudi Arabia are looking to revive the idea of coordinated oil-output action by major producers when th
May 24,2015
TEHRAN — Iranian President Hassan Rouhani called Sunday for national unity to liberate the economy from international sanctions, which he co
Mar 14,2016
LONDON — The Organisation of the Petroleum Exporting Countries (OPEC) on Monday predicted global demand for its crude oil will be less than
Newsletter
Get top stories and blog posts emailed to you each day.