You are here
OECD calls US dip a blip, chops world growth forecast
By AFP - Jun 04,2015 - Last updated at Jun 04,2015
PARIS — The Organisation for Economic Cooperation and Development (OECD) sharply lowered its global growth forecasts for 2015 and 2016, dragged down partly by a "transitory" shortfall in US performance and by businesses and governments skimping on investment.
"Global growth is projected to strengthen in the course of 2015 and 2016, but will remain modest relative to the pre-crisis period," the OECD said this week.
It predicted the world economy would grow at a rate of 3.1 per cent this year, down from the 4 per cent increase it projected in March.
The growth forecast for next year has been revised downward half a percentage point, from 4.3 to 3.8 per cent, with an expectation that the world economy "will strengthen gradually to approach its past [pre-crisis] average pace by late 2016".
"The global recovery continues but is mired by unemployment, rising inequality, low wages and low productivity growth," OECD chief Angel Gurria said, unveiling the new report.
The OECD, a policy analysis body grouping 34 advanced economies, slashed its outlook for the United States from 3.1 to 2 per cent this year, and from 3 per cent to 2.8 per cent next year.
The Paris-based think tank said the stronger dollar and a brutal North American winter, which it said caused "transitory disruptions", put a brake on growth in the first quarter of 2015, while predicting: "Activity should regain steam, with aggregate demand propelled by continued employment gains, wealth effects from rising asset prices, and the boost to purchasing power from lower oil prices."
China, too, will grow more slowly than the OECD predicted in March, by two-tenths of a percentage point lower in both years, at 6.8 per cent in 2015 and 6.7 per cent in 2016.
"Consumption will remain robust" in China, where growth will also be spurred by stepped-up infrastructure investment, it said.
The OECD added that overall, "the economic recovery from the global financial and economic crisis that broke out in 2008 has been unusually weak".
The knock-on effects have included continuing job insecurity, sluggish development in emerging economies and "rising inequality nearly everywhere", the report indicated .
However, the OECD expects growth "to be shared more evenly across regions of the world" in the coming period.
Its outlook for the eurozone was unchanged at 2.1 per cent for this year and a slightly rosier 2 per cent for 2016, thanks to lower oil prices, the weak euro, better financial conditions and fresh stimulus spending.
But unemployment in the eurozone will remain stubborn, declining to a still painful 10.25 per cent by the end of next year, the OECD said.
'Tepid' investment
The report chided businesses and governments for what it called "tepid" investment.
"By and large, firms have been unwilling to spend on plant, equipment, technology and services as vigorously as they have done in previous cyclical recoveries," it said.
"Moreover, many governments postponed infrastructure investments as part of fiscal consolidation," it added, with negative effects on employment and wages and therefore consumption.
"On the supply side, sluggish investment has undermined the rate of growth of potential output, the capacity of economies to increase living standards, make good on future obligations to citizens, and repay debt," the report continued.
Addressing a news conference at the OECD's Paris headquarters, Gurria urged governments "to use all the policy tools they have in hand" to step-up investment.
"If investment is there, growth will come," he said.
Among global risk factors the OECD cited were new drops in oil prices, failure to reach a "satisfactory" deal between Greece and its creditors, and a "disorderly exit" from Washington's zero interest rate policy.
It said it expected oil prices to "stabilise above current levels" but well below the $110 per barrel average of the three years preceding last year's precipitous drop.
Greece faces a Friday deadline to repay more than 300 million euros ($328 million) to the International Monetary Fund. Overall it needs to repay the global lender some 1.6 billion euros this month, funds it currently lacks.
The US Federal Reserve funds rate has remained locked at zero since the end of 2008 as the Fed has sought to help pull the economy back from the Great Recession.
Fed boss Janet Ellen last week said to expect a rate hike "at some point this year" as the economy continues to mend.
Related Articles
Jun 01,2016
PARIS — The world risks getting caught in a low-growth trap, denting the future of generations to come, unless governments step up spending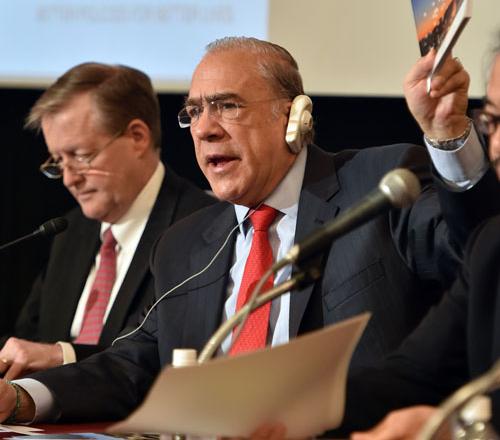 Apr 15,2015
The head of the Organisation for Economic Cooperation and Development (OECD) on Wednesday credited a wave of loose monetary policy for preventing a global economic collapse, but warned it was now up to governments to lift growth and safeguard their economies.
Nov 06,2014
The Organisation for Economic Cooperation and Development (OECD) called Thursday on the world's leading countries to step up measures to support flagging global growth, in particular urging the European Central Bank (ECB) to overcome its reluctance and undertake quantitative easing.
Newsletter
Get top stories and blog posts emailed to you each day.