You are here
Lebanon scraps controversial airport expansion — minister
By AFP - Mar 30,2023 - Last updated at Mar 30,2023
BEIRUT — Cash-strapped Lebanon has scrapped a deal for a second terminal at Beirut's international airport, the transport minister said on Thursday, after critics raised transparency concerns in the $122 million project.
Lebanon "will not proceed with the contract", Public Works and Transportation Minister Ali Hamieh said on Twitter, adding that the decision came "following legal controversy".
Some had questioned how a caretaker government with limited powers could announce such a major infrastructure project, in a country where entrenched political barons are accused of systemic corruption.
Civil society organisations and lawmakers noted the absence of a tender process and a lack of involvement of the Public Procurement Authority.
Jean Ellieh, head of the authority, said "the contract did not pass through" the regulatory body as required under a 2021 law.
Last week 10 civil society groups, including Transparency International Lebanon, warned of "serious abuses" in the procurement law's application which "open the door to corruption and nepotism".
The government, which has been operating in a caretaker capacity since legislative elections last May, announced the second terminal project last week, to be carried out by private company Lebanese Air Transport and Irish firm daa International.
Hamieh had said the private sector would fund project, which would have created "around 2,500 jobs", with the firms to operate the terminal for 25 years.
Lebanon plunged into an economic crisis in 2019, that the World Bank has dubbed one of the planet's worst in modern times.
The meltdown has pushed most of the population into poverty while the political elite, widely blamed for the country's financial collapse, has failed to take action.
The International Monetary Fund last week warned the country was "at a very dangerous moment", criticising slow progress on reforms needed to unlock billions in emergency loans.
Along with a caretaker government, the country has also been without a president for almost five months amid political deadlock.
Related Articles
Mar 06,2014
A passenger plane flying from Lebanon to Iraq on Thursday turned back after the Iraqi transport minister's son missed the flight and phoned Baghdad to stop the aircraft from landing, Middle East Airlines (MEA) said.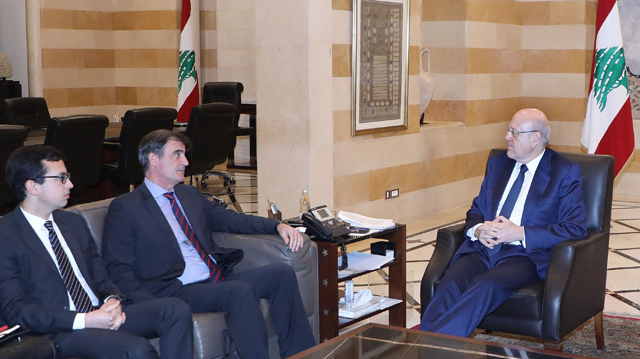 Mar 23,2023
BEIRUT — Crisis-hit Lebanon is "at a very dangerous moment", a visiting International Monetary Fund (IMF) delegation said on Thursday, criti
Jul 31,2022
BEIRUT — Parts of Beirut's grain silos collapsed on Sunday, just days before the second anniversary of a catastrophic explosion at the Leban