You are here
Hyatt Regency Aqaba Ayla to receive five-star deluxe rating
Ayla presents plans, achievements to ASEZA
By JT - Feb 03,2020 - Last updated at Feb 03,2020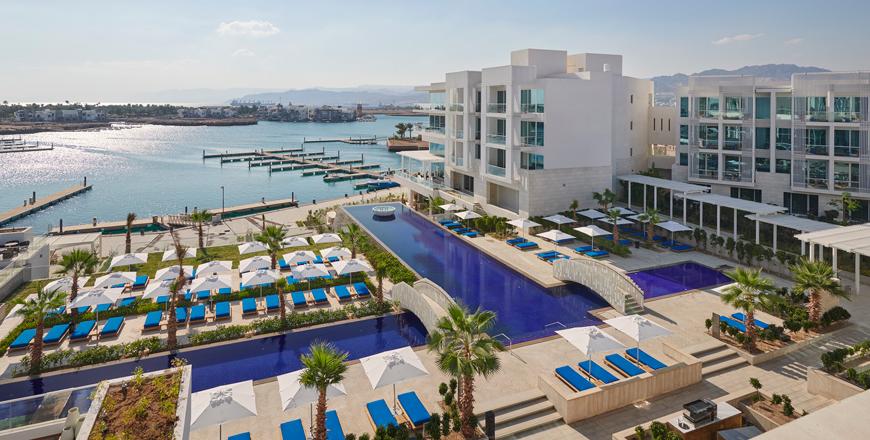 The photo shows the various facilities of the Hyatt-Regency Aqaba (Photo courtesy of the hotel)
AMMAN — The Aqaba Special Economic Zone Authority (ASEZA) will award the Hyatt Regency Aqaba Ayla Resort a five-star deluxe classification today [on Tuesday].
The award is in recognition of the exceptional levels of hospitality services, state-of-the-art facilities, and integrated range of facilities the hotel provides.
The award granting will take place during a visit by representatives of hotel classifications at the ASEZA to Ayla facilities, considered one of the largest urban development projects in Jordan.
In a statement, Nayef Bakhit, Chief Commissioner of the Aqaba Special Economic Zone Authority (ASEZA) stressed the role of Ayla in developing a world-class tourism product which contributes all the factors of a primary destination for tourists from abroad and increases the number of distinctively rated hotel rooms to become one of the leading destinations for tourists in the Aqaba Special Economic Zone.
In remarks, Sharhabeel Madi, ASEZA commissioner of tourism and economic affairs said: "The classification of the Hyatt Regency Aqaba Ayla as a five-star deluxe hotel is a valuable addition to the tourism product and will have a great impact in strengthening the local tourism ecosystem. "
During the visit, representatives of the classification committee are scheduled to take a tour through the various hotel facilities and listen to an overview by Jean-François Durand, general manager of the Hyatt Regency Ayla, of the services and facilities offered by the hotel, considered some of the best in the region, starting from its unique design and quality facilities, and ending with itsworld-class services, uniquesupport for recreational activities, as well asits Spa and wellness centre.
Sahl Dudin, managing director of Ayla Oasis Development Company, will brief the classification committee on Ayla's various facilities, including the brand-new retail zone in Ayla's Marina Village, which will be launched in the second quarter of 2020.
It will provide a one-stop service destination for Ayla's residents and visitors alike, in addition to offering them the chance to explore the unique yacht marinas and plethora of real estate residential and hotel development areas.
Dudin added that Ayla is transforming into a fully-integrated youth community as it has started the delivery of residential units within the islands area to their owners, in addition to handing over 50 per cent of its golf apartments to their owners as well.
Ayla pursues its work to offer integrated support services, provided by leading Jordanian brands in the retail, pharmacy, restaurants, cafés and other sectors, noting that Ayla is strongly contributing to the tourism activities in the city by offeringunique promotional campaigns and activities, as well as hosting and organising major sports events, and launching competitive tourism seasons, which have all helped in making Ayla a leading destination for both family and expatriate tourism.
Ayla's world-class facilities for water sports and golf have helped it attract high-level global, regional and local sports tournaments which are helping to promote Aqaba's unique capabilities.
Ayla has completed the first phase of the project about a year ago, with the opening of the Hyatt Regency Aqaba Ayla Resort, a testament to its efforts to comply with a comprehensive plan that includes supplying the tourism sector in the Aqaba Special Economic Zone with about 1,500 new high-end hotel rooms, split among 5 hotels, in addition to adding 3,000 housing units and 20,000 square metres of shops, restaurants, cafés and other support services, and 300 berths for boat owners and enthusiasts, which are all adding to Aqaba's ability to attractmore tourists, especially after the city exceeded the barrier of one million tourists in 2019, and is now gearing up for even further growth in the coming period.
The visit supports a participatory approach to work between the public and private sectors and reflects joint efforts to achieve development goals.
Newsletter
Get top stories and blog posts emailed to you each day.