You are here
HSBC profits up in first half of 2017
Streamlining operations, exiting unprofitable businesses part of bank's recipe
By AFP - Jul 31,2017 - Last updated at Jul 31,2017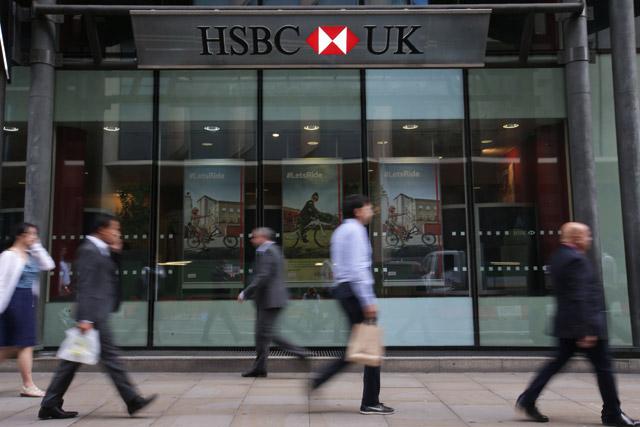 Pedestrians walk past an HSBC bank branch in the City of London on Monday (AFP photo)
HONG KONG — HSBC said its profits were up in the first half of the year after a turbulent 2016 which saw huge writedowns and restructuring costs as it laid off thousands of staff.
The Asia-focused giant has been on a recovery drive over the past two years, streamlining its operations and exiting unprofitable businesses.
Like many global banks it has struggled to boost profits as China's economy slows and uncertainty caused by Britain's looming exit from the European Union casts a shadow over the sector.
In addition, HSBC has grappled with stricter capital rules, low interest rates and scandals stemming from its own misbehaviour.
However, Monday's results were an improvement as analysts said its overhaul was bearing fruit.
Reported pre-tax profit for the six months to June rose 5 per cent to $10.2 billion compared with $9.7 billion for the same period last year.
Shares closed up 2.62 per cent at HK$78.45 ($10.06) in Hong Kong on Monday.
The half-year results showed operating expenses dropped 12 per cent to $16.4 billion, partly stemming from a sell-off of its Brazil operations.
Chairman Douglas Flint described the performance as "extremely pleasing".
Flint said there were still uncertainties due to increasing geopolitical tensions and "ambiguous predictions" around Britain's future relationship with the EU post-Brexit, but described HSBC's performance as resilient.
In his last statement as chairman before stepping down in October, Flint warned over the possible repercussions of the Brexit deal.
"The essential questions that have to be addressed are whether, at the conclusion of the negotiations, the economies of Europe will continue to have access to at least the same amount of financing capacity and related risk management services, and as readily available and similarly priced, as they have enjoyed with the UK as part of the EU," he said in a statement.
Flint also called for more progress on preventing "bad actors" from accessing the financial system.
"As digitalisation of commercial activity increases, the risks of confidence-threatening disruption and economic loss, not least from cyber attacks, are amplified," Flint said.
Unacceptable failings
Analysts said Monday's results had outstripped predictions.
"HSBC's earnings are definitely better than market expectations," said Dickie Wong of Hong Kong-based Kingston Securities.
He described the firm as in "very good shape" after wide-ranging restructuring programmes following the global financial crisis in 2008.
Net profit for the first half of the year rose 10 per cent to $6.99 billion from $6.36 billion for the same period in 2016.
Pre-tax profits for the second quarter rose $1.7 billion to $5.3 billion year on year, beating Bloomberg analysts' estimates, which had averaged out at a $4.6 billion forecast.
HSBC also announced a share buyback of up to $2 billion, expected to be completed in the second half of the year.
The bank announced the appointment of a new chairman in March as part of a management overhaul that will also see it choose a new chief executive to replace Stuart Gulliver, following a massive drop in 2016 profits.
British businessman Mark Tucker, currently group chief executive and president of insurance group AIA, will take over from Flint.
Gulliver has said he will step down in 2018.
Gulliver and Flint were grilled by British lawmakers in 2015 and apologised for "unacceptable" failings at HSBC's Swiss division following allegations the unit helped rich clients hide billions of dollars from the taxman.
HSBC was one of six major US and European banks that were fined a total of $4.2 billion by global regulators in a November 2014 crackdown for attempted manipulation of the foreign exchange market.
It was also fined $1.92 billion by US prosecutors in 2012 to settle allegations that it failed to enforce anti-money laundering rules, exposing it to exploitation by drug cartels and terrorist organisations.
Related Articles
Feb 09,2015
Secret documents published online alleging banking giant HSBC helped wealthy customers dodge millions of dollars in taxes caused global shockwaves Monday and spotlighted the financial dealings of the world's ultra-rich.
Jan 10,2016
LONDON — Finance Minister George Osborne said last week that Britain's economy was not immune from a "dangerous cocktail" of threats from ab
Apr 28,2014
The Housing Bank announced in a press statement on Monday that pre-tax profit amounted to JD41 million during the first quarter (Q1) of 2014, 13.8 per cent higher than the JD36 million generated during the first quarter of last year.
Newsletter
Get top stories and blog posts emailed to you each day.