You are here
Greece seeks a debt deal 'in principle' on Monday
By AFP - Feb 16,2017 - Last updated at Feb 16,2017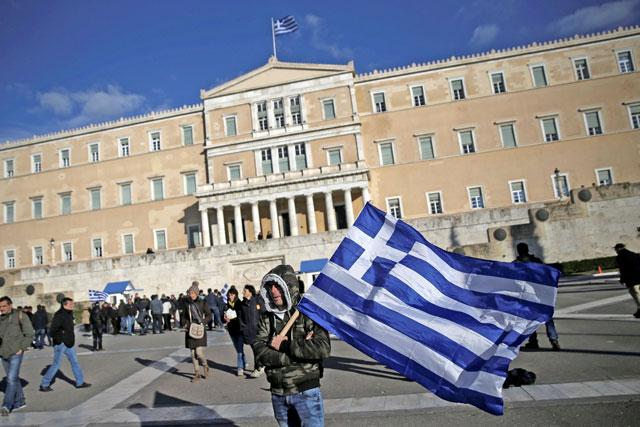 A farmer waves a Greek national flag in front of the parliament building during a demonstration to demand tax reductions and compensation in Athens, Greece, on Tuesday (Reuters photo)
ATHENS — Greece said Thursday it intends to reach "a political agreement in principle" with its creditors on Monday, in order to unblock loans required by the cash-strapped country to repay its debts.
For months, Athens and its European and International Monetary Fund (IMF) lenders have failed to concur over the terms of the latest review of Greece's 86 billion euro bailout.
Eurozone finance ministers meet on Monday in Brussels to discuss the deadlock with hopes that the different sides can at least achieve an outline of a deal.
This is the aim of "all the stakeholders" in Greece's recovery programme, government spokesman Dimtris Tzanakopoulos told a press conference.
"The political conditions are there for such an agreement," he said.
A senior eurozone official in Brussels said that a broad sketch of a deal was the "best case scenario" for the ministerial talks on Monday.
This would allow the creditors to send teams to Athens in order to "crunch the numbers" and hammer out the final deal, the official said.
The row is centred on whether Greece can deliver on budget targets that the IMF says are based on overly-optimistic economic forecasts.
The eurozone has demanded that Greece deliver a primary balance, or budget surplus before debt repayments, of 3.5 per cent of GDP, but the IMF has said only 1.5 per cent is feasible.
The Washington-based fund insists more tax hikes and pension cuts are needed for Greece to meet its targets — something the leftist government in Athens flatly refuses.
A compromise is required to sign off on a second review of the bailout programme and unblock a tranche of loans Greece needs for debt repayments of seven billion euros this summer.
According to Tzanakopoulos, the challenge for Monday's meeting is to "bridge the differences" in the post-2018 forecasts between Greece and Europe on the one hand and the IMF on the other.
European Commission Vice President Valdis Dombrovskis warned that "time lost in reaching an agreement will have a cost for everyone".
"The agreement is within reach, provided that all sides show political will," he told Greek economic portal Euro2day.
Top EU economics official Pierre Moscovici, considered an ally of Greece, visited Athens on Wednesday in a bid to end the standoff.
"We have a few key days, let's concentrate now to finish all these talks. The parameters are on the table, everybody knows them," he told reporters.
Related Articles
Nov 29,2016
ATHENS — EU Economy Commissioner Pierre Moscovici said Tuesday he is optimistic about concluding an overall deal on Greece's latest bailout
Jul 09,2015
ATHENS — Greece requested a new three-year rescue programme from its European partners on Wednesday and rushed to complete a detailed plan o
Aug 20,2015
ATHENS — Greek Prime Minister Alexis Tsipras announced his resignation and called for snap elections on Thursday, as he went on the offensiv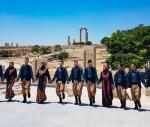 Newsletter
Get top stories and blog posts emailed to you each day.