You are here
Fed tightening 'too restrictive' on US growth — economists
By Agencies - Mar 08,2016 - Last updated at Mar 08,2016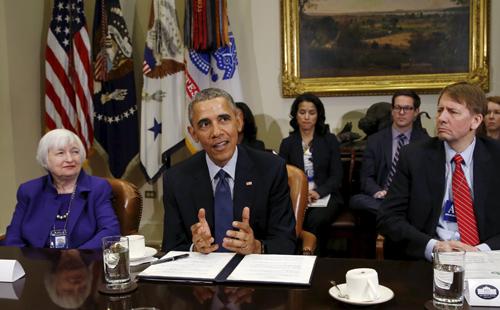 US President Barack Obama holds a meeting with financial regulators to receive an update on their progress in implementing Wall Street at the White House in Washington, on Monday (Reuters photo)
WASHINGTON — US economists are growing worried about the Federal Reserve's (Fed) tightening policy, saying it is dampening economic growth, a key survey showed Monday.
The National Association for Business Economics (NABE) said its semiannual survey of members found a large majority of business economists expect the Fed to continue raising the benchmark federal funds rate in 2016, following December's hike from near zero.
But economists have lowered their estimate of the number of hikes this year to two or less, down from the four seen in the August survey, reflecting the cooling economy, NABE added.
"Tight fiscal policy is increasingly cited as a significant restriction on current economic growth," said Lisa Emsbo-Mattingly, NABE president and director of research at Fidelity Investments, in a statement.
"A narrow plurality of panellists, 41 per cent, now characterises current fiscal policy as 'too restrictive' compared to the 29 per cent who held this view last August," she added.
Meanwhile, 38 per cent judge fiscal policy as "about right," down from 41 per cent. But almost 31 per cent say policy is "too stimulative".
Even so, about three-quarters of the 252 economists surveyed expect the Fed funds rate, now at 0.25-0.50 per cent, to be raised at most two times this year, which would keep the range at 0.75-1 per cent or less by year-end.
The majority of economists supported the Fed's view that inflation, would be near the Fed's 2 per cent target in five years.
Weighing in to a hot topic in the US presidential race, the NABE economists showed wide support for welcoming highly skilled immigrants. A large majority, 79 per cent, said the federal government should remove restrictions for this group.
The Bank of Japan's (BoJ) decision in January to use negative interest rates to avoid deflation and boost Japanese economic activity drew a lukewarm response: 53 per cent of respondents believed the BoJ action would not significantly impact growth, and only a third expected some positive impact.
And as Britain heads to a June referendum on whether to exit the European Union, a large majority (74 per cent) of respondents predicted there would be no so-called "Brexit" before the end of 2017, while just 10 per cent saw Britain dropping out of the 28-nation bloc.
Fed Vice Chair Fischer says weak productivity major problem
Speaking at NABE, Fed Vice Chairman Stanley Fischer said the rate of productivity growth has fallen dramatically in the United States and other countries over the last 20 years, and economists are unsure what to do about it.
Fischer said "there are few issues more important for the future of our economy" than boosting productivity, the amount of output per hour of work.
Productivity grew at a solid 3 per cent from 1952 to 1973, then slowed to 2.1 per cent from 1974 to 2007, he indicated. From 2008 to 2015, productivity growth in the United States fell to an average rate of just 1.2 per cent.
Fischer said this retreat will likely have "severe consequences" on the nation. But economists are unsure of why the slowdown has occurred or what will happen to productivity in the future.
Fischer did not comment on the current state of the economy or what the Fed might do next with interest rates.
The Fed in December raised its key rate for the first time in nearly a decade, boosting it by a quarter point to a range of 0.25 per cent to 0.5 per cent. Policymakers did not raise rates at its January meeting, and officials are expected to leave rates unchanged when they meet again on March 15-16.
Speaking to the annual Washington conference of the Institute of International Bankers, Fed Governor Lael Brainard said the central bank needs to be patient in its plans for tightening monetary policy.
Brainard, a known "dove" on the policy-setting Federal Open Market Committee (FOMC), warned eight days before the next FOMC meeting that, given the slow global economy and the absence of inflationary pressures, the Fed needs to be prudent after having raised its benchmark interest rate in December.
While the US economy has been resilient, she said, "we should not take the strength in the US labour market and consumption for granted."
"Given weak and decelerating foreign demand, it is critical to carefully protect and preserve the progress we have made here at home through prudent adjustments to the policy path," Brainard added.
She noted that financial market conditions have already tightened significantly despite the mere quarter-point increase in the federal funds rate in December,
That, combined with softening expectations for inflation in the market, risk pulling both growth and inflation lower, against the goals of FOMC policy.
"From a risk-management perspective, this argues for patience as the outlook becomes clearer," she said.
In December, when it undertook the first increase to the benchmark short-term rate in more than nine years, the FOMC projected up to four interest rate hikes this year to take the rate to 1.25-1.5 per cent by year end.
But the sluggish global economy, the crash of the oil market, and especially the extent of China's downturn, are reasons to move more slowly, Brainard suggested.
"Inflation has persistently underperformed relative to our target," she noted.
"We should be cautious in assessing that a tightening labour market will soon move inflation back to 2 per cent. We should verify that this is, in fact, taking place," she added.
Separately, US President Barack Obama on Monday defended his efforts to rein in Wall Street, telling Americans that his administration cracked down effectively on banks and trading firms after the financial crisis of 2007-2009.
Obama, now in the last 10 months of his presidency, met at the White House with Fed Chair Janet Yellen and other top regulators to talk about their progress implementing the Dodd-Frank Wall Street Reform and Consumer Protection Act he signed into law in 2010.
He railed against rhetoric in the November 8 presidential election campaign suggesting that Dodd-Frank failed to work.
"I want to emphasise this because it is popular in the media and the political discourse, both on the left and the right, to suggest that the crisis happened and nothing changed. That is not true," Obama told reporters after the meeting.
On the left, Democratic presidential contender Bernie Sanders has said Wall Street regulations have not gone far enough. He wants to break up big banks and has criticised his rival Hillary Clinton for being too close to Wall Street.
On the right, Republicans have complained that Dodd-Frank favoured big banks and hurt the ability of small banks to make loans.
Obama said regulators appear set by the end of the year to have achieved most of the goals he set out for the financial system in 2008, when he first took office, although he noted there was still work to do on rules for hedge funds and asset managers in what he called the "shadow banking system".
"One of our projects is to make sure that we are covering some of those potential gaps," he added. "We may need at some point help from Congress to do that."
Regulators also need to complete rules on executive compensation to make sure Wall Street is "less incentivised to take big reckless risks that could end up harming our financial sector", he continued.
Obama told reporters the Republican-controlled Congress has tried to weaken regulations established after the financial crisis and "starve" regulators with budget cuts.
"Whether you are a Democrat or a Republican or a Tea Party member or a socialist, if you are concerned about making sure that Wall Street is doing the right thing, check to make sure that your member of Congress is not trying to cut the budgets of these various agencies," Obama said.
Related Articles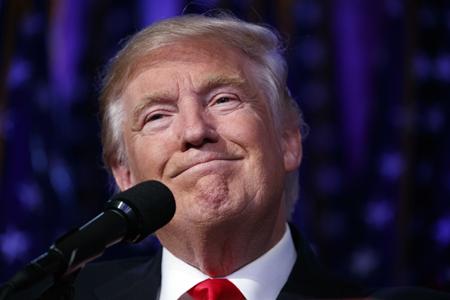 Nov 10,2016
Donald Trump won the presidency by pledging to restore a vanished and golden economic era, when growth roared, factory jobs flourished and A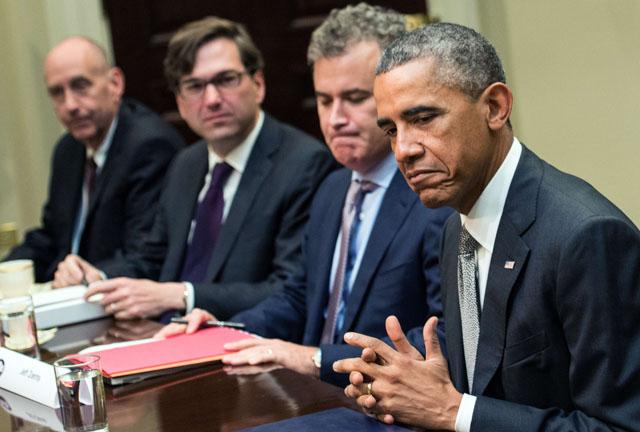 Oct 08,2014
President Barack Obama urged top US market regulators this week to look for ways to tailor rules based on financial firms' size and complexity.
Oct 31,2015
WASHINGTON — US President Barack Obama early Friday won congressional passage of legislation that lifted the threat of a default on governme
Newsletter
Get top stories and blog posts emailed to you each day.