You are here
Family-owned firms eyed for Amman Bourse listing
By Omar Obeidat - Apr 13,2016 - Last updated at Apr 13,2016
General view of Amman Stock Exchange (Photo by Omar Obeidat)
AMMAN –– The Amman Stock Exchange (ASE) is set to launch future plans to stimulate trading, among which is to encourage family-owned companies to be listed at the bourse, ASE Chief Executive Officer Nader Azar said Wednesday.
"There are dozens of successful family-owned business in Jordan and we will be trying to convince them to go listed at the bourse," he added at a meeting with the press.
According to official figures, around 90 per cent of small- and medium-sized businesses in Jordan are family owned.
Azar said that ASE is also working on amending its legislation to open over-the-counter (OTC) trading for small companies and troubled firms.
A stock that is traded OTC market is usually because the company is small and unable to meet exchange listing requirements. Under OTC, stocks are traded by broker-dealers who negotiate directly with one another over computer networks and by phone.
ASE currently operates first market, second market and third market.
Azar also pointed out that the Amman Bourse is part of a joint project with regional exchanges that include Muscat, Beirut and Tunisia to implement a new version of the trading system developed by a French company, expected to be completed before the end of the next year, noting that the features of the advanced system would allow larger trading of shares and securities.
ASE is also on the legislative process of being transferred from a state-owned entity into a public shareholding company that seeks profits.
The bourse chief noted that in June last year, the Cabinet approved transferring the ASE into a public shareholding company, adding that the legislation is currently at the Lower House.
The Amman Bourse was established in 1999 as a non-profit institution with administrative and financial autonomy.
Foreign investors
Investors from over 100 countries own shares in companies listed on the ASE as they believe in long-term investments in stable Jordan, the bourse chief said Wednesday.
Azar said the market capitalisation was around JD18 billion at the end of 2015, with 50 per cent of it owned by non-Jordanians.
Out of the 50 per cent of shares owned by non-Jordanians, Azar pointed out that 37 per cent of ASE shares were investments by Arab governments, sovereign and different investment funds and wealthy families, while the remaining 15 per cent was owned by foreign investors from over 100 countries.
"Half of the world's nationalities are investing in ASE for long-term investments because they believe in the stability of Jordan and the performance of our companies," he said.
Azar added that the value of shares traded since the beginning of 2016 at ASE reached around JD770 million, raking seventh among 18 Arab bourses.
The largest bourse in Arab countries is the Saudi, according to Azar, which he said it saw trading valued at JD76 billion since the beginning of the year.
Related Articles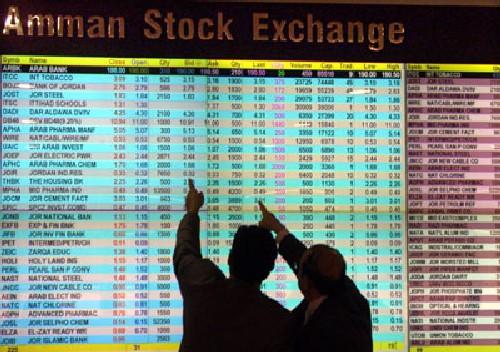 Jan 14,2014
2014 is excepted to be a promising year for the Amman Stock Exchange (ASE) as the growth seen last year is likely to gain momentum, according to the market chief.
Aug 01,2016
AMMAN — Regulating directives for trading in unlisted securities as well as those on listing securities for 2016 will come into force as of
Mar 03,2015
Current prices of shares are attractive and represent a good opportunity for investors to enter the stock market, the chief of Amman bourse told The Jordan Times this week. 
Newsletter
Get top stories and blog posts emailed to you each day.