You are here
Confidence Index dips slightly in March
By JT - May 29,2017 - Last updated at May 29,2017
AMMAN — Jordan Investor Confidence Index dipped slightly in March, reaching 93.97 points from 94.4 points in February, according to a statement of the Jordan Strategy Forum.
The monthly-issued index, published by the forum, measures the confidence of investors operating in the Jordanian market through three aspects. These are confidence in the Jordanian currency and the monetary system, confidence in the real economy, and confidence in the Amman Stock Exchange (ASE).
The confidence in the monetary system decreased in March to 83.01 points compared to 84.47 points although the Central Bank of Jordan foreign reserves went up by JD55.4 million to JD11.307 billion.
Confidence in the real economy continued to increase as it reached 116.75 points. The capital of registered companies increased and reached JD29.6 million in comparison to JD15.9 million and the number of these companies went up from 654 to 705 companies.
Tax on the monthly real estate volume increased by JD0.1 million to reach JD8.6 million and the number of construction permits has also increased to 3,017 permits in comparison to 2,919 permits. The manufacturing quantity production index increased as well from 91.3 points to 95.13 points. As for the confidence in the ASE, it went down by 0.92 points to 94.2 points in March, according to the forum's statement.
The ASE index witnessed a decrease by 27.5 points and reached 2,185.26 points. On the other hand, the ratio of inflow to outflow of foreign investment in the ASE increased from 58 per cent to 76 per cent this month.
Related Articles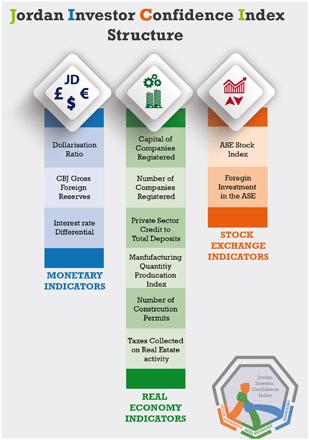 Nov 20,2016
AMMAN — The Jordan Strategy Forum "Investor Confidence Index" has increased for the first time since March by 0.24 points, reaching 91.44 po
Feb 05,2017
AMMAN — The Jordan Investor Confidence Index continued to recover in November 2016, reaching 91.75 points in comparison with 89.45 points in
Jun 22,2016
AMMAN — Jordan Strategy Forum's Jordan Investor Confidence Index increased in March 2016 by 3.76 to reach around 97.87 points compared to 94
Newsletter
Get top stories and blog posts emailed to you each day.