You are here
China's trade surplus with US grows
By AFP - May 08,2018 - Last updated at May 08,2018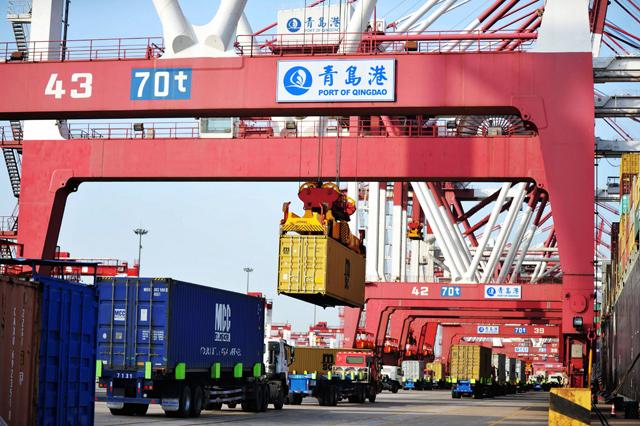 Containers are transferred at the port in Qingdao in China's eastern Shandong province, on Tuesday (AFP photo)
BEIJING — China's surplus with the United States widened in April, underlining an imbalance between the economic titans as they struggle to reach an agreement on averting a potentially damaging trade war.
The figures will likely reinforce Washington's determination after high-level talks in Beijing last week ended with both sides admitting there were big differences to overcome, with threats of tariffs on billions of dollars of goods casting a shadow.
The record imbalance is at the heart of US President Donald Trump's anger at what he describes as Beijing's unfair trade practices that are hurting American companies and destroying jobs.
Customs data showed the surplus grew 4.2 per cent on-year to $22.2 billion last month, with exports rising by a tenth and imports up more than 20 per cent.
Compared with March, the surplus was up 43.9 per cent, though analysts say seasonal factors such as Chinese New Year had dampened exports for the month.
Attention now turns to a visit next week by a delegation led by Chinese Vice Premier Liu He — considered President Xi Jinping's right-hand man on economic issues — hoping to iron out the differences.
However, there are concerns about the chances of success.
"We don't expect all core differences in the US-China trade relationship to be resolved," Wang Tao, chief China economist in Hong Kong for UBS, wrote in a recent report.
"Lingering trade tension and uncertainty will likely negatively affect China's export orders and related business investment," he said, according to Bloomberg News.
China ranks 110th, or "mostly unfree", on a global ranking of economic freedom put out by the conservative American think tank Heritage Foundation.
The two countries have been engaging in high-stakes negotiations to head off the threatened tariffs — Washington has targeted $150 billion in Chinese imports while Beijing put $50 billion of US goods on the firing line.
China's trade with the wider world also continued to improve, Tuesday's figures showed, after it posted a rare deficit in March.
Exports surged 12.9 per cent on-year, while imports rose 21.5 per cent — both figures beating expectations.
"The data suggest that foreign demand for Chinese goods has started to soften, with the prospect of possible US tariffs weighing on the outlook," said Julian Evans-Pritchard, China Economist at Capital Economics, in a note.
The strong import figures point to growing demand within China, a boon for the country's transition to consumption-fuelled growth from a decades-long dependence on exports and investment, analysts say.
"While softer foreign demand is being largely offset by domestic strength for now, the headwinds to growth from slower credit creation look set to increase," said Evans-Pritchard.
Related Articles
Jan 13,2015
China's trade surplus soared by almost half last year to a record $382 billion, the government announced Tuesday, but the world's second-largest economy again missed its trade growth target due to weakness overseas.
Jul 14,2015
BEIJING — China's top graft-busting agency has lambasted the country's powerful state-owned industries as being riddled with corruption and
Mar 11,2017
BEIJING — China on Saturday warned the US against launching a trade war, saying that both countries would suffer if US President Donald Trum
Newsletter
Get top stories and blog posts emailed to you each day.