You are here
China's economy loses momentum as policymakers clamp down on debt risks
By Reuters - May 15,2017 - Last updated at May 15,2017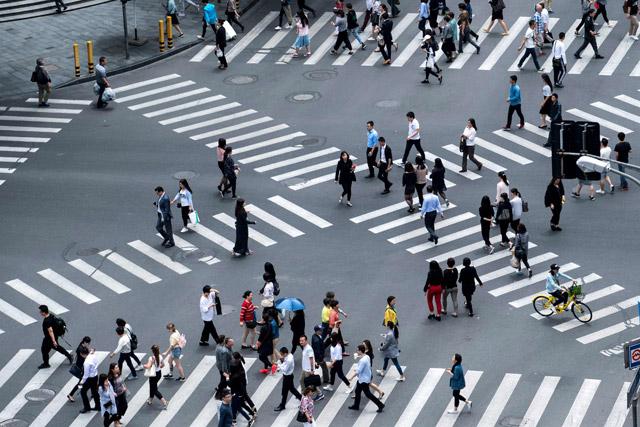 People cross a road in a shopping area in Shanghai on Monday (AFP photo)
BEIJING — China's growth took a step back in April after a surprisingly strong start to the year, as factory output to investment to retail sales all tapered off as authorities clamped down on debt risks in an effort to stave off a potentially damaging hit to the economy.
Waking up to the systemic threat posed by cheap credit-fuelled stimulus since the 2008-9 global financial crisis, Beijing has continued to tighten the screws on speculative financing over the past several months.
Data on Monday highlighted the broad economic impact of these regulatory curbs, with below-forecast factory output in April and fixed-asset investment in the first four months of the year reinforcing evidence of a weakening manufacturing sector and slowing momentum in the world's second-biggest economy.
"If anything [the slowdown] is even faster than we expected," said Julian Evans-Pritchard at Capital Economics in Singapore in an interview before the data was released.
However, "we're still some way off from the economy weakening to the point where it will test the tolerance of policymakers...as the urgency to address some of these financial risk issues [is even greater]," he said.
Factory output was up 6.5 per cent in April from a year earlier, down from 7.6 per cent in March, and fixed-asset investment rose 8.9 per cent in the first four months of the year, off the 9.2 per cent pace in January-March.
Analysts polled by Reuters had predicted factory output would grow by 7.1 per cent in April, and tipped fixed asset investment to rise 9.1 per cent in January-April.
Output growth slowed on tumbling steel and iron ore prices amid concern over rising inventories after China's mills cranked out as much metal as possible to drive factory production to its highest since December 2014.
However, on a volume basis, steel output hit a record in April, data Monday showed, stoking worries of a growing glut as demand remains flat even as China says it is ahead of schedule on capacity reduction targets.
Fixed asset investment in the manufacturing sector also slowed over January-April, with growth of 4.9 per cent down from 5.8 per cent in the first quarter. Infrastructure spending, however, continued to grow over 23 per cent year-on-year in the same period, supported by Beijing's Belt and Road initiative to expand investment links with Asia, Africa and Europe.
Property cools
Analysts say Beijing is keen to ensure steady economic growth ahead of the 19th Communist Party Congress later in the year. Chinese leaders have pledged to shift the emphasis to addressing financial risks and asset bubbles which analysts say may pose a threat to the Asian economic giant if not handed well.
China's central bank has been guiding short-term interest rates higher to help contain debt perils, though it is treading cautiously to avoid hurting economic growth.
A red-hot property market, fuelled by speculative investments, has been identified by analysts and policymakers as one of the biggest risks to growth.
Monday's data showed investment in property development picked up in April, although sales growth was significantly slower, suggesting investment in the sector remained robust even as intensified government controls to rein in the market began to take effect.
The area of property sold grew 7.7 per cent year-on-year in April, the lowest since December 2015 and well short of the 14.7 per cent increase in March.
Related Articles
Jun 01,2014
China will further ease monetary policy to kick-start the world's second largest economy by cutting the amount of funds that some banks must hold in reserve.
Sep 13,2015
BEIJING — China unveiled details on Sunday of how it would restructure its state-owned enterprises (SOEs), including partial privatisation,
Jul 17,2017
BEIJING — China posted better-than-expected growth in the second quarter, official data showed on Monday, but authorities warned that the wo
Newsletter
Get top stories and blog posts emailed to you each day.