You are here
98.9% of 194 ASE-listed companies submit financial statements
By JT - Apr 02,2018 - Last updated at Apr 02,2018
AMMAN — Amman Stock Exchange (ASE) Deputy CEO Bassam Abu Abbas said 98.9 per cent of 194 listed companies have provided the ASE with their annual reports for the period that ended at 31/12/2017 during the period designated under the directives for listing securities, according to an ASE statement.
The percentage reflects listed companies' compliance with pertaining regulations, and their commitment to the principles of transparency and disclosure, he said in the statement.
He added that all companies listed at the ASE should provide the Amman bourse with their annual reports, within three months after the end of the said period, according to the Amman Stock Exchange directives.
Abu Abbas indicated that the ASE circulates the reports to brokerage firms, and post them on the ASE website, as part of its disclosure policies.
The ASE has suspended the trading of two companies that have not submitted their audited financial statements, he said, adding that their trading suspension will continue until they provide the ASE with the required financial statements, in accordance with its regulations.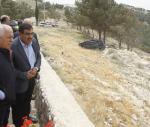 Newsletter
Get top stories and blog posts emailed to you each day.