You are here
INVESTBANK, Al Marji' Publications sign partnership agreement
Mar 19,2017 - Last updated at Mar 19,2017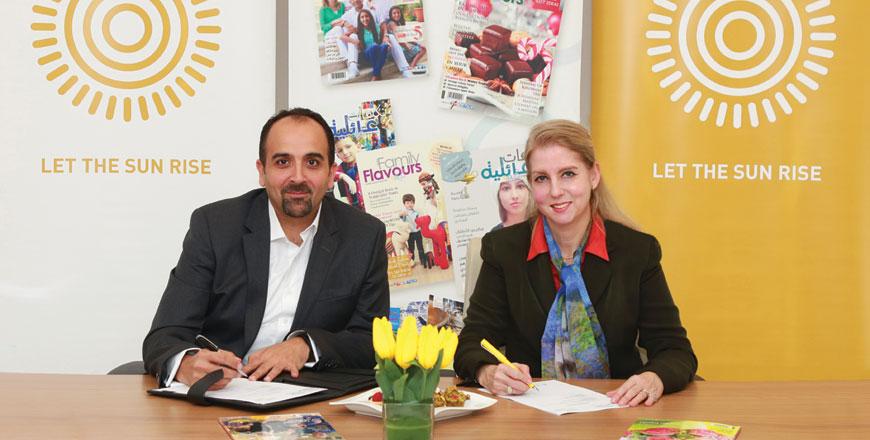 INVESTBANK, the leading bank in innovative banking solutions, signed a strategic partnership agreement with Al Marji' Publications, publishers of Jordan's only parenting magazines, Family Flavours and Nakahat 'Ailiyeh.
"We are always happy to continue leveraging our innovative banking solutions to build family-based tools that assist in day-to-day and month-to-month budgeting.
Through our strategic partnership with Al Marji Publications, we will be able to emphasise the important role that responsible financial planning plays for both parents and children to thrive and succeed," said Muntaser Dawwas, INVESTBANK's CEO.
Over the years, INVESTBANK and Al Marji' Publications have been working in partnership on innovative strategies to promote banking options for families in Jordan.
The 2017-2018 agreement highlights the same spirit of cooperation with a focus on providing parents with expert advice in fields relating to parenting, including financial planning.
"We are so pleased with the results of our partnership with INVESTBANK," stressed Hind-Lara Mango, Al Marji' Publications' publisher and managing director, noting that "through the parenting sessions we recently held with the bank and which we will maintain as part of this new agreement, we continue to connect specialists in various fields, including finance, with families". The bank understands the investment advice families need on a daily basis.
This is why INVESTBANK has partnered with Al Marji' Publications to provide insight on new money handling and financial tools to suit family lifestyle needs.
Related Articles
Feb 20,2017
AMMAN — Investbank promotes financial education for parents to teach their children how to save and handle money.Through a partnership with
Jan 19,2017
Promoting Jordan as a family-friendly destination is at the core of Mövenpick Hotel & Resorts' partnership agreement with Al Marji' Publ
Jan 24,2017
The Royal Health Awareness Society (RHAS) and Al Marji' Publications will continue promoting health awareness as they have renewed their coo
Newsletter
Get top stories and blog posts emailed to you each day.