You are here
French Socialists switch tactics, mull reshuffle after poll bruising
By AFP - Mar 24,2014 - Last updated at Mar 24,2014
PARIS — France's ruling Socialists on Monday responded to a stinging electoral setback by unveiling plans to block a potential breakthrough by the far-right National Front (FN) in nationwide local elections.
In a vote widely expected to trigger a far-reaching Cabinet reshuffle by President Francois Hollande, the anti-immigration FN is on track to take control of up to 15 towns across the country following a better-than-expected showing in Sunday's first round of voting.
Candidates from Marine Le Pen's FN will contest second round, runoff votes this coming Sunday in an unprecedented 315 municipalities and are well-placed to win more than a dozen of them having already claimed one mayor's seat, in the depressed former mining town of Henin Beaumont, by claiming an overall majority at the first attempt.
In a bid to reduce the impact of the FN's surge, the Socialists announced they would be joining forces with the Greens and the Communist Party to present joint lists where it can reduce the chances of an FN win in the second round.
Party first secretary Harlem Desir, a veteran anti-FN campaigner, also announced that the PS would stand down its candidate in the southern town of St Gilles to give the mainstream centre-right a better chance of defeating the FN candidate who topped the first round poll.
Pundits were unanimous in portraying the FN's success and an unusually high abstention rate as a sign of the electorate's anger, exasperation and disillusionment with Hollande's administration, which has appeared rudderless at times as it grapples with a stagnating economy and record unemployment.
"The economic crisis has exacerbated a search for authority and there has been a general hardening of attitudes towards foreigners throughout French society, which the National Front has benefited from," said Nonna Mayer, a political analyst at the CNRS think tank.
PM out, president's ex in?
Hollande is expected to announce significant changes to the government line-up in the aftermath of the election debacle with lacklustre Prime Minister Jean-Marc Ayrault's position widely thought to be on the line.
Popular Interior Minister Manuel Valls is tipped to replace Ayrault while the president's former partner, Segolene Royal, is expected to be brought back from the political wilderness.
Royal, the mother of Hollande's four children, is a longstanding Socialist Party heavyweight who was reportedly left out of the current government on the insistence of the woman who replaced her as the president's girlfriend, Valerie Trierweiler. That is no longer an issue as Hollande and Trierweiler separated in January following the revelation of his affair with actress Julie Gayet (who is friendly with Royal).
"Francois Hollande must draw the conclusions from a vote that is clearly addressed to him," the left-leaning Liberation daily said, describing the results as a "slap" in the face for the embattled president, currently the most unpopular leader in recent French history.
"The record figures of the National Front and the rise in the number of abstentions are... symptoms of an ailing democracy," it said.
Record low turnout
Voter turnout on Sunday was just over 61 per cent of the electorate: respectable in most countries but a record low in France.
The main opposition centre-right UMP Party and allies took 47 per cent of the vote nationwide, while the Socialists and allies took 38 per cent. The FN accounted for 5 per cent of votes cast nationwide but was only fielding candidates in a small number of selected municipalities.
Le Pen's party scored far better in a number of mid-sized towns in the southeast of the country, traditionally fertile ground for the far-right, and in several depressed pockets of northern France, as well as claiming nearly a quarter of the votes cast in France's second city, Marseille.
"Punished," was the Le Parisien daily's verdict on Hollande's first electoral test since taking power two years ago after unseating the UMP's Nicolas Sarkozy.
Socialist MPs appealed to supporters to make sure they turned out for the second round.
National Assembly Speaker Claude Bartolone said they should resist Marine Le Pen's attempts to transform the image of the FN, which remains tainted by association to its founder, her father, Jean-Marie Le Pen, a veteran Holocaust denier with multiple convictions for racism.
"The FN still puts forward the same arguments of hatred and division," Bartolone said.
Marine Le Pen claimed the FN's success marked an end to two-party politics in France.
In a reference to the cronyism that has marked the party's previous attempts to manage towns, she vowed that her followers would run model administrations.
"We will lower taxes in all the cities managed by us," Le Pen said.
In Paris, the UMP was encouraged by an unexpected lead won by former Sarkozy minister Nathalie Kosciusko-Morizet, who is competing against Socialist candidate Anne Hidalgo. The outcome sets the scene for a nail-biting runoff to decide who will be the French capital's first ever female mayor.
Related Articles
Jan 25,2014
French President Francois Hollande on Saturday told AFP he has split with his longstanding partner Valerie Trierweiler after his affair with an actress nearly 20 years his junior.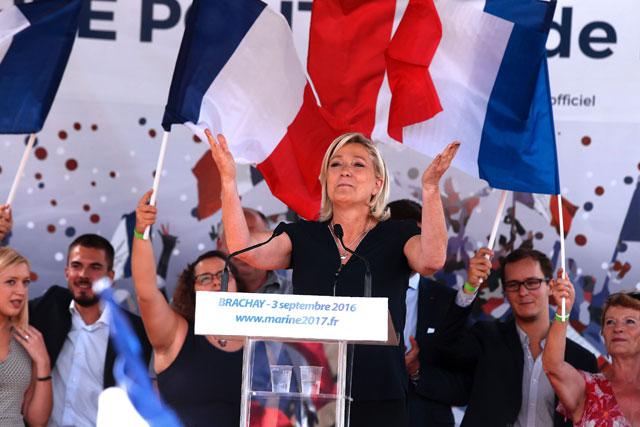 Jan 15,2017
PARIS — Domination of social media was a key weapon in Donald Trump's rise to the US presidency, and now France's far-right leader, Marine L
Nov 28,2016
PARIS — With the French right settled on its candidate in next year's presidential election, the left was openly feuding on Monday over whet
Newsletter
Get top stories and blog posts emailed to you each day.