You are here
'Not asking for the moon' — UN official pleads for Gaza ceasefire
By AFP - Nov 19,2023 - Last updated at Nov 19,2023
UNITED NATIONS, United States — A top United Nations official on Friday renewed calls for a "humanitarian ceasefire" to allow aid to reach the 2.2 million people trapped in the bloody conflict between Israel and Hamas.
"Call it what you will, but the requirement, from a humanitarian point of view, is simple. Stop the fighting to allow civilians to move safely," UN humanitarian chief Martin Griffiths said in an address to the UN General Assembly.
"We are not asking for the moon," Griffiths said. "We are asking for the basic measures required to meet the essential needs of the civilian population and stem the course of this crisis."
Griffiths also called for the release of all hostages held in Gaza without condition.
In Gaza, 12,000 people, also mostly civilians, have been killed, in a relentless Israeli campaign, officials in the Hamas-run territory have said.
"Give the people of Gaza a breather from the terrible, terrible things that have been put on them these last few weeks," Griffiths pleaded.
The call comes days after the UN Security Council called for "extended humanitarian pauses" in the Gaza Strip, the first time it has broken its silence since the start of the war.
Griffiths called for opening more border crossings into Gaza, especially the Kerem Shalom checkpoint, which was responsible for 60 per cent of goods getting into the besieged territory before the start of the war.
Currently, only the Rafah border crossing with Egypt is open.
Griffiths said fuel was essential for distributing humanitarian aid and "keeping people alive".
He also called for improved access for humanitarian organisations operating in Gaza and allowing civilians to move to safer areas.
The humanitarian response will cost an estimated $1.2 billion, of which only $132 million have been received so far, he said.
The UN High Commissioner for Human Rights, Volker Turk, also called for a ceasefire "on humanitarian and human rights grounds, and an end to the fighting".
"Not only to deliver urgently needed food and provide meaningful humanitarian assistance, but also to create space for a path out of this horror," he said.
The head of the World Health Organisation, Tedros Adhanom Ghebreyesus, warned that the Gazan health system was close to collapse with "more and more casualties, and fewer and fewer beds, health workers, medicines and supplies".
"Frankly, the amount of aid that has been allowed into Gaza so far is pitiful," he said, adding that "the scale of Israel's response appears increasingly unjustifiable".
"WHO, like the rest of the United Nations system, is impartial," he said. "We are not on one side or the other. We are on the side of humanity."
Related Articles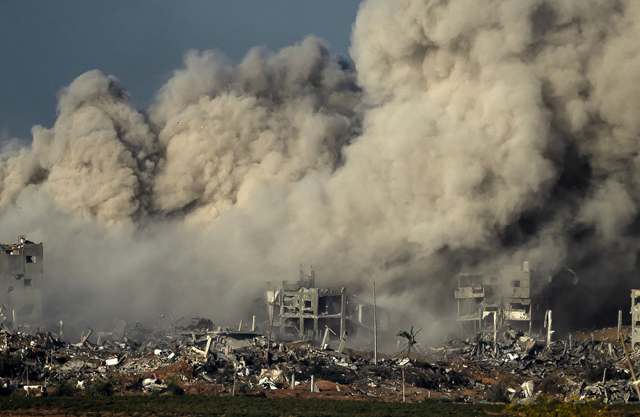 Nov 16,2023
GENEVA — The UN humanitarian chief demanded on Wednesday immediate action to "rein in the carnage" in Gaza, presenting a plan to help ease t
Nov 29,2023
AMMAN — Undersecretary-General for Humanitarian Affairs and Emergency Relief Coordinator Martin Griffiths is scheduled to visit Jordan on Th
Oct 22,2023
RAFAH/CAIRO — The first of 20 trucks carrying humanitarian aid entered the war-torn and besieged Gaza Strip on Saturday through the Rafah bo