You are here
Jokic's Nuggets stifle NBA-leading Bucks
By AFP - Mar 26,2023 - Last updated at Mar 27,2023
Nikola Jokic of the Denver Nuggets and Giannis Antetokounmpo of the Milwaukee Bucks vie for the ball during their NBA game in Denver, Colorado, on Saturday (AFP photo)
LOS ANGELES — Nikola Jokic and the Denver Nuggets made a statement on Saturday, downing Giannis Antetokounmpo and the Milwaukee Bucks 129-106 in a battle of NBA conference leaders.
In a game touted as a potential NBA Finals preview, two-time and reigning NBA MVP Jokic scored 31 points, handed out 11 assists and pulled down six rebounds, and the Nuggets held East leaders Milwaukee to 40 second-half points with the kind of dominant defensive display they've been accused of lacking this season.
Jamal Murray, who made five three-pointers and scored 26 points for Denver, said it all started on the defensive end — and not just in a third quarter in which the Nuggets out-scored the Bucks 34-19.
"I thought we played great defence all game," Murray said.
"We had a good start, even though they went on a run I thought we were consistent all game with our defence and we found transition points."
Antetokounmpo, who won MVP honours for two straight years before Jokic, scored 31 points, but just seven in the second half.
He was a force at the rim before the interval, finishing with five dunks, although the dunk that reverberated through Ball Arena was 36-year-old Nuggets veteran Jeff Green's slam over Antetokounmpo to open the fourth quarter.
"They just had us in the second half," said Bucks coach Mike Budenholzer, whose team was coming off a lopsided victory in Salt Lake City in a tough high-altitude back-to-back.
The third quarter was pivotal in Miami, where the Brooklyn Nets out-scored the Heat 39-18 in the period, on the way to a 129-100 victory that moved them past Miami and into sixth place in the East.
Mikal Bridges scored 27 points, Cam Johnson scored 23 and Spencer Dinwiddie chipped in 15 for Brooklyn, who snapped a five-game losing streak to at least temporarily put themselves in position for direct entry to the play-offs.
Max Strus scored 23 points off the bench for Miami, but was scoreless in the second half. Tyler Herro scored 23, but the Heat had no answer as the Nets started warming up late in the second quarter.
Down by double digits early, the Nets cut the deficit to four at halftime and held Miami to 31 second-half points.
Categorically outplayed
Their 31-6 scoring run in the third quarter pushed them to a 104-87 lead going into the final period.
"We took a punch from them early on the road, we didn't flinch, which was good," said Nets coach Jacque Vaughn. "That third quarter was pretty impressive on both ends of the floor."
Heat coach Erik Spoelstra said his team's troubles started long before the third quarter.
"We just got categorically outplayed tonight," Spoelstra concluded.
The Phoenix Suns snapped a three-game skid with a 125-105 victory over the Philadelphia 76ers. Devin Booker scored 29 points for Phoenix, who were tied midway through the third quarter.
They pulled away late, withstanding a 37-point performance from Tyrese Maxey. Joel Embiid added 28 points and 10 rebounds for the Sixers, who lost for the second time in as many days after falling at Golden State on Friday.
In other games, Kevin Huerter scored 27 points to lead the Sacramento Kings in a 121-113 victory over the Utah Jazz.
Domantas Sabonis scored 16 points and grabbed 15 rebounds for his 60th double-double of the season for the Kings.
The New Orleans Pelicans drained 21 three-pointers in a 131-110 victory over the Clippers in Los Angeles
And the Atlanta Hawks maintained their hold on eighth place in the East with a 143-130 victory over the Indiana Pacers.
The Hawks held on for the victory after guard Trae Young was ejected during a timeout in the third quarter after he launched a ball at the referee in frustration at being called for an offensive foul.
John Collins scored 21 points to lead eight Hawks players in double figures.
Related Articles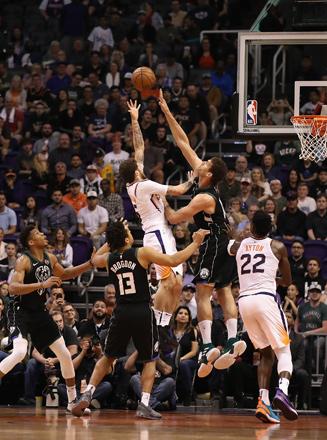 Mar 05,2019
Dec 29,2022
LOS ANGELES — The Brooklyn Nets pushed their NBA winning streak to 10 games in dramatic style on Wednesday, rallying in the second half then
Jan 07,2023
MIAMI — Kevin Durant scored 33 points and Kyrie Irving turned it on late in the game as the Brooklyn Nets beat the New Orleans Pelicans 108-