You are here
Five top moments at the Asian Games
By AFP - Sep 03,2018 - Last updated at Sep 03,2018
JAKARTA — With a glittering ceremony marking the end of the 2018 Asian Games, here are five top moments from the world's second-largest multi-sports event:
Falling standards
A flag blunder punctured Sun Yang's joy at winning the 200m freestyle — and prompted the Chinese swimming star to demand a re-run of his victory ceremony. The triple Olympic champion was overjoyed at winning his first gold of the games, and all was going swimmingly until the flags of China and Japan came loose and crashed to the ground as Sun was belting out the national anthem from the podium. After a delay, the ceremony began again, to titters from the audience as three officials held up the flags, one self-consciously bending his knees as he tried to adjust it to the correct height.
Stray cat strut
A humble cat stole the show on the opening day of the athletics competition when it made an unexpected appearance during the women's 100m hurdles heats. The tortoise-and-white cat trotted nonchalantly down the track and onto the infield, as athletes and officials did a double take.
It was not the first animal intruder at a major sports event: a squirrel risked its life when it dashed in front of a snowboarder at this year's Winter Olympics, and at Formula One's 2011 Indian Grand Prix, a stray dog held up practice when it wandered onto the track.
Two Koreas
A joint team of athletes from North and South Korea reached an emotional women's basketball final — before falling at the final hurdle in a tense match against China. Nevertheless, the Unified Korea team was a resounding success in Jakarta. The neighbours marched together at the opening ceremony and also formed joint teams in canoeing, in which they clinched a gold and two bronze medals. The athletes even learnt a thing or two about each other: one South Korean basketball player said she had realised that North Koreans are not "scary" after all.
Jokowi's motorbike skit
The opening ceremony got off to a roaring start with a skit purportedly starring President Joko Widodo on a motorbike doing stunts in Jakarta's streets. With the crowd whooping, he rode into Gelora Bung Karno Stadium. The scene appeared to take inspiration from the opening ceremony for the 2012 London Olympics when Queen Elizabeth II seemingly made a dramatic entrance to the stadium by parachute along with James Bond.
Son's tears
After tears of anguish at the 2016 Rio Olympics when South Korea were defeated by Honduras in the quarter-final, Tottenham Hotspur's Son Heung-min sobbed with joy as his team was crowned 2018 Asiad champions. It was an emotional rollercoaster ride for Son as he played to secure a gold that would spare him a career-threatening stint of military service. But it all went to plan in the end, with a 2-1 win against Japan leaving Son beaming from ear to ear and poised to return to Spurs to see out his new five-year deal.
Related Articles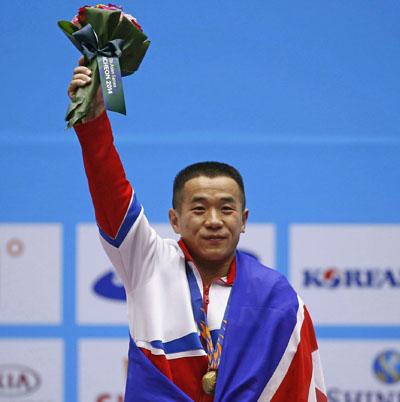 Sep 20,2014
North Korea's Om Yun Chol beat his own world record in the men's 56-kilogramme clean and jerk by 1 kilogramme on Saturday to grab weightlifting gold on the first day of competition at the Asian Games.
Jul 16,2023
AMMAN — The 15th Arab Games wrapped up in Algeria after a 12-year absence with Jordan concluding participation bagging a good tally of
Aug 08,2021
TOKYO — The Tokyo 2020 Games were declared closed by International Olympic Committee (IOC) chief Thomas Bach on Sunday, ending the "most cha