You are here
US, Saudi defence chiefs reject Iran 'interventions'
By AFP - Feb 01,2017 - Last updated at Feb 01,2017
RIYADH — New Pentagon chief James Mattis agreed in a telephone call with his Saudi counterpart to oppose Iranian "interventions" in the Middle East, Saudi state media reported on Wednesday.
Mattis and Deputy Crown Prince Mohammed Bin Salman expressed "their full rejection of the suspicious activities and interventions by the Iranian regime and its agents", the Saudi Press Agency (SPA) said.
The two ministers spoke on Tuesday.
Saudi Arabia regularly accuses Iran of interference in the region, while some of President Donald Trump's picks for Cabinet have adopted an anti-Iran stance.
Mattis, a retired four-star Marine general, has described Iran as "the biggest destabilising force in the Middle East".
Trump has opposed a July 2015 nuclear deal between world powers and Iran that saw the lifting of international sanctions in exchange for guarantees that it will not pursue a nuclear weapons capability.
On Sunday, the White House said Trump and King Salman, Prince Mohammed's father, agreed on "rigorously" enforcing the Iran deal.
Also during Tuesday's call, Prince Mohammed said he "looked forward to working together to serve the interests of both countries and the fight against terrorism", SPA said.
It is the latest hopeful comment issued by the longtime US ally about the administration of Trump, who took office on January 20.
Prince Mohammed "underscored the US secretary of defence's experience in the region", SPA said.
Mattis, 66, commanded a Marine battalion during the First Gulf War and a division in the 2003 invasion of Iraq.
In 2010, he became head of US Central Command which covers the Middle East and Afghanistan.
The United States and Saudi Arabia have a decades-old relationship based on the exchange of American security for Saudi oil.
But ties between Riyadh and Washington became increasingly frayed during the administration of
Saudi Foreign Minister Adel Al Jubeir has expressed optimism that the Trump administration will be more engaged in the region, particularly in containing Iran.
Saudi Arabia is part of the US-led coalition against the Daesh terror group in Syria, while US forces provide aerial refuelling and intelligence support to Saudi military operations against Iran-backed rebels in Yemen.
up
86 users have voted, including you.
Related Articles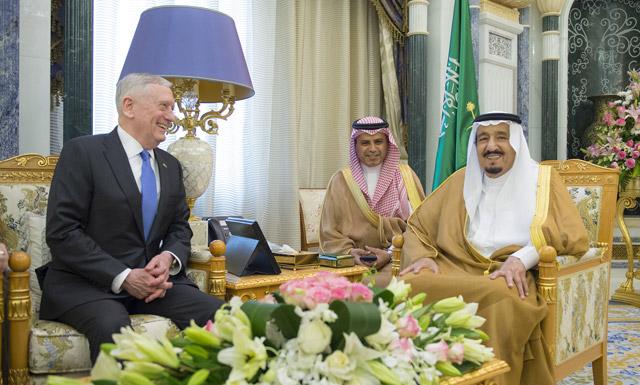 Apr 19,2017
RIYADH — The United States wants to see a strong Saudi Arabia, Defence Secretary Jim Mattis said during talks Wednesday aimed at reinvigorat
Apr 19,2017
RIYADH — US Defence Secretary Jim Mattis warned on Wednesday of Iranian efforts to create a Yemeni militia "in the image" of Lebanon's Hizbo
Mar 16,2017
RIYADH — US President Donald Trump may not be popular in much of the Muslim world but he has been embraced by Saudi Arabia and, in turn, has
Newsletter
Get top stories and blog posts emailed to you each day.