You are here
Ramadan comes with bitter taste for families of Iraq's Mosul
By AFP - Jun 15,2017 - Last updated at Jun 15,2017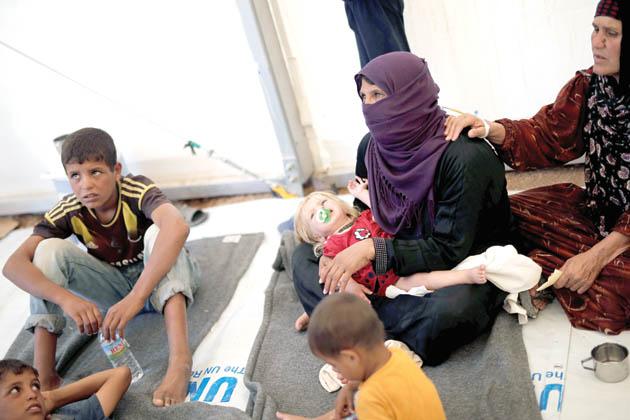 Displaced Iraqi people are treated in a field hospital at the Hasansham U2 camp, where more than 300 people fell ill in a mass outbreak of food poisoning in Al Khazer, east of Mosul, Iraq, on Tuesday (Reuters photo)
MOSUL, Iraq — For Umm Mohammed and other residents of areas of war-battered west Mosul recaptured from the Daesh terror group militants, this year's Muslim holy month of Ramadan carries a bitter taste.
"Our homes and cars have been destroyed, our family separated," said the former bank manager in Iraq's second largest city. "Why should we have to wait here in this long queue to get aid?"
"We used to have a dream life and we've fallen all the way down to the bottom," said the 38-year-old mother of two, declining to give her full name for fear of reprisals against family members left behind in districts still under extremist control.
Daesh seized the northern city of Mosul in June 2014 and imposed a brutal form of Islamist rule and a regime of terror on its inhabitants.
Life has been made even harder since the battle launched last October by Iraqi security forces to drive out Daesh. East Mosul and a large part of the west is now back in government hands.
In their no-holds-barred defence, the fighters have used civilians — caught in the crossfire and already the victims of food, water and electricity shortages — as human shields.
"I break the [dawn-to-dusk Ramadan] fast with whatever I can find. Sometimes we even find sand and worms in the water we have to drink," said Umm Mohammed.
She was among the women, children and the elderly standing in line amidst the rubble of pulverised buildings and the carcasses of burnt-out cars, many of them protecting their heads from the blistering sun with towels or rags.
Another mother, Umm Yussef, stood nearby in tears, having failed to add her name to the list compiled daily of those entitled to the aid packages of rice, lentils, milk, sugar, tomato juice and cheese.
"I have 10 children. We break the fast just with water from the well and tomato juice. What sort of life is this?" she asked, her voice tinged with both sorrow and anger.
Umm Yussef said she would celebrate the Eid feast that follows the Muslim holy month — at the end of next week — only once her daughter Leila and their family are "freed from Daesh control".
"All they have to eat is grass and sand," she said as a passerby handed a biscuit to one of her children.
Young volunteers last week handed out 2,000 modest aid packages to inhabitants of areas of west Mosul recaptured by Iraqi forces.
"We try to meet a modest part of the needs of needy families," said 21-year-old Mohammed Dilan, one of those distributing the aid raised from donations by businessmen and other individuals.
For those displaced from Mosul and forced to take refuge in overcrowded camps outside the city, life can be even more treacherous.
A mass food poisoning this week at one such camp, Hasansham, left hundreds requiring urgent treatment, officials said Tuesday.
Health ministry spokesman Seif Al Badr said around 100 of those affected required serious treatment after the "iftar" meal which breaks the fast.
More than 800,000 people have been forced to flee their homes since the battle for Mosul erupted.
Related Articles
May 29,2018
MOSUL, Iraq — Under the cover of night in the Iraqi city of Mosul, Rayan and Ali break the silence by drumming to announce suhoor, the pre-d
May 31,2018
MAARET MASRIN, Syria — After years of Syrian government siege, Umm Samer can finally prepare an appetising spread to end her family's daily
Jun 24,2019
MOSUL, Iraq — Haytham Salem has not spoken to his sister in years, but this is no ordinary family feud.