You are here
Palestinian factions to meet in Cairo for reconciliation push
By AFP - Nov 19,2017 - Last updated at Nov 19,2017
A Palestinian woman waits for passport control at the Rafah border gate after Rafah crossing opens for 3 days under Palestinian Authority for 1st time in 10 years on Saturday in Rafah, Gaza (Anadolu Agency photo)
RAMALLAH, Palestinian Territories — Leading Palestinian political factions are to gather on Tuesday in Cairo to push ahead with reconciliation efforts, despite fundamental disputes ahead of a key December 1 deadline.
The talks come as Palestinians face rising tensions with the United States over the threatened closure of their office in Washington, but this is seen as unlikely to affect the outcome.
Tensions between the two largest Palestinian groups — Fateh and Hamas — have reemerged since they signed a reconciliation deal last month, but delegates hope the meeting of 13 factions could push the bid ahead.
The fate of Hamas' vast armed wing, however, remains unclear.
Fateh, led by Palestinian President Mahmoud Abbas, has been at loggerheads with Hamas since the Islamist movement seized control of Gaza in 2007.
But on October 12, the two parties signed an Egyptian-brokered deal which is meant to see Hamas hand back civilian power to Abbas' internationally recognised Palestinian Authority (PA) government, which is based in the Israeli-occupied West Bank, by December 1.
In a crucial first step, Hamas stuck to a November 1 deadline to hand over the border crossings between Gaza and its neighbours Egypt and Israel.
However, since that date, progress has appeared to stall, with Palestinian Prime Minister Rami Hamdallah suggesting the PA needed full security control of Gaza before further steps could be taken.
Hamas rejected that, accusing Hamdallah of seeking to change the terms of the agreement.
The Fateh-dominated Palestinian government has also refused to remove crippling measures targeting Gaza — including reducing electricity.
Palestinians and international powers hope an implemented reconciliation deal could help ease the suffering of Gaza's two million residents, who suffer from high rates of poverty and unemployment.
Multiple previous reconciliation attempts have failed.
The Cairo talks come amid a rise in US-Palestinian tensions over a threatened closure of the office in Washington of the Palestine Liberation Organisation (PLO), which the international community recognises as representing all Palestinians.
The threatened closure was apparently over a Palestinian suggestion of taking the issue of Israeli settlements on occupied land to the International Criminal Court.
But an analyst said these tensions were not likely to influence discussions in Cairo.
"I don't think the tensions between the PA and Washington will affect the reconciliation process," Palestinian political analyst George Giacaman said.
"The problems that the PA is facing regarding Gaza are of a different nature: how will they cope with the financial and humanitarian situation in Gaza, how will they control the groups that Hamas struggled to control until now?"
Tuesday's meeting brings together 13 factions, and analysts expect them all to back reconciliation.
Wasel Abu Yousef, a senior PLO official, said the talks could last until Thursday, with all factions expected to be in attendance.
"I think this meeting will be a huge step towards the removal of all the obstacles to reconciliation, which is supported by everyone," he told AFP.
The topics to be discussed are well known — societal reconciliation, security, forming a potential unity government, elections, and whether Hamas could eventually join the PLO.
But the extent to which each of them will be discussed matters.
Giving up weapons?
The most controversial issue remains security — meaning the future of Hamas' vast military wing.
Bassem Naim, a top Hamas official, said it was impossible for them to consider giving up their weapons.
He argued that in the West Bank where Abbas' government is meant to have partial self rule, the Israeli army in reality operates with impunity — including in areas nominally under full Palestinian control.
"I think no Palestinian here can accept this model as a model for the security we are looking for," he told AFP in Gaza.
Likewise, he said the party would not be willing to consider recognising Israel at this time.
For the Israelis and the Americans, however, such a situation would be unacceptable.
Both have said they would reject any government including Hamas unless the Islamists gave up their weapons.
The agreement signed in Cairo last month is ambiguous about the future of Hamas' arms.
For this reason, Naim thinks the Egyptians will skirt around security in this meeting and focus on "how to achieve practical steps in the reconciliation process, mainly in the civil sector, government, ministers".
Among the other topics that could be discussed is the formation of a new unity government and even elections.
There have been no Palestinian parliamentary elections since 2006, when Hamas surprised Fateh.
The international community refused to accept Hamas victory — leading to vicious disputes and the movement's eventual seizure of Gaza.
Hamas is considered a terrorist group by Israel and the United States.
Related Articles
Nov 30,2017
GAZA CITY, Palestinian Territories — A landmark Palestinian unity deal faltered dangerously on Wednesday as a key deadline to implement it d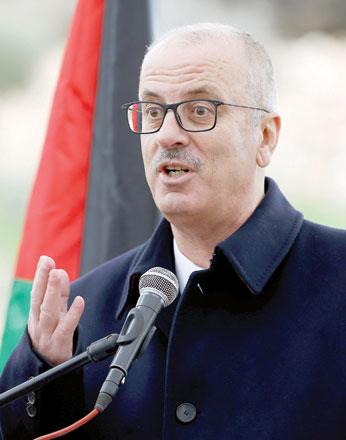 Jan 28,2019
RAMALLAH, Palestinian Territories — Palestinian Prime Minister Rami Hamdallah offered to resign on Monday, as President Mahmoud Abbas seeks
Mar 14,2018
GAZA CITY, Palestinian Territories — A bomb blast targeted Palestinian Prime Minister Rami Hamdallah's convoy during a rare visit to the Gaz