You are here
At least 10 killed in Mogadishu minibus bombing
By AFP - Jun 21,2017 - Last updated at Jun 21,2017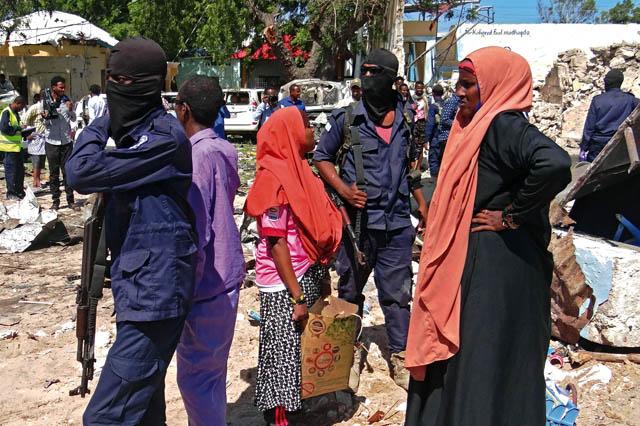 Security forces and civilians stand on the scene of a car bomb attack in Mogadishu in the southern district of Wadajir on Tuesday (AFP photo)
MOGADISHU — At least 10 people were killed Tuesday when Shabaab extremists drove an explosives-laden minibus into local government offices in the Somali capital Mogadishu, according to the security ministry.
The minibus rammed through a security barrier outside offices in the southern district of Wadajir, injuring 9 people including the district's top government official.
"More than 10 people died in the blast which was carried out by the Shabaab group and nine others are wounded," said Security Ministry spokesman Ahmed Mohamud Mohamed.
Most of the dead were civilians, he said.
"Security guards tried to stop [the minibus] but it managed to get in and the vehicle blew up," local security official Omar Adan told AFP.
Another security official, Abdi Jilibey, said more than 18 people were injured and that some of the bodies were so badly burnt as to be unrecognisable.
The attack was claimed by Al Qaeda linked Shabaab militants.
"A martyrdom suicide bomber drove a vehicle loaded with explosives onto the district headquarters which was the target, and where district authorities and intelligence officials were meeting at the time," said a statement carried by pro-Shabaab website somalimemo.net.
It was the second major attack by the Shabaab this Ramadan, a time when there is often an uptick in extremist Islamist assaults in the country.
Last Thursday, at least 18 people were killed when 6 Shabaab militants launched a strike on 2 neighbouring restaurants in Mogadishu.
After a massive blast from a suicide car bombing, the gunmen roamed the restaurants, killing people they found trapped inside before security forces intervened and killed them.
The Shabaab group, which wants to impose a Taliban-style rule on Somalia, has been fighting for the last decade to overthrow successive internationally-backed governments in Mogadishu.
It has also launched attacks in Kenya and Uganda, both contributors to a 22,000-strong African Union force in the country.
Although pushed out of the capital in 2011, the group still controls parts of the countryside and launches regular suicide bombings and raids in the capital against civilian, government and military targets.
Related Articles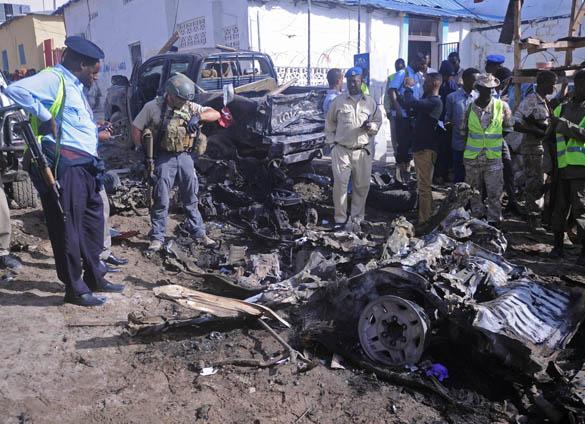 Jun 23,2017
MOGADISHU — Five people were killed and 10 were wounded on Thursday when a car packed with explosives rammed into the wall of a police stati
Feb 08,2021
MOGADISHU — At least eight soldiers, including a senior intelligence commander, were killed on Sunday in a roadside bombing in Somalia claim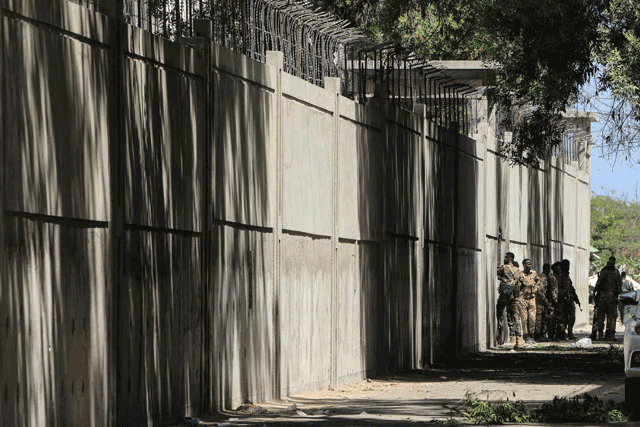 Jan 22,2023
MOGADISHU — At least six people were killed on Sunday in an attack by Al Shabaab militants at the mayor's office in central Mogadishu, polic