You are here
Fuel enters Gaza to restore phone links after two days without aid
By AFP - Nov 19,2023 - Last updated at Nov 19,2023
GAZA STRIP, Palestine — A first consignment of fuel entered Gaza from Egypt late Friday after Israel agreed to a US request to allow limited deliveries to end a communications blackout that has halted aid convoys for two days.
UN agencies have spoken of an increasingly desperate situation for the 2.4 million Palestinians trapped inside the besieged territory, which Israel has been pounding by land and air for the past six weeks.
The fuel delivery came as troops combed Gaza's largest hospital in a search for the Hamas operations centre that Israel says lies hidden in bunkers beneath.
In response to a US request, Israel's war Cabinet agreed to "provide two tankers of fuel a day to run the wastewater treatment facilities... which are facing collapse due to the lack of electricity", National Security Adviser Tzachi Hanegbi said.
"We took that decision to prevent the spread of epidemics. We don't need epidemics that will harm civilians or our fighters," he said.
A senior US official said Washington had exerted huge pressure on Israel for weeks to allow fuel in through the Rafah crossing from Egypt, with US Secretary of State Antony Blinken making clear Israel needed to act immediately to avoid a humanitarian catastrophe.
Israel has repeatedly demanded assurances that any fuel delivered to Gaza will not be diverted by Hamas for military purposes.
The UN agency for Palestinian refugees (UNRWA) said 70 per cent of people have no access to clean water in south Gaza, where raw sewage had started to flow on the streets.
Under the deal, 140,000 litres of fuel will be allowed in every 48 hours, of which 20,000 litres will be earmarked for generators to restore the phone network, the US official said.
A first consignment of some 17,000 litres of fuel for telecommunications company Paltel passed through the Rafah crossing from Egypt late Friday, a Palestinian border official said.
It comes after aid trucks were unable to enter Gaza from Egypt for two straight days due to the near-total communications blackout, UNRWA said.
UN humanitarian chief Martin Griffiths said fuel was "critical for the onward distribution of aid throughout Gaza, and for the functioning of vital services".
He told the UN General Assembly that the fuel currently being provided to UNRWA to distribute aid was "welcome but is a fraction of what is needed to meet the minimum of our humanitarian responsibilities".
'Civilians face starvation'
Israel has come under increasing pressure to back up its allegations that Hamas is using hospitals as command centres.
The United States has stood behind its ally, however, with President Joe Biden this week saying he had asked Israel to be "incredibly careful" in its military moves around Gaza hospitals.
More than half of Gaza's hospitals are no longer functional due to combat, damage or shortages, and Israel's raid on Al Shifa left extensive damage to the radiology, burns and dialysis units, Hamas said.
AFPTV video showed Palestinian children waiting in ambulances at Deir Al Balah for evacuation to the United Arab Emirates via the Rafah crossing to Egypt.
"In the beginning, they told [us] she would be martyred. She has fractures in her skull, pelvis and the thigh," said Adam Al Madhoun, father of four-year-old Kenza, who already had her right hand amputated after an attack on the Jabalia refugee camp.
Conditions for Palestinian civilians are rapidly deteriorating, the UN warned.
More than 1.5 million people have been internally displaced, and Israel's blockade of the territory means "civilians are facing the immediate possibility of starvation", World Food Programme head Cindy McCain said.
Related Articles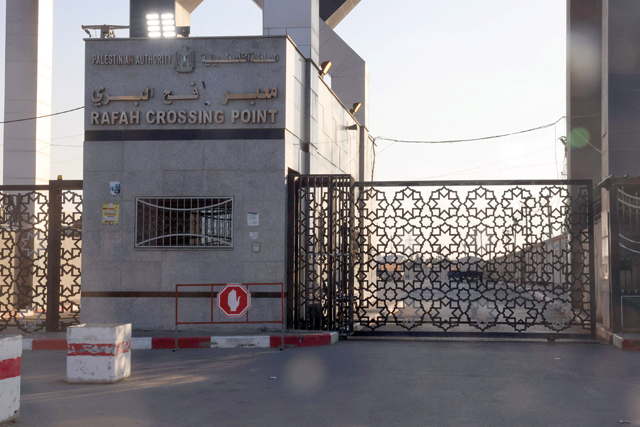 Oct 12,2023
CAIRO — Egypt's top diplomat Sameh Shoukry hosted talks with the head of the UN agency for Palestinian refugees on Wednesday as spiralling v
Nov 16,2023
CAIRO — A fuel truck entered Gaza through the Rafah border crossing from Egypt on Wednesday, state-aligned Al Qahera News reported, in the f
Nov 13,2023
GAZA STRIP, occupied Palestine — Israeli war jets continued their strikes against Gaza's biggest hospital, where thousands were trapped and