You are here
Daesh withdraws from Syria's Aleppo province — monitor
By AFP - Jul 01,2017 - Last updated at Jul 01,2017
BEIRUT — The Daesh terror group no longer has a presence in Syria's Aleppo province after withdrawing from a series of villages where regime forces were advancing, a monitor said on Friday.
"IS [Daesh] withdrew from 17 towns and villages and is now effectively outside of Aleppo province after having a presence there for four years," said Rami Abdel Rahman, head of the Syrian Observatory for Human Rights.
Regime forces had been advancing on a sliver of southeastern Aleppo province around a key highway linking Hama province to the southwest and Raqqa province further east.
Abdel Rahman said regime forces seized control of the road late Thursday night, prompting the remaining Daesh militants to flee.
A Syrian military source in rural Aleppo confirmed the withdrawal.
"The military operation is ongoing and Daesh withdrew from the Aleppan countryside towards rural territory in Hama and Raqqa," the source told AFP.
"The Syrian army is clearing out the last few metres," the source added.
A second military source, quoted by Syrian state news agency SANA, also confirmed that Daesh had pulled out of territory along the Ithraya-Rasafa highway.
Since early 2015, multi-front offensives against Daesh have eaten away at territory the group held in Aleppo province.
US-backed Kurdish and allied Arab fighters ousted the extremists from Kobani on the Turkish border in 2015 and from the key city of Manbij last year.
Rebels backed by Turkey seized the town of Al Bab in February, and Syrian government troops have steadily chipped away at Daesh towns in the south of the province.
In neighbouring Raqqa province, a US-backed offensive is bearing down on the provincial capital of the same name, which has served as the extremists' de facto Syrian capital.
Abdel Rahman described Friday's withdrawal as "a new loss for Daesh that decreases its influence and demonstrates that we are watching its collapse as an organisation that can manage geographical territory".
Syria's conflict broke out in March 2011 with protests against President Bashar Assad, before turning into a complex, bloody war.
World powers including Russia, Turkey, and a US-led global coalition have all been drawn into the war, which has left more than 320,000 people dead
Talks aimed at reaching a lasting ceasefire will resume in the Kazakh capital Astana next week, before another round of UN-backed peace negotiations in Geneva in mid-July.
Major Daesh setbacks in Syria
BEIRUT (AFP) — The Daesh terror group have withdrawn from Syria's Aleppo province, a monitor said on Friday, in the latest of a series of setbacks in the country where it seized swathes of territory in 2014:
Kobani
The extremists were driven out of Kobani, a Kurdish town in northern Syria on the Turkish border, by US-backed Kurdish forces on January 26, 2015 after more than four months of fighting. The town became a first symbol of the fight against Daesh.
Manbij
On August 6, 2016, the Syrian Democratic Forces (SDF), a coalition of Arab and Kurdish fighters backed by US air strikes, recaptured Manbij following a two-month battle. Daesh had seized the northern town in 2014 and used it as a hub for moving extremists to and from Europe. It also controlled a key Daesh supply route.
Jarabulus
Turkish troops and Syrian rebels swept almost unopposed into the border town on August 24, 2016 during Ankara's Operation Euphrates Shield, which also targets Kurdish militia.
Dabiq
Syrian rebels backed by Turkish warplanes and artillery captured Dabiq on October 16, 2016. Under Daesh control since August 2014, Dabiq has ideological significance because of a prophecy that Christian and Muslim forces will battle there at the end of times.
Al Bab
The Turkish army announced on February 24, 2017 that it had taken full control of the town of Al Bab, a Daesh bastion in northern Aleppo province.
Palmyra
Daesh extremists first overran the historic city of Palmyra — a UNESCO World Heritage site — in May 2015, and government troops recaptured it 10 months later.
The militant group retook it in late 2016, but Russian-backed Syrian forces wrested back control on March 2, 2017.
Tabaqa
On May 10, 2017, the US-backed SDF alliance of Arab and Kurdish fighters captured the key city of Tabaqa and its nearby dam from Daesh, as part of the broader offensive for Daesh de facto capital Raqqa further east.
The assault on Raqqa, an operation dubbed "Wrath of the Euphrates", was launched in November 2016.
On June 6, 2017 the SDF entered Raqqa and have since seized a quarter of the city. On June 29 they cut off the last Daesh escape route.
Aleppo province
On June 4, Syria's army seized the key town of Maskana from Daesh, part of a major operation launched in mid-January, with the support of Russia, to conquer the extremists in Aleppo province.
On June 29, Syrian government forces seized control of a key highway in southeastern Aleppo province, prompting the last Daesh extremists to withdraw from the area, according to the Syrian Observatory for Human Rights monitoring group.
In Iraq the noose was also tightening around Daesh in its stronghold Mosul.
On Friday a senior Iraqi commander said Iraq will declare the liberation of Mosul in the "next few days".
Related Articles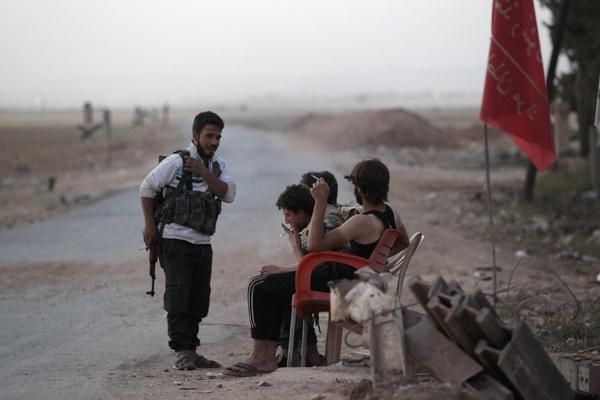 Oct 03,2016
ISTANBUL/BEIRUT — Syrian rebels backed by Turkey and a US-led coalition are closing in on the Daesh-held village of Dabiq, the site of an ap
Oct 16,2016
BEIRUT — Syrian rebels dealt a major symbolic blow to the Daesh terror group on Sunday by capturing the town of Dabiq where the extremists h
Feb 27,2017
BEIRUT — Government air raids on northwest Syria killed at least 11 people overnight, mostly civilians, a monitoring group said Monday, whil