You are here
Yanni to play closing show of Jordan Festival at Amman Citadel
By Muath Freij - Jul 31,2016 - Last updated at Jul 31,2016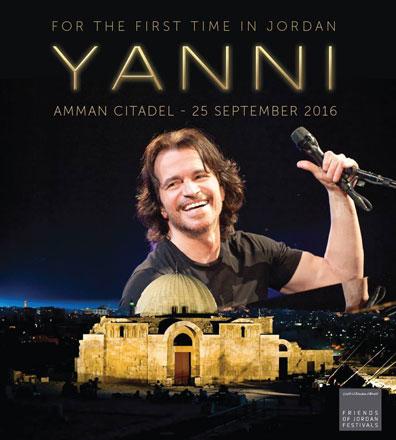 AMMAN — The renowned Greek composer and pianist Yanni will perform for in Jordan in September to close a festival at the Amman Citadel.
A series of concerts is planned at the Citadel as part of the Jordan Festival 2016, featuring Lebanese singer and oud player Marcel Khalife and Turkish dance troupe Fire of Anatolia, said Somika Basu, a spokesperson for the Friends of Jordan Festivals (FJF) which is organising the events.
"We feel we have designed the festival so that there is something for everybody of all ages and all interests," Basu told The Jordan Times in a recent interview at the FJF offices in Amman.
"All this is going to happen at Amman Citadel, so the view is going to be lovely and we hope it will draw awareness to the heritage of Amman," Basu said.
She voiced hope that Jordanians will be proud to host international artists and to celebrate their history and heritage at the same time.
Festival organisers hope to include the Lebanese alternative rock band Mashrou' Leila on the line-up, she said, although the quintet's performance has not yet been confirmed.
The FJF seeks to attract all age groups to the Citadel. "We want all crowds, including children, to come and have fun. We also offer discounts for Jordanian students," Basu said.
The FJF is working closely with the Jordan Tourism Board and the Ministry of Tourism to ensure that the performers enjoy their stay in the Kingdom, she added.
Although dance performances have not drawn large audiences in the past, Basu said the Fire of Anatolia was chosen because of its "beautiful" performances.
"They have performed thousands of shows all over the world; they have received worldwide recognition, and we want to bring this to the Jordanian audience and give them the opportunity to attend such shows," she added.
The FJF official noted that one of the main challenges was bringing artists whose style is new to Jordanian audiences, and developing local appreciation for performances like folk dancing.
"We want to promote different kinds of art forms," she stressed.
Securing Yanni for the festival's finale was a challenge, according to Basu.
"It was so difficult to bring Yanni to Jordan. He is currently on a world tour and we have been in talks with his managers for almost one year negotiating on dates and times," she explained.
Some fans have complained about the choice of venue for Yanni's concert, suggesting it should have been held in Jerash or Petra, Basu said.
"He could have performed in Jerash or Petra, but it is also our job to protect the heritage site," she noted, explaining that the high bass levels and loud volume of Yanni's performances could damage the ancient sites.
Commenting on the high prices of tickets to see Yanni, which cost between JD75 and JD175, FJF Executive Director Souha Bawab said the festival's expenses and the artist's fees were also very high.
"Then there is travel and transport and equipment," Bawab said, adding that lighting and sound equipment had to be rented.
"The capacity is very small, it is only 3,000 seats. If we could have had 10,000 people then the price would have been much lower but the Citadel is a small location," she added.
Bawab advised all audience members to use the bus shuttles that will be arranged as there is no parking at the Citadel, located in Amman's Jabal Qalaa neighbourhood.
Tickets for the festival are available online via www.sajilni.com.
Related Articles
Sep 17,2016
AMMAN — Over 50 dancers from across Turkey will narrate Turkish legends through dance in Amman on Sunday evening in the troupe's first ever
Jul 10,2018
AMMAN — Jordan has become a unique musical hub for global concertgoers thanks to the diverse and great number of events that are held in the
Sep 11,2016
AMMAN — The variety of musical shows staged in Jordan over the summer is a reminder of the importance of art amid regional chaos, and showca
Newsletter
Get top stories and blog posts emailed to you each day.