You are here
Dance troupe to bring Anatolian legends to Amman's Citadel
By Dana Al Emam - Sep 17,2016 - Last updated at Sep 17,2016
Turkey's Fire of Anatolia group is scheduled to perform in Amman today (Photo courtesy of Friends of Jordan Festivals)
AMMAN — Over 50 dancers from across Turkey will narrate Turkish legends through dance in Amman on Sunday evening in the troupe's first ever performance in Jordan.
In lavish costumes and with energetic moves, Turkey's Fire of Anatolia dance troupe will showcase folk, gypsy and Caucasian dance styles of the Anatolian region, said Somika Basu, a spokesperson for the Friends of Jordan Festivals (FJF) which is organising the event.
"This is the first time that the group, which holds two Guinness World Records, comes to Jordan, although it has performed all over the world," she told The Jordan Times on Saturday.
Fire of Anatolia holds a Guinness World Record for the fastest ever dance performance, with 241 steps per minute, and another record for the largest audience, after attracting a turnout of 400,000 in Eregli, the troupe's hometown.
The folk dance show, which portrays the history and culture of Turkey, has been performed in over 90 countries around the world, reaching over 35 million spectators, according to the FJF.
The performance seeks to strike a balance between entertainment and education, Basu said, highlighting its use of music and dance to communicate.
Organisers expect an audience of 1,000 to 1,500 at the show, said Basu, who noted that most ticket buyers were Jordanian.
The performance will be staged at the Amman Citadel, which features the capital's skyline as a backdrop.
This dance performance is part of the Jordan Festival 2016 at the Citadel, which brought Lebanese singer and oud player Marcel Khalife earlier this month and will host the renowned Greek composer and pianist Yanni next week.
Khalife drew some 2,500 spectators to his show, almost a full house, noted Basu.
Basu added that the concert was "perfectly timed" during Eid Al Adha, which gave citizens, returning expatriates and guests the chance to attend.
"Khalife signed CDs and posed for photographs after the two-hour performance," she told The Jordan Times, noting that attendees wished for a longer show.
Tickets are available at sajilni.com and the FJF office at Zara Expo building.
Related Articles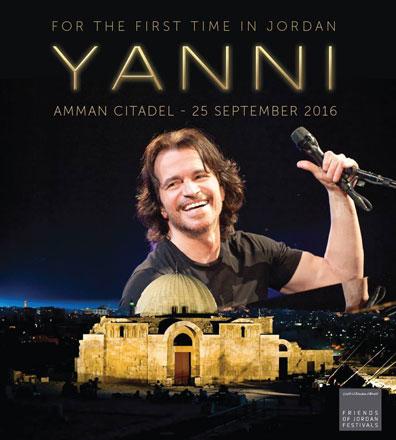 Jul 31,2016
AMMAN — The renowned Greek composer and pianist Yanni will perform for in Jordan in September to close a festival at the Amman Citadel.&nbsp
Sep 11,2016
AMMAN — The variety of musical shows staged in Jordan over the summer is a reminder of the importance of art amid regional chaos, and showca
Jul 10,2018
AMMAN — Jordan has become a unique musical hub for global concertgoers thanks to the diverse and great number of events that are held in the
Newsletter
Get top stories and blog posts emailed to you each day.