You are here
Women in 'protective custody' to be moved to guesthouses by end of month — Lattouf
By Rana Husseini - May 06,2018 - Last updated at May 06,2018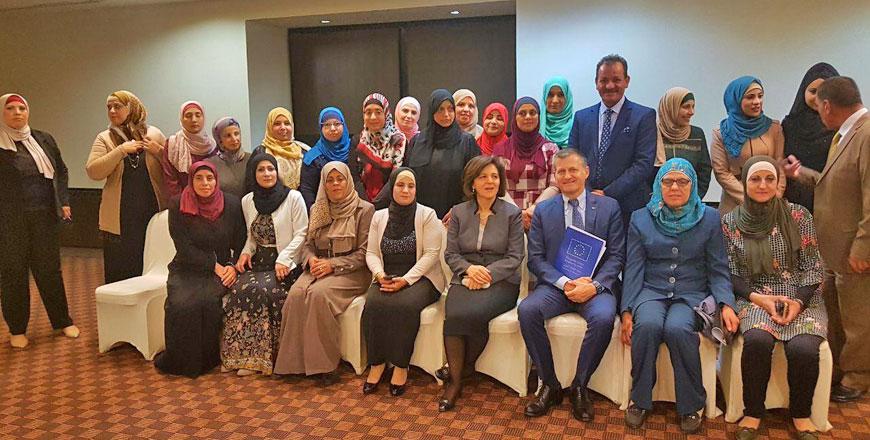 Minister of Social Development Hala Lattouf (centre-front) and EU Ambassador to Jordan Andrea Matteo Fontana (3rd from right/front) pose for a group photo with activists and social workers who were training to run a safe house for women in Amman on Sunday (Photo by Rana Husseini)
AMMAN — Minister of Social Development Hala Lattouf on Sunday said women who are being imprisoned for their own safety for reasons related to so-called family honour will be moved to a ministry-run guesthouse by the end of the month.
"The women who are at the correctional facilities will start moving gradually to 'Amneh House' [safe] or the 'Guest and Rehabilitation House for Women' by the end of this month at the latest, if not before," Lattouf said.
The minister's remarks were made during a two-day training workshop organised by Mizan Law Group (MLG) for 20 Social Development Ministry female employees, who will be working at the guesthouse. Another 20 female employees will attend a similar workshop next week, also organised by MLG. The training is supported by the European Union.
"Our main priority is to ensure the safety and security of these women because they are our responsibility and we need to take good care of them," Lattouf told the gathering.
The minister added that another priority is building the capacity of the employees who will be managing the house so that "we will start strongly and ensure a comprehensive success and, at the same time, avoid going through any difficulties or obstacles".
"Our ultimate goal is to ensure that women whose lives are in danger will end up in the guesthouse instead of being detained at a correctional and rehabilitation facility to protect them," Lattouf stressed.
Around 35 women are currently in jail for indefinite periods without any charges in what is termed "protective custody" at the Jwaideh Women's Correctional and Rehabilitation Centre, according to officials.
Many women in "protective custody" spend periods that sometimes exceed ten years. They cannot leave the facility without the administrative governor's permission, according to activists.
Most of the women in the facilities are kept there for involvement in cases of rape, adultery and incest, where they might be the victims, and for running away from the family's home voluntarily, according to officials.
On some occasions, women were reportedly killed after being bailed out by family members, even after guarantees had been signed to inflict no harm on them. Around 20 women are murdered annually for reasons related to cleansing "family honour" in Jordan.
The executive director of MLG, lawyer Eva Abu Halaweh, said she was hopeful that "the new guesthouse will further contribute to reducing the number of honour killings".
"We have been witnessing a decrease in the reported cases of so-called honour killings and we are hopeful that this house will serve as a safe alternative for any woman whose life is in danger from her own family," Abu Halaweh told the gathering.
The advocate added that the next step is to hopefully ensure that "any woman whose life is in danger will be transferred to the guesthouse instead of prison".
"This new guesthouse marks the beginning of the end to protective custody for women and the authorities will hopefully cooperate fully with us to ensure that this becomes a reality," Abu Halaweh added.
MLG has been working for over a decade to help women who are in protective custody by forming the Coalition to Help Women in Protective Custody in 2005 and later worked on cases of women who were imprisoned for their own safety succeeding in releasing dozens of them.
Also addressing the trainees, EU Ambassador to Jordan Andrea Matteo Fontana said the "EU is proud to support such training".
"We welcome the Jordanian government's effort and decision to provide a safe place for women whose lives are in danger," Fontana said.
The envoy added that he is also very content "with the EU's cooperation with the Ministry of Social Development and civil society in protecting women and providing them with necessary services".
Raghda Azzeh, who will be the director of the facility, said the facility consists of furnished independent apartments for the released women to make them "feel at home and not imprisoned".
"Our aim is to ensure a temporary residency for these women and for them to be independent," Azzeh stressed, adding that the guests would be fully provided with life necessities such as food and clothing, and will be ensured legal, health and psychological services, as well as vocational training.
Related Articles
Apr 11,2018
AMMAN — Minister of Social Development Hala Lattouf on Wednesday said a building is currently being furnished to house women whose lives are
Jun 22,2018
AMMAN — Ministry of Social Development (MoSD) officials on Thursday said that the ministry-run guesthouse for women victims of so-called fam
Oct 29,2017
AMMAN — Minister of Social Development (MoS) Hala Lattouf on Sunday said the shelter for women whose lives are in danger due to reasons rela
Newsletter
Get top stories and blog posts emailed to you each day.