You are here
Vehicle maintenance centre launched in Tafileh 
By JT - Sep 22,2023 - Last updated at Sep 22,2023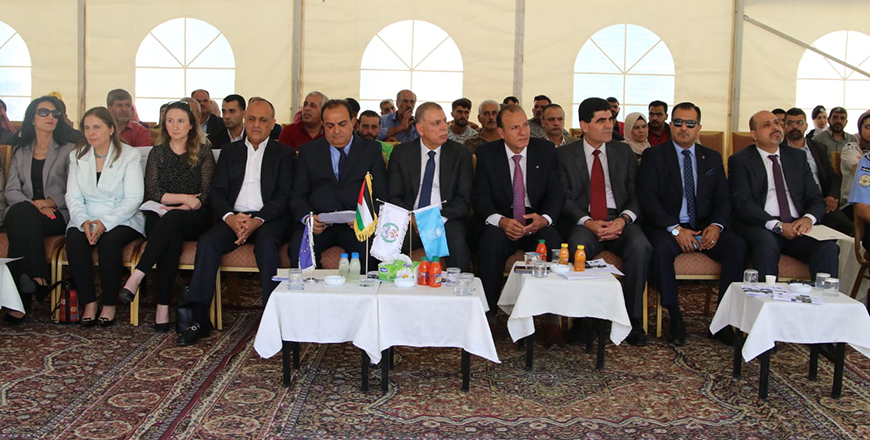 Interior Minister Mazen Faraya and guests during the inauguration of a vehicle maintenance centre in Tafileh on Thursday (Petra photo)
AMMAN — A state-of-the-art vehicle maintenance centre was launched on Thursday in Tafileh, part of the Decentralisation, Accountability and Integrity at the Local Level (DAILL) Programme, funded by the European Union and implemented by UNDP.
The maintenance centre responds to continuing challenges around cost-efficient maintenance of municipal vehicles in the Southern region, Minister of Local Administration Tawfiq Kreishan said.
The centre, which was refurbished through the DAILL project, will be operated by private sector companies in coordination with the municipality, according to a UNDP statement.
In an effort to improve services, reduce costs and effectively manage resources, a growing importance is being placed on the partnership between the municipalities and the private sector, Kreishan added.
Interior Minister Mazen Faraya praised the continuous consultation and collaboration between development stakeholders at the local level, including governorates, municipalities and the private sector.
Given the private sector's financial capabilities and advanced expertise in efficiently developing and managing projects and its ability to create job opportunities, the public sector must work hand in hand with the private sector, Faraya said. He also highlighted the necessity of utilising donors' support in effective economic development projects.
With funding from the European Union, UNDP continues to support the development of local communities in Jordan and contributes to improved service delivery through economic, social and environmental projects, UNDP Deputy Resident Representative Majida Alassaf said.
Alassaf added that the private sector is best placed to provide financing and technical expertise to successfully operate public-private partnerships that serve the municipalities.
This new centre is of great importance and has added value in Tafileh Governorate, Mayor of the Greater Tafileh Municipality, Hazem Al Edeinat said, adding that it enhances the municipality's service delivery and contributes to reducing the vehicle maintenance cost.
Edeinat noted that the centre's services will be available to all public and private entities and citizens in the south region.
Representing the European Union, Ola Al Tibawi expressed hope that the centre will soon become the heart of a thriving business area that serves the population of the south, creating jobs for the local youth and contributing to a more cost-effective management of municipal resources.
With technical expertise and advanced equipment, the maintenance centre's services are available to the municipalities of the Southern region, which saves time and effort and allows them to focus on other responsibilities.
Related Articles
May 20,2022
AMMAN — Minister of Interior Mazen Faraya on Thursday inaugurated an EU-funded conference and training centre at the ministry's headquarters
Apr 29,2021
AMMAN — The Ministry of Interior, the European Union Delegation in Jordan, and the United Nations Development Programme (UNDP), in collabora
Jun 11,2023
AMMAN — Interior Minister Mazen Faraya and Abdallah Dardari, the assistant secretary-general and director of the Regional Bureau for Arab St