You are here
Soldier who shot US officers sentenced to life
By JT - Jul 18,2017 - Last updated at Jul 19,2017
AMMAN — A military court on Monday handed down a life sentence to a Jordanian soldier for killing three US officers at a military base, the Jordan News Agency, Petra, reported.
Maarek Sami Tawayha shot dead three US Special Forces instructors outside the King Faisal Airbase in Jafer, Maan, in November 2016.
The trial was chaired by military Judge Col. Mohammad Afif, with military judges Lt. Col Abdullah Fawaz and Cap. Safwan Zu'bi as members, while lawyer Subhi Mawwas, represented the defendant, Petra reported.
The court convicted Tawayha, a corporal, of manslaughter, for killing more than one person and violating military orders and regulations.
The tribunal also ordered lowering the soldier's military rank to a private, and eliminating him from military service.
Families of the victims praised the court's rulings and their conformity with best judicial practices, said Petra.
The prosecution has provided collected evidences that proved the charge against the defendant without leaving any doubts that " the defendant in November4, 2016, deliberately killed three from the US friendly forces by shooting them using his M16 at the gate of the Prince Feisal Airbase in Jafer [around 300km south of Amman] when he heard shooting whose source he could not recognise and without applying the rules of engagement, in such cases", according to court papers.
The prosecution added that the defendant confessed to shooting towards the US force, when he was on duty.
For its part, the US embassy quoted Embassy Spokesperson Eric Barbee in a statement after the verdict as saying that the embassy observed the trial and judicial proceedings, which "confirmed that the deceased US service members followed all established procedures when accessing the base the day of the incident, as we have noted before".
"We are reassured to see the perpetrator brought to justice. We appreciate the access provided to us and to the families of the victims, as well as the expedience and seriousness of the court proceedings, consistent with Jordanian law. Despite this tragedy, Jordan remains a strategic partner," Barbee said.
Related Articles
Jul 20,2017
AMMAN — The lawyer of a Jordanian soldier, who earlier this week was sentenced to life in prison for killing three US officers at an army ba
Aug 04,2017
AMMAN — The Military Appeals Court on Thursday upheld a July life sentence passed on a Jordanian soldier, after he was convicted by a milita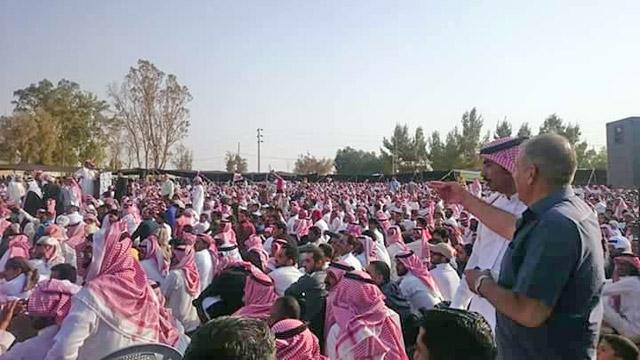 Jul 22,2017
AMMAN — The Huwaitat tribe on Friday held a council to discuss the life sentence of a Jordanian soldier who was convicted last week&n
Newsletter
Get top stories and blog posts emailed to you each day.