You are here
Scholar follows trail of Kingdom's scattered ancient figurines
By Saeb Rawashdeh - Oct 31,2019 - Last updated at Oct 31,2019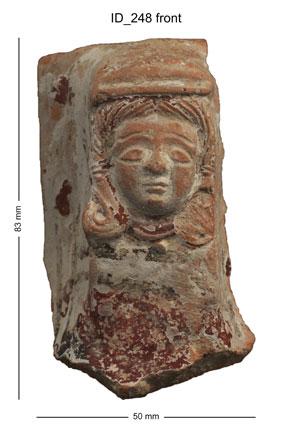 An Iron Age female figurine from the southern Levant (Photo courtesy of Truvis)
AMMAN — Some 470 known female terracotta figurines found in Jordan, dating to the Iron Age (10th-6th century BC), are today scattered across university collections, museums and storage facilities in the Near East, Europe, North America and Australia, noted a scholar from a French university.
"For example, the 19 figurine fragments from the excavation of Busayra in southern Jordan, which were discovered in the 1970s in a base area of about 20 by 20 metres, are now distributed among eight museums located on three continents," said Regine Hunziker-Rodenwald, professor of Old Testament Studies and Ancient Near East History at the Faculty of Protestant Theology of the University of Strasbourg, France.
The reason for this situation is the find-sharing procedures between excavation sponsors, the professor told The Jordan Times in a recent e-mail interview.
The Busayra case is just one example among many, she continued, as determining whether an isolated head matches a torso from the same original excavation, or whether fragments were made from the same mould, can only happen with the aid of a "reproducible technology which guarantees the comparability of the recorded items".
Current documentation of the figurines by simple line-drawings or low-resolution photos of minor quality does not allow for a verifiable assessment of the corpus, the scholar said, warning that this improper documentation of fragmentary, often worn, small-sized artefacts of "unremarkable" material, puts valuable information about non-elite practices in ancient Levantine societies at risk of being lost.
"However, since the 2000s, a constantly growing scientific community has been dedicating itself to research on terracotta figurines from Palestine and Jordan, practically simultaneously with the increasing interest of historians in the lives of ordinary people in the ancient Near East," Hunziker-Rodenwald highlighted.
Since the existing visual documentation is qualitatively insufficient, the conclusions drawn in recent publications on cultural-historical issues cannot reach the level of scientific argumentation, she said.
In order to preserve the artefacts, which, although made of cheap material, are often carefully crafted and painted, the FIGURINE21 project focuses on the reproducible RTI (Reflectance Transformation Imaging) recording of the Jordanian female figurines, the digital measurement of the fragments for the purpose of digital modelling and virtual reunification (reassembling physically dispersed heritage collections to produce a consolidated, digitised representation of scattered artifacts), she pointed out.
"Two-thirds of the 470 known female figurines from Jordan are stored in an RTI raw format on the server of Strasbourg University; the last third of the figurines, mainly kept in Jordan, still need to be photographed," Hunziker-Rodenwald said.
Related Articles
Aug 09,2020
AMMAN — Ancient Levantine female ceramic figurines could reveal important sociocultural information on women's roles within the population o
Jul 03,2019
PARIS — France on Tuesday handed over to Pakistan nearly 450 ancient relics, some dating as far back as 4,000BC, seized by French custo
Aug 07,2023
AMMAN — Hirbet Atarus is a small Iron Age site located in central Jordan, some 14km northwest from Dhiban and 4km east from Machaerus fortre