You are here
Professors outline intersections of museum history, tourism 
By Saeb Rawashdeh - May 24,2023 - Last updated at May 25,2023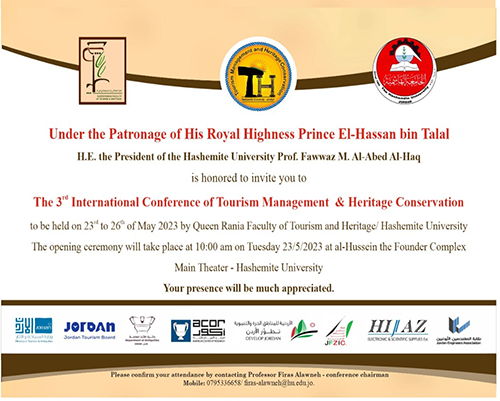 AMMAN — In the 1950s UK, museums were intended to educate the working and middle classes, said Professor Robert Scott from Sussex College during a conference in Zarqa.
Held at the Hashemite University from May 23 to 26, the Third International Conference of Tourism Management and Heritage Conservation gathered both local and international experts in archaeology, history and tourism.
Museums were created to exhibit objects brought in from the Middle East, Africa and Asia for educational purposes, Scott continued.
"These museums were terrible, awful," Scott said during his presentation "Presenting the Past", noting that many museums in the UK lacked sufficient information to explain the context of the objects on display.
"National museums were created for national prestige throughout Western Europe," Scott said. "Nowadays, the audience is more sophisticated."
Contrasted with the museums of decades ago, modern museums are interactive, and they get visitors engaged in the objects and displays, he said.
The relationship between Florence and the US academic community was a theme of the presentation "A fatal attraction: Americans in Florence. From culture residents to study abroad", given by the Italian Professor Marcello Fantoni from Kent State University in Florence.
"Florence, a city with around 400,000 inhabitants, is visited annually by 17 million tourists, and 58 per cent of them are American tourists," Fantoni said.
The city hosts 39 American universities, Fantoni said, noting that culture is very important in the management of tourism.
"If we want to successfully manage tourism we should know the people who visit our country regularly. We need to manage their expectations and we have to manage what they are coming with in terms of what is their imagination and what is their cultural background," Fantoni said.
After the American civil war, the US entered the phase of rebuilding and reconstruction, Fantoni said, adding that the period between the 1870s and WWI was likewise a very significant period for Italy, which had finally unified.
"The economic boom created a new class of plutocrats in the US, especially on the East Coast, who wanted to become more intellectually sophisticated. They associated themselves with Elizabethan Britain," Fantoni noted.
"This attracted the interest in Italy," Fantoni said, adding that American museums in the late 19th century were founded by wealthy industrialists and contained many art pieces from Florence.
"Tourism is not only the fruition of the site; it also impacts the site," Fantoni stressed.
Newsletter
Get top stories and blog posts emailed to you each day.