You are here
No new taxes planned on food items in Ramadan — PM
By Petra - Jun 22,2014 - Last updated at Jun 22,2014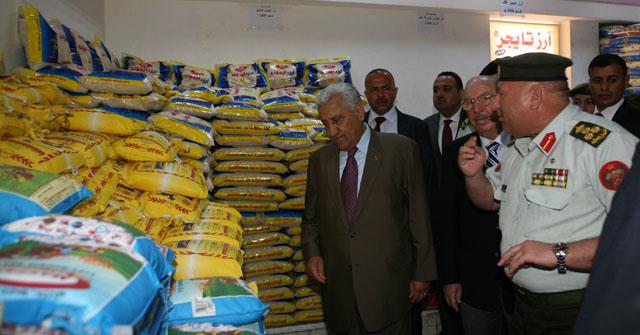 AMMAN — There will be no new taxes on food items during the fasting month of Ramadan, which begins in late June, Prime Minister Abdullah Ensour said on Sunday.
"I am confident that things will go smoothly this year without any surprises in prices or food supply," Ensour said at a meeting with representatives of the industrial and trade sectors at the Trade Ministry, urging them to respect the values of the holy month.
Referring to the Trade Ministry's flour purchases, he stressed the importance of changing the method of purchasing wheat but not the price.
Noting that a tonne of wheat costs JD330 and is sold at JD30, the premier said price of bread will not be raised.
Trade Minister Hatem Halawani said the meeting was held to assure everybody that all main food items will be available at high quality and affordable prices during Ramadan, during which food consumption usually increases.
Halawani said the strategic reserves of sugar, rice and oil are enough for six months, while Jordan has enough wheat for 11-12 months.
Trade sector representatives reiterated their commitment to providing all kinds of high-quality food items at affordable prices.
Also on Sunday, Ensour and Halawani visited Al Salam Market, a branch of the Military Consumer Corporation in Amman, and were briefed on the procedures taken to guarantee the availability of basic food items.
Muslims abstain from eating and drinking from dawn to sunset during Ramadan, the ninth month of the Islamic lunar calendar.
Related Articles
Jun 19,2014
Prime Minister Abdullah Ensour on Thursday called for intensifying the monitoring of markets and shops ahead of and during the fasting month of Ramadan.
Jun 18,2014
All necessary procedures to ensure the stability of prices and availability of food items during the fasting month of Ramadan have been taken, senior officials said on Wednesday.
May 07,2016
AMMAN – The Industry, Trade and Supply Ministry on Saturday decided to halt exports of foodstuff until the end of the fasting month of Ramad
Newsletter
Get top stories and blog posts emailed to you each day.