You are here
'Media freedom in Jordan has long way to go'
By Mohammad Ghazal - May 04,2015 - Last updated at May 04,2015
AMMAN — Media freedom in Jordan faces several restrictions and challenges, experts said Sunday, as the government said self-censorship among journalists has witnessed a steep decline.
At a discussion, media experts and lawmakers said the level of media freedom in Jordan has been fluctuating over the past years, but did not witness any major leap forward.
"Unfortunately, the Lower House is not a big fan of media freedom. When it comes to media freedom, the stance of the House is unclear," MP Jamil Nimri said during the session, held as part of a UNESCO event marking World Press Freedom Day 2015 under the patronage of HRH Princess Rym Ali.
The deputy, who is also an Al Ghad columnist, said only a minority of MPs defend media freedom and fights for it, while some seek to suppress it and others are neutral on the matter.
"Despite positive developments in some laws governing the media, more is needed to boost media freedom… Until this moment, there are attempts to place pressure on media outlets and influence their work," Nimri added.
Lina Ejeilat, co-founder and editor-in-chief of 7iber.com, said a major decline in media freedom was witnessed over the past four years since the start of the so-called Arab Spring.
"Most of the amendments to media-related legislation were not positive. There is no real lobbying in Jordan to place pressure on the government to lift restrictions and increase media freedom," Ejeilat added.
"There is no bold content in the press in Jordan. It is very shy in content and what worsens the situation is the high level of self-censorship among journalists."
She said the Anti-Terrorism Law, which was endorsed last year, plays a key role in restricting media freedoms.
"No journalists dare at present to express their opinion and slam certain policies or violations by countries with which Jordan has relations," Ejeilat noted.
Minister of State for Media Affairs and Communications Mohammad Momani said the level of self-censorship has dropped significantly among journalists.
The government spokesperson added that there is no opposition to valid and objective criticism, but the problem is with slander and the use of improper language when referring to friendly countries.
"There are still some issues and concerns when it comes to the professionalism of media," the minister noted.
Momani said the government has pledged on several occasions to look into media-related legislation, as the advanced state of media freedom is an important factor in preserving national security.
In a speech during the ceremony, Swedish Ambassador to Jordan Helena Gröndahl Rietz said free speech is a basic right that opens the door for obtaining all other rights.
Free speech is the key to develop democratic societies and build sustainable development, and it is the responsibility of all to protect media freedom, the ambassador added.
The diplomat also launched an online portal for the Legal Support to Media programme, which was created to serve as a source for media laws and regulations in Jordan.
The portal provides information needed by journalists, lawyers and various media stakeholders to better understand the legal context related to media and freedom of expression, according to UNESCO.
For peace to be lasting and development to be sustainable, women and men must be free to create and share knowledge and information on all media outlets, UNESCO Representative to Jordan Costanza Farina said at the event.
"Quality journalism is necessarily one of the building blocks of sustainable development," Farina noted.
Related Articles
May 10,2018
AMMAN — Around 94.1 per cent of media practitioners in Jordan exercise self-censorship while only 3.9 per cent label media freedom as "excel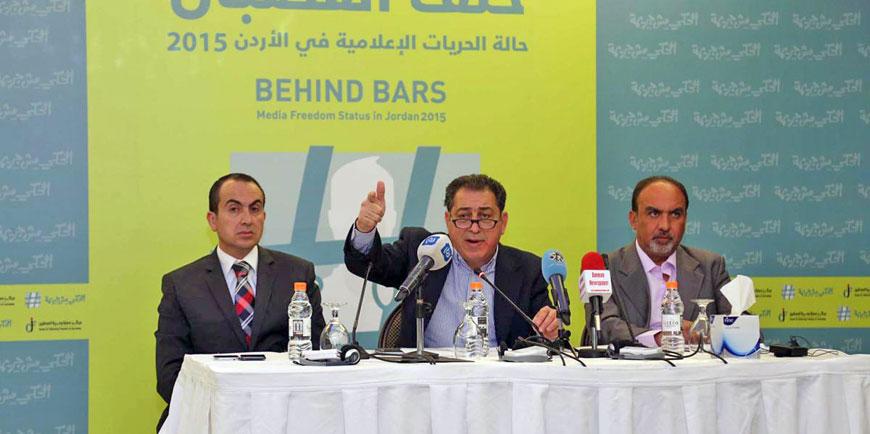 May 07,2016
AMMAN — Ten Jordanian journalists were detained last year under the Anti-Terrorism Law and the Electronic Crimes Law, while the total violat
Apr 22,2014
Media freedom in Jordan witnessed a further decline in 2013 compared to 2012, according to a report issued by the Jordan Press Association (JPA).
Newsletter
Get top stories and blog posts emailed to you each day.