You are here
It is unacceptable for a child to go hungry — Princess Basma
By Laila Azzeh - Nov 26,2014 - Last updated at Nov 26,2014
AMMAN — HRH Princess Basma on Wednesday underlined the need to protect people, especially children, from hunger and malnutrition, and bridge development gaps.
"The issue of hunger and malnutrition represents everything we need to combat… it should not be acceptable for a child to go hungry," said the princess, who is the president of the Jordanian National Alliance Against Hunger and Malnutrition (NAJMAH) –– an NGO that is taking an "innovative" approach towards food security that invests in human capital.
At a ceremony to honour beneficiaries of a programme implemented by NAJMAH in cooperation with the UN World Food Programme (WFP), Princess Basma called for establishing more partnerships between the public and private sectors, civil society organisations and international institutions to combat hunger.
She noted that this is particularly important in light of the economic challenges, mainly witnessed in regions with large numbers of Syrian refugees.
Several programmes were implemented under the NAJMAH-WFP partnership, including the "Cash for Training" initiative, which offered training on 18 different vocational skills to 412 men and women.
The one-month intensive training course, which started in April, targeted Jordanians residing in Mafraq and Irbid, who are hit hard by the economic crisis, aggravated by the Syrian conflict.
The courses were followed by two months of on-the-job training in 100 private companies networked by the Jordanian Hashemite Fund for Human Development.
More than half the trainees (53 per cent), who received JD8 per day to cover transportation, were employed by the companies that offered them the training.
The second phase of the programme will target 1,000 residents of Amman, Jerash, Ajloun and Karak.
WFP representative Maha Ahmad highlighted the agency's mission to build partnerships with national institutions and local communities to combat hunger and poverty.
Since it started working in Jordan in 1964, the WFP has spent over $250 million on some 50 development projects.
Ahmad said the WFP is currently implementing a project in cooperation with NAJMAH, the Agriculture Ministry and Islamic Relief Worldwide to provide urgent food and financial assistance to more than 160,000 beneficiaries.
During the event, attended by UN Resident and Humanitarian Coordinator Edward Kallon, a documentary was screened on the 10-year partnership between WFP and the alliance.
The two sides are also implementing two other projects, under which 150,000 shopping bags made by Jordanian women were presented to Syrian refugees and 480 tonnes of dates were distributed to 48,000 Jordanian families with the help of the National Goodwill Campaign.
During the ceremony, Princess Basma presented awards and certificates to beneficiaries and supporters of the programme.
Related Articles
Mar 31,2014
The World Food Programme (WFP) will provide support for underprivileged families in Irbid and Mafraq, which are hosting large numbers of Syrian refugees, under an agreement signed Monday with the National Alliance Against Hunger and Malnutrition (Najmah).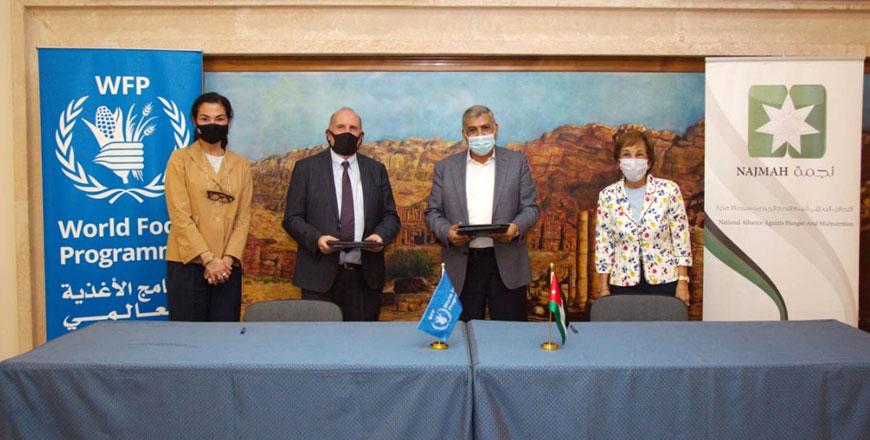 Sep 09,2020
AMMAN — The National Alliance Against Hunger and Malnutrition (NAJMAH), under the leadership of HRH Princess Basma, and the United Nations W
Dec 04,2017
AMMAN — Around 4,708 youth benefitted from the "money for training" project since its launch in 2014, 60 per cent of whom were females, the