You are here
Industries to be supplied with natural gas to slash costs
By Mohammad Ghazal - Apr 03,2016 - Last updated at Apr 03,2016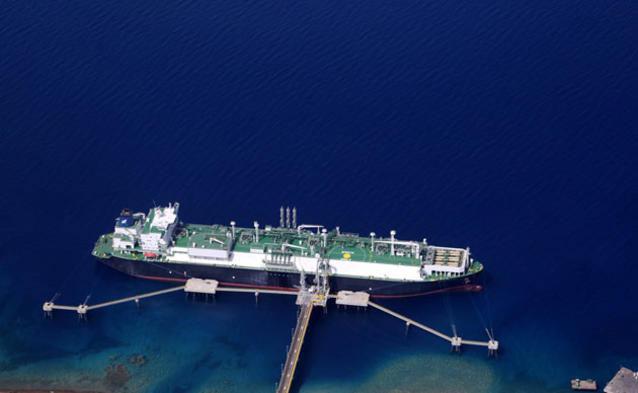 The Sheikh Sabah Al Ahmad Al Sabah Gas Terimal in Aqaba is the main conduit of imported natural gas (File photo)
AMMAN — The government will sign several contracts with large industries in Jordan during the next few months to supply them with natural gas to boost their competitiveness by reducing energy costs in light of a Cabinet's decision in March.
An agreement is expected to be signed with the Jordan Phosphate Mines Co. before the end of June to supply its industrial complex in Aqaba with all its natural gas needs.
According to Hasan Hiari, head of the natural gas department at the Ministry of Energy, another agreement is expected to be signed in the next few days with Nuqul Group, a mainly hygienic paper manufacturer, to supply its factories with gas, he told The Jordan Times in a recent interview.
A third deal concerns Al Manaseer's steel factory, Hiari said.
"The government is very keen on supplying all industries in Jordan with natural gas. We expect more tenders to import sufficient quantities of natural gas to meet the industrialists' needs," he added.
The Council of Ministers tasked a steering committee with studying the decision's implementation and identifying priorities in providing gas based on available infrastructure at the targeted factories.
The industries seeking to use gas will have to build pipelines connecting their facilities with a major gas pipeline stretching between the country's south and north, said Hiari, adding that it will be arranged with the National Electric Power Company (NEPCO) and other concerned agencies.
These factories will be connected to the network of the Jordanian Egyptian FAJR for Natural Gas Transmission and Supply Company, which is responsible for the conveyance of natural gas.
The decision entails enabling NEPCO, the main operator of Sheikh Sabah Al Ahmad Gas Terminal in Aqaba, to sell the surplus of gas, after all needs of electricity generation are satisfied, to local industries through FAJR.
Related Articles
Aug 07,2016
AMMAN — The government on Sunday signed an agreement with the Jordanian Egyptian FAJR for Natural Gas Transmission and Supply Company to pro
Mar 20,2016
AMMAN — The Cabinet on Sunday decided to supply national industries with natural gas to enable them to generate energy at a low cost and enh
Aug 06,2018
AMMAN — Using gas in the industrial sector lowers operational costs between 20 and 50 per cent, Energy Minister Hala Zawati said on Monday.S
Newsletter
Get top stories and blog posts emailed to you each day.