You are here
ACOR celebrates 50 years of 'innovative' research with focus on Jordan
By Saeb Rawashdeh - Feb 06,2018 - Last updated at Feb 06,2018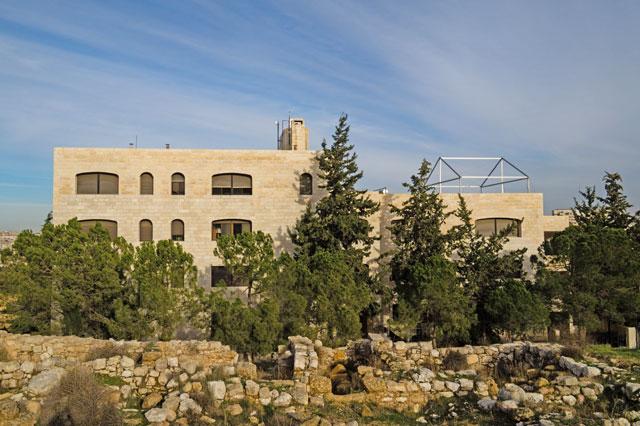 ACOR exterior in January this year (Photo by Steve Meyer)
AMMAN — Established in 1968 in Amman with the goal to "promote study, teaching, and increased knowledge of ancient and Middle Eastern studies with Jordan as a focus", American Centre of Oriental Research (ACOR) is celebrating its golden jubilee.
ACOR's 50th anniversary is a "major milestone" in its history that should be celebrated and used as a chance to reflect on the past, present and future, said ACOR's Director Barbara Porter.
"ACOR staff members are working hard towards two major goals for the future, one which will allow us to provide meaningful programmes in cultural resources management for diverse stakeholders, and the second one which will allow us to prepare the physical space of the centre for 21st century needs," she noted.
ACOR's permanent headquarters opened in July 1986 thanks to the efforts of the Committee for ACOR under the patronage of HRH Prince and the Chairmanship of HRH Prince Raad, according to Porter.
"Along with them, many people helped in this momentous achievement and our 30-year old building has stood the test of time and adapted well to change, " she said.
Prince Raad has served ever since as ACOR's first vice president of the Board of Trustees and only now in our 50th year has he retired from this role and become trustee emeritus, the director added.
"His interest and concern for ACOR over the decades have supported our endeavours to provide a place where Jordanians and foreign scholars can meet and exchange ideas," Porter said.
Carmen (Humi) Al Ayoubi, the director of the ACOR Library, began working with the centre in 1988 and has been instrumental in helping develop the library into a very important tool for scholarly research.
For her, the most important thing is the positive feedback of scholars, students and general public who use the facility.
"The best thing about working at ACOR is the interesting people who are always passing through the building and perhaps staying at the ACOR Hostel," said Assistant Director Sarah Harpending who joined the team in 2008, adding that her favourite thing is "when Jordanian students who received ACOR fellowships return to the centre to give a copy of their university master's thesis to the library".
Although cultural heritage is still a "core part" of ACOR there is increasingly a focus in supporting researchers and fellows in modern area studies, including history and political sciences, Associate Director Jack Green said.
Green underlined the importance of the centre as "a good mixture of Jordanian, American, and people from other countries who work, research, visit and share ideas within its communal spaces", while also highlighting the ACOR's collaborations with University of Jordan and the Department of Antiquities (DoA).
For Miriam Saleh, ACOR's development officer: "Each project we take on is focused on giving interested people the tools they need to learn more, to deepen knowledge of Jordan."
This year "will be very dynamic as ACOR plans to increase the outreach to the Jordanian community", Saleh said.
According to Green, the focus right now is to continue what the centre has always been doing – supporting the visiting fellows and researchers, presenting lectures and facilitating research and programmes.
"Strategic planning is a key part of that, and so is the research; a few new research related initiatives that have been growing since last year include our archives projects," he said.
"We have put a lot of photographic images online on our STARCHIVE database. This is creating a new research resource that can widen our reach and role more globally," Green concluded.
Related Articles
Mar 02,2018
AMMAN — A presentation delivered on Wednesday by Director of the American Centre of Oriental Research (ACOR) Barbara Porter aimed to inform
Jan 19,2017
AMMAN — Long before becoming head of the American Centre of Oriental Research (ACOR) in Jordan, Barbara Porter was passionate about the arch
Apr 27,2017
AMMAN — Given the numerous threats facing archaeological and cultural heritage sites in Jordan and the region, whether from war, development
Newsletter
Get top stories and blog posts emailed to you each day.